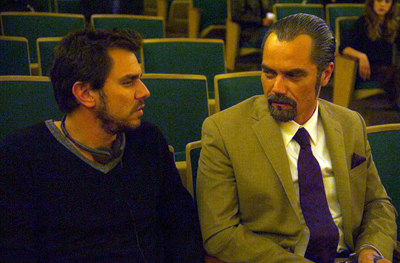 Film director Ariel Vromen (at left in photo with Michael Shannon) burst into the consciousness of the moviegoing public last May with the release of The Iceman, the film about mob hitman Richard Kuklinski -- played by Michael Shannon in an award-worthy performance -- that he directed and co-wrote. Vromen's journey to the mainstream big screen was a circuitous  one compared with, say, that of, J.J. Abrams.
Speaking at CinemaCon in 2011, Abrams talked about making Super 8 movies as a kid and said his then-upcoming movie, Super 8 about kids making movies, was his "most personal."
Born in Tel Aviv, Ariel Vromen's journey to filmmaker took him first to the UK where he got a law degree from Kent University. He opened a music studio in London and produced three albums. Looking back, he says, "After law school it took me six months to realize I was on the wrong path. My passion then was sound and editing. I realized after three years doing that, if you really want to tell stories, you have to write and direct. Doing that meant so much more responsibility. You can't just go behind the camera and say 'action,.'"
Vromen is also aware he'd chosen a very tough career, noting,  "Directing is very competitive. Very delicate. You used to be allowed small errors, but not now. If you make an error you go into director jail. There's a lot of sharks. You can miss and fall at every corner."
To prepare for his career, he studied film at New York University and the Los Angeles Film School. In 2001 Vromen executive produced, directed, co-wrote, edited and served as casting director for a video short that became an underground sensation. Starring Gerard Butler, Jewel of the Sahara is based on a very old dirty joke. (You can see it at the bottom of this column.) In 2005 he directed and co-wrote Rx, a road trip movie in which Eric Balfour and Colin Hanks drive across the border to Mexico to score drugs. And, in 2006 he directed Danika, with Marisa Tomei in the title role of a woman whose fears become premonitions of disaster for her children. That debuted at the San Diego Film Festival and won two awards.
In 2003, HBO had aired a documentary in which forensic psychiatrist Dr. Park Dietz interviewed Richard Kuklinski who, by his own estimate may have murdered as many as 200 people. Seeing it, Vromen became interested in doing a film about Kuklinski. Using the documentary and Anthony Bruno's book The Iceman: The True Story of a Cold-Blooded Killer, he and his screenwriting partner Morgan Land began work on the movie. It seems he's been preparing all his life for this type of material.
"The Godfather, Goodfellas, Once Upon A Time In America -- I grew up on these. I always wanted to be affiliated with those stories. They send two very strong messages about  the importance of a family and how crime or murders can happen just by stepping on somebody's ego, from insulting somebody. I wish I'd lived in those days. It would have been more exciting, but I wouldn't have been a criminal. I'd be too scared.
"My best friends who acted like criminals in high school today are in very high positions of running banks and big travel agencies. Today we laugh about it, about how easy it would have been to go into crime."
Vromen says he was influenced by Hitchcock "He was my favorite, especially North By Northwest.. He taught me a lot about suspense. I like Guillermo del Toro, Alfonso Cuarón, Christopher Nolan, Scorsese, Alejandro González Iñárritu and David Fincher too."
He recently binge-watched Breaking Bad and says, "It was so well done that after I started watching it I was afraid to see more because I was afraid I would steal from it."
He chooses his crew carefully. "Each is an expert in what they do, but you want them to speak with one voice. The idea is to have everybody understand what the vision is. "
Vromen says he takes great care in casting his films and hires actors whom he trusts with the material. He says, "Casting is today different. The studio used to have a casting director, but today it is the director. who has to be very involved."
He says, too, that he works "with the best. When I say 'action' they have to bring the magic."
One of those he considers "the best" is Robert Davi,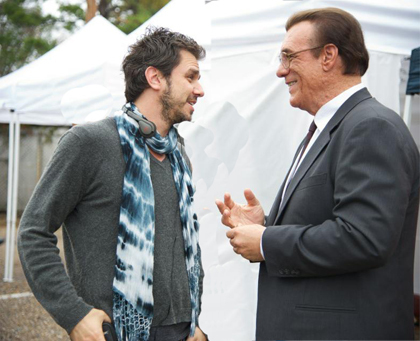 (at right with Vromen in photo below) who was in The Iceman. Davi and Vromen met at a party. Davi recalls, "He said he had a part for me and that he'd call me. He actually did call. Ariel is one of the few who followed through on their word."
Having worked in well over 100 film and TV projects, Davi knows directors. He says, "I've worked with a lot of directors with all different styles. Ariel Vromen is very open , He's got a great sensibility, is very encouraging. He's a terrific actors' director and actors can easily collaborate with him.
"He's right up there with everyone I've worked with He's very open and enthusiastic. A good director like him inspires. He makes the talent feel what they're doing is important. He understands actors and he loves actors."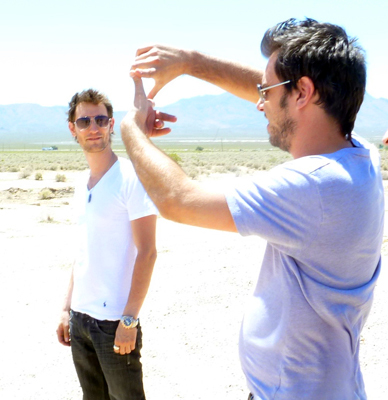 In 2011 Vromen directed Skeptical, a documentary about Israeli mentalist Lior Suchard,(with Vromen in the photo at right). Suchard has entertained around the world and made several appearances on Leno.
Suchard got to know Vromen through Gerard Butler. "I met Gerard in New York and I asked him to think of a name of someone I didn't know so I could guess it. He thought of Ariel Vromen and I guessed it."
The two met, did the documentary that was shown on Israeli TV. They became close friends. Suchard says, "He is wonderful. The thing I love about Ariel is that he's professional but has the craziness of a kid. We can talk seriously about angles of shooting and then we're making stupid jokes. We're very connected. We did some crazy stuff together. We should make a movie about what went on backstage. He's a good friend. I don't need to see him all the time, but we're very connected."
For the future, Ariel Vromen wants to continue to make movies. "I can read 10 pages of a script," he says, "and even if the writing is good, it's exciting, it might not be right for me. Someone else could do wonders with it, but not me. You've got to be very honest with yourself with the material you read. Are you the right guy to be behind the camera? It's a crucial process to visualize all this when you're reading a script."
How about a comedy? "That's my dream. I really hope that some day somebody will give me a comedy to do. In fact, comedy is something I'm really attracted to. But I know my nature behind the camera, when I see characters, even in a comic scenario, I tend to go darker. When I'm in a more mature place where I can get rid of my darkness, comedy would be something I'd love to try. Maybe I'll try it on a small scale and do a small film.
"But," he continues, "what is comedy today? My favorite comedy of this year is This Is The End. I'd love to do that kind of thing someday. Today comedy goes from Bad Grandpa, which is completely slapstick, to This Is The End, which is more mature. That's what I want to do."
As highly skilled as a director, writer and editor, that Ariel Vromen is, one senses we'll be seeing a great deal more of his work -- even a comedy or two.
Meanwhile, up next for Vromen is Criminal, a military thriller that he describes as "a sort of Frankenstein story."
Watch Gerard Butler in Ariel Vromen's 20010 short, Jewel of the Sahara:
Calling all HuffPost superfans!
Sign up for membership to become a founding member and help shape HuffPost's next chapter