An 18th-century copy of a sex manual titled "Aristotle's Compleat Master-Piece," once banned for 200 years in the United Kingdom, is set to go on the block Jan. 16 at Lyon & Turnbull auction house in Edinburgh, Scotland.
Those looking for juicy passages might be disappointed, but if you're into weird advice, prepare to pay the estimated $650 winning bid. One section of the book advises midwives to burn marigolds and blow the smoke inside a mother's vagina to help extract the afterbirth, Lyon & Turnbull book specialist Cathy Marsden told The Huffington Post.
While the idea of Aristotle as an ancient Masters and Johnson sounds intriguing, this book doesn't quite make the case. Lyon & Turnbull's lot copy notes the "Compleat Master-Piece," is "incorrectly attributed" to the Greek philosopher, and according to the Press Assocation, it isn't known whether he contributed anything at all to the book.
"My guess would be that it was just to kind of ameliorate the work to make it sound better than it was -- to add credit to it, give it a classical name -- to make it sound more important," Marsden told HuffPost of the work's grandiose title.
Still, the book has historical value for its reflection of changing attitudes toward sex at the time it was published, and it might even provide some laughs, Marsden said.
"It was very popular. It was probably the most printed text of its kind and it went through a lot of editions," she explained to the Press Association. "It's fascinating reading. It tells an amazing story about the changing perspectives on sex."
A warning to parents that if they conceive a child out of wedlock, the baby could be born "all hairy" or that Siamese twins could result.
Encouragement for both parties to enjoy the sex to improve the chances of conception.
The book first appeared in 1684, the auctioneer wrote, and was banned in Britain in the mid-1800s. It became legal again in 1961. In between, a black market exchange of the book thrived, spurred in part by its see-through depiction of a pregnant woman and odd drawings featuring children with excessive hair or with misplaced body parts, according to the Guardian.
The book up for the bidding is thought to be a 1766 edition.
PHOTO, courtesy of Lyon & Turnbull: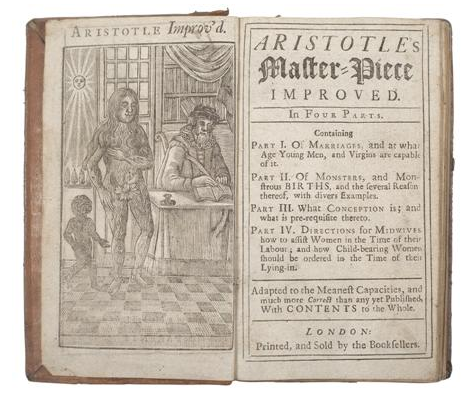 REAL LIFE. REAL NEWS. REAL VOICES.
Help us tell more of the stories that matter from voices that too often remain unheard.
BEFORE YOU GO