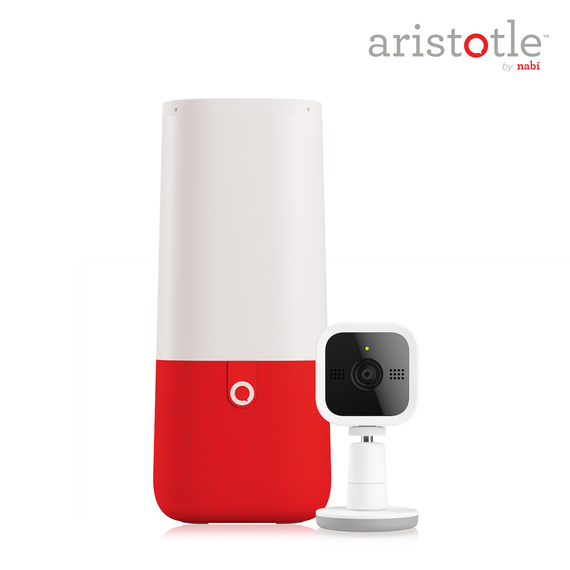 I happen to think I nailed the voices of Thing 1 and Thing 2 when I would read my kids The Cat In The Hat. Still, can I really compete with the Aristotle voice activated kids connected room hub that Mattel demoed for us at CES2017? Aristotle has professional voice actors and it has lights and crazy sound effects...how is a parent supposed to compete with that?
I know, you are thinking, big deal - it just sounds like Amazon Echo for kids. While there are definitely similarities, the nabi Aristotle has eyes...in the form of a video camera that comes with the system. There is also AI, a "Do This When" system of programming, advanced security protection and much more.
Enough talking about Aristotle, let's show it to you in action. Here is the full demo we shot at CES2017 -
Are Parents Now Obsolete?
As you watch that video, you see that Aristotle does many of the things we parents currently do. I have written about technology making parents obsolete, but the folks at nabi put it a little differently...
"Raising kids can be hectic and we saw a need for an IoT system that simplifies the complex and dynamic lives of families, while providing them with peace of mind. Our goal with the launch of Aristotle is to provide parents with a platform that simplifies parenting, while helping them nurture, teach, and protect their young ones" states Jim Mitchell, VP and GM of nabi.
We Love The Security That Is Part of Aristotle
I think the #1 question any parent will have with Aristotle is - do I really feel comfortable having a connected device that is always listening and watching my baby? To try to help alleviate parents' fears, Mattel partnered with some of the top companies in the world and created robust security.
"The platform has been built with COPPA compliance in mind, recognizing parental concerns about children's online privacy. In addition, HIPAA protocols guide many of our data transfer practices. That means we apply the same data safeguards as hospitals to promote data security. For example, Aristotle utilizes 256-bit end-to-end encryption when transmitting user activity information, including baby monitor video stream. Access to data is through mobile devices that have been paired in close proximity to the Aristotle hub, and with proper approval through parental controls"
Will this be enough for parents to place a connected device in the nursery? Time will tell.
Aristotle Has An Impressive Feature Set, But Will It Understand Kids?
As the video shows, the entire Aristotle system - hub, camera and app - is feature packed and impressive. We love the Do This When system and the addition of a connected camera expands the capabilities well beyond Amazon Echo or Google Home.
What you did NOT see in the video were kids talking to Aristotle. Let's be honest, kids don't always talk with complete clarity or precession. As parents, we figure out what they mean when they mispronounce, use the wrong word or just sort of grunt and point. The big question is, will Aristotle be able to figure this out.
The folks from nabi said they had done extensive work to make sure Aristotle could understand kids, but we would sure like to see some real world testing on that front.
From what we saw, Aristotle was impressive and we look forward to doing more testing as it gets closer to launching.
Popular in the Community