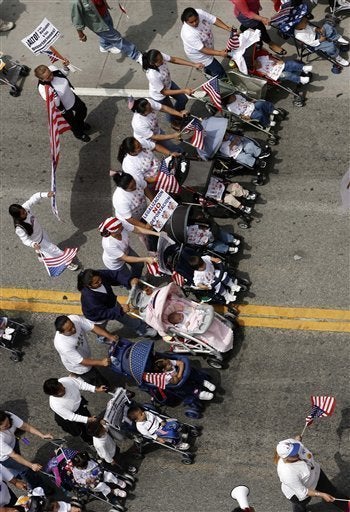 Two of the legislative brains behind Arizona's controversial SB 1070 immigration law are now seeking to draft a bill that would cut down 14th Amendment protections, including perhaps the guarantee of birthright citizenship, provided to the children of illegal immigrants.
State Sen. Russell Pearce, R-Mesa, and Rep. John Kavanagh, R-Fountain Hills, both sponsors of the state's recently passed strict immigration law, are spearheading a new effort to create legislation that, according to the Arizona Republic, "targets the children, possibly by adding notation on their state birth certificates that would identify them as children of illegal immigrants."
Though the final details have not been hammered out, and the Arizona Republic reports that any such bill would not be proposed until at least January, both Pearce and Kavanagh appear confident that the current dynamic of state and national politics makes it a promising time for the passage of such a measure.
If passed, however, the state of Arizona could be tempting additional lawsuits from the federal government, which has already mounted multiple legal challenges against SB 1070.
According to the Arizona Republic:
States have oversight over birth certificates and, to an extent, over who can receive state services, but citizenship is a federal issue. Creating different birth certificates, or giving different people different levels of access to state services based on information on birth certificates, would open the state to federal lawsuits. The lawsuits could argue that the state is pre-empting federal authority and violating federal laws that say all citizens are due equal protection.
But that might be exactly where the architects want their current plans to lead. According to Rep. Kavanagh, the ultimate goal of the legislation would be to get the Supreme Court to reconsider the current interpretation of the 14th Amendment, which allows for any child born in the United States to be given American citizenship.
Popular in the Community