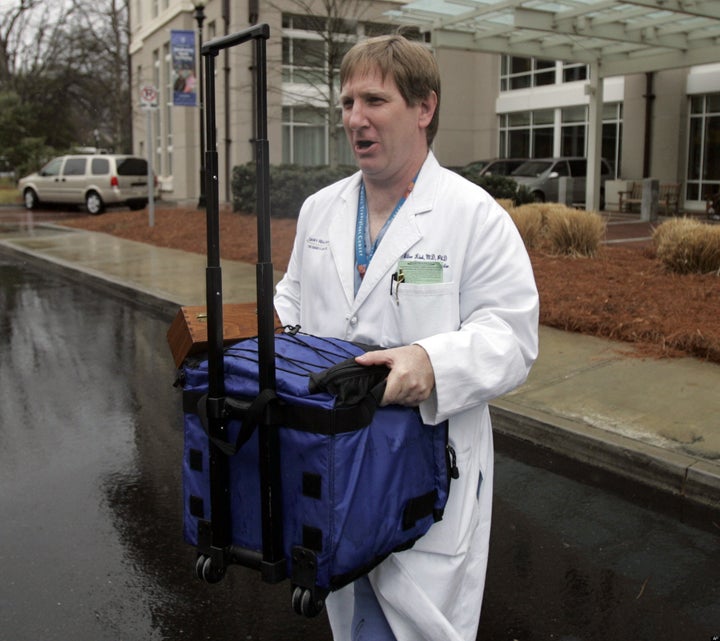 For some Arizona residents, the massive fiscal crisis gripping their state and others has put their lives at risk, NPR reports.
Thanks to a $1.5-billion budget deficit, Arizona has had to make some tough choices, including cuts to certain liver and heart transplants paid for by the state, according to NPR. Last spring, Arizona's GOP-led legislature instituted the cuts to the Arizona Health Care Cost Containment System, the state's version of Medicaid. Sacrificing the life-saving procedures saves the state an estimated $4.5 million annually, or 0.3 percent of its present deficit.
In some cases, the state has chose to deny coverage for procedures that were already approved. Phoenix's KPHO 5, a CBS affiliate, reports that Francisco Felix, a Phoenix-area resident who is suffering from Hepatitis C, was actually in a hospital surgery room when doctors informed him that his liver transplant wouldn't be approved.
A family friend donated the liver Felix was set to receive, but his family is unable to come up with the $200,000 needed to pay for the procedure. Francisco's wife Flor told KPHO: "The liver is gone because we don't have the money. That's why we lost this opportunity. But we have hope that something good is going to come."
In October, the Associated Press reported that Phoenix's Mark Price, a former armored-truck delivery worker, was likewise refused the life-saving bone marrow operation he needed. "We need to save lives and knowing the funding is not there for me -- it's pretty hard to deal with," he told the AP.
But the cuts don't stop there. The AP noted last month that Arizona has cut "coverage for occupational and speech therapy, insulin pumps, hearing aids and emergency dental care" and "funding for wellness exams, but mammograms, pap smears and colonoscopies remain covered."
Arizona has seen dramatic cutbacks in a host of social services. In Mesa, the state's largest school district had its budget slashed by as much as $65 million, which could amount to a 15 to 20 percent hit to its operating budget, the East Valley Tribune notes.
And some 8,200 families will be unable to receive temporary cash assistance after the state cut the time limit for those benefits from 60 months to 36, the Center on Budget and Policy Priorities reports.
Related
Popular in the Community