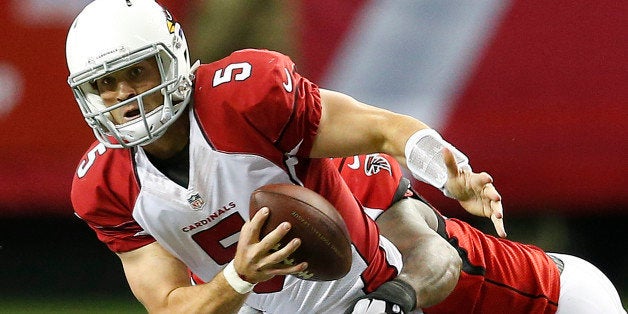 Back when the Arizona Cardinals were 7-1 and had the best record in the entire NFL, I wrote a piece here entitled "Why We Shouldn't Trust the Arizona Cardinals' Early Success" and was generally bashed for my stance and analysis. Citing their starting quarterback Carson Palmer's injury history, the team's porous pass defense and their thin rushing attack as the three main areas of concern, the Cardinals now find themselves at 9-3 on the season, but are now in serious danger of even perhaps missing the playoffs entirely. Now added on to the three previous issues: the dreaded eight-letter word i-n-j-u-r-i-e-s.
Having just signed a three-year, $50 million contract extension days before, starting quarterback Carson Palmer tore his already surgically-repaired ACL again on November 9th, and will miss the rest of this season as he recovers. As I noted previously, in such a scenario, Drew Stanton would be a large step down from Palmer.
On the season, Palmer had 11 touchdowns and three interceptions in six games played, while sporting a 95.6 quarterback rating. In seven games played, Stanton has thrown just six touchdowns compared to five interceptions and a quarterback rating in the high-70s.
Lost in the Week 13 matchup were starting running back Andre Ellington (hip pointer), starting guard Paul Fanaika (sprained ankle), and starting safety Tyrann Mathieu (thumb injury), who all didn't return for the rest of the game and whose statuses are unknown moving forward.
As a result, the team was manhandled by the Falcons (5-7), who put up staggering offensive numbers against what was considered an upper-echelon Arizona defense. The Falcons dominated the time of possession 37:03 to 22:57, out-rushed the Cardinals 142 to 35, had 500 total yards compared to 329 by Arizona, and converted seven first downs compared to just one by Stanton and the Cardinals.
Those numbers would make even the most diehard Cardinals fan cringe.
Ellington's loss in particular hurt the team, as they were unable to move the ball effectively on the ground with rookie Marion Grice, who picked up just 16 yards on five carries. As of late, Ellington's production has been hindered most likely as a culmination of his demanding season-long workload, which I hinted on in my last Cardinals' warning piece.
If Ellington is unable to play in Week 14 against the Chiefs, it will be Grice taking the lead back role, which is an incredible downgrade from the dynamic Ellington, who is not only a big-play threat every time he has the ball, but also a talented receiving back who can open up the field and create on check-downs from Stanton when under pressure.
Arizona's pass defense struggled yet again in Week 13, as Julio Jones went off for a 10-catch, 189-yard performance with a touchdown against Patrick Peterson and the Cardinals defense, who allowed 361 passing yards on 30 completions to Matt Ryan and the Falcons offense. The Cardinals are the fifth-worst team in the NFL against the pass this year, giving up 263.2 yards per game in the air. In a very pass-happy NFL, this is never a good category to be near the bottom in.
Looking forward, Arizona plays the Chiefs at home in Week 14, on Thursday Night Football in St. Louis against the streaking Rams in Week 15, and closes out the season at home against the Seahawks and then on the road against the 49ers.
Try finding me a reason that they are a lock at even winning one of those games given their current injuries and their play as of late.
With the Falcons (5-7) or Saints (5-7) winning the NFC South, there are a slew of solid teams who have the chance to get hot as the season comes to a close, including the Packers (9-3), Lions (8-4), Eagles (9-3), Cowboys (8-4), Seahawks (8-4), and 49ers (7-5).
My bold prediction: they lose all four of their remaining games and shockingly miss out on the playoffs as the odd-man out.
Calling all HuffPost superfans!
Sign up for membership to become a founding member and help shape HuffPost's next chapter