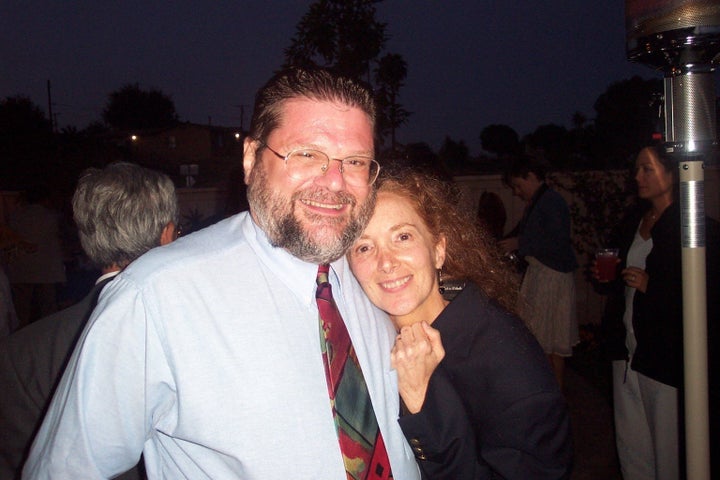 Michele Rappaport and her husband, Alan Sorkowitz, said they watched the monthly premiums for their health insurance policy jump from $1,700 to nearly $2,500 in just one year. The Tucson, Ariz., couple started to wonder if they'd be better off stuffing that money in the bank.
In January, they saw a golden opportunity to drop the expensive policy in favor of a new, more affordable federal program for people with preexisting conditions. Their premiums will be less than half as expensive, and their out-of-pocket costs will be capped.
The only problem is that in order to qualify, they need to be uninsured for at least six months. Rappaport and Sorkowitz, both 57, say that despite being generally healthy, they feel they are making a big bet that they can avoid catastrophic illness or injury until July.
"I was literally crying on the phone," Rappaport said, describing the moment she and her husband called Cigna to ditch their plan. "It was the most frightening thing we've ever done."
Arizona law requires insurers to offer "guaranteed issue" plans on the individual market regardless of applicants' preexisting conditions, but the law does not limit what insurers can charge, which is why Rappaport and Sorkowitz, long separated from employer-provided health policies, found themselves in such an expensive private plan. Between them, they face several preexisting conditions, including asthma, diabetes and cataracts.
The new program, a high-risk pool formally known as the Pre-Existing Condition Insurance Plan, was created by last year's health care law to provide stopgap coverage to the otherwise-uninsurable until 2014. At that point, the law provides for affordable policies available on "exchanges" and will bar insurers from denying coverage to applicants for being sick.
The Obama administration describes the PCIP as little more than a "bridge" to 2014. While there are as many as 25 million Americans who are uninsured because of preexisting conditions, only 12,000 have enrolled in the program since its launch last summer. The premiums are lower than what's available on the individual market, but they're still not very low. In Arizona, one of 22 states where the federal government administers the program, the standard monthly premium for people older than 55 is $557. Out-of-pocket costs are capped at $5,950.
The six-month waiting period is another major obstacle. The architects of the law never intended for the insured to drop their private plans in favor of the high-risk pool; that's the reason for making people wait.
After their waiting period started, Rappaport and Sorkowitz didn't have to wait long for their first moment of terror. It came just two weeks after they canceled their old policy.
Rappaport accidentally sliced her finger while chopping vegetables. "It just wouldn't stop bleeding," she said. When they arrived at an urgent-care center, they were told that without insurance, the stitches would cost at least $130. So they left. "I said, 'You know what, I'm just going to super-glue it.'"
Sorkowitz said he didn't approve of the decision to skip the stitches. "We could have afforded it, but there's a little bit of psychology here," he said. "This was the first month we weren't paying $2,500 and we were beginning to look forward to some savings."
(They didn't actually use glue: "We used a lot of pressure, butterfly bandages, it bled for days. Eventually, it did heal," Rappaport said. "I would have taken a different course of action completely if we had had the insurance.")
Rappoport and Sorkowitz say not having kids made it easy for them to save money for an early retirement. He worked as an editor in the publishing industry and continues to do some freelance work, while she worked as a freelance writer and now sells jewelry on Etsy.com. She worked at part-time at Starbucks for several years and, after quitting, continued their insurance at full cost for 18 months under the federal COBRA law. When COBRA ran out a little more than a year ago, they signed up for the expensive "guaranteed issue" plan.
"Michele and I have always been super-cautious, belt-and-suspenders kind of folks, so this was a harrowing decision," Sorkowitz said. First, they talked it over with the office of their congresswoman, Democratic Rep. Gabrielle Giffords, who is now recuperating after being shot in the head during an assassination attempt in January.
"I had some specific questions about whether the program would survive the GOP takeover of Congress, whether the money would be set aside," Sorkowitz said. "The congresswoman's legislative aide wrote me a note that this money has been set aside and that this aspect of the health care plan has not been controversial."
That's because the high-risk pool is a Republican idea. It's the major GOP contribution to the health care law and the centerpiece of their alternative plan. And the $5 billion allocation for the PCIP is already out the door. (Giffords' office did not respond to requests for comment.)
Another requirement for applicants is that they prove they've been rejected for private insurance due to preexisting conditions. For Rappaport and Sorkowitz, that was probably the easiest part.
BlueCross BlueShield of Arizona sent rejection letters to both of them on Feb. 8. They shared the letters with HuffPost: "The decline is based on your general, overall health including the following conditions: asthma, diabetes, hypertension, kidney stones, current height/weight and GERD," Sorkowitz's letter said, before mentioning that if he hadn't been declined, he'd have been required to send additional information on things like allergies and insomnia.
Rappaport received the same letter, but with a different list: "cataracts, fibrocystic breasts, fracture, osteopenia and retinal dystrophy/retinal hole/vitrectomy surgery."
The rejection letters also said, "You may want to explore whether you are eligible for the Pre-Existing Condition Insurance Plan established by the health reform legislation."
While she's still waiting for coverage, Rappaport said she recommends the PCIP. "Everybody should know about this," she said. "It's a good thing, not a bad thing."
Calling all HuffPost superfans!
Sign up for membership to become a founding member and help shape HuffPost's next chapter