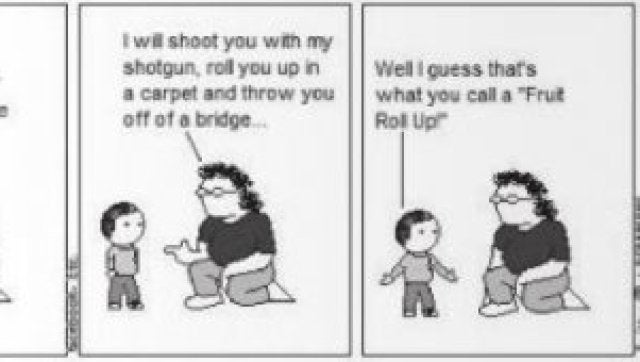 The Arizona Daily Wildcat at the University of Arizona is apologizing for publishing a controversial cartoon earlier this week that features a fairly horrific depiction of homophobia and child abuse.
The four-panel strip, run Tuesday, shows a father threatening his young son with bloody death and body discarding if he ever comes out as gay. As the father states unequivocally, "I will shoot you with my shotgun, roll you up in a carpet, and throw you off of a bridge." His son's-- frankly, appalling-- response: "Well I guess that's what you call a 'Fruit Roll-Up!'" The final panel then portrays the pair laughing hysterically.
As expected, the outrage surrounding its publication has been swift and fierce. A portion of one letter to the editor from a UA student: "[T]his comic is inflammatory and beyond the limits of both humor and what should be published in this university's newspaper."

A separate comment on a related Change.org petition: "I am disgusted at this portrayal of homosexuality. I cannot believe my tuition is going towards this vile. I WILL NOT read the Daily Wildcat again until serious changes are made."
The student cartoonist has apologized. He said the strip was inspired by childhood memories of his "devout conservative" father being upset "I had learned (from 'The Simpsons') what homosexuality was at such a young age." As he wrote, "I have always used humor as a coping mechanism, much like society does when addressing social taboos. I do not condone these things; I simply don't ignore them. I do sincerely apologize and sympathize with anyone who may be offended . . . but keep in mind it is only a joke, and what's worse than a joke is a society that selectively ignores its problems."
The paper's editors also issued a statement of apology, admitting, "The Arizona Daily Wildcat does screw up, and acknowledging its mistakes and oversights is critical to its accountability. On Tuesday, the Wildcat staff made a serious error in judgment in printing a cartoon that some readers felt was homophobic and inappropriate. The views of individual staff members do not represent the views of the Wildcat, nor does the Wildcat reflect the views of the UA. However, printing the cartoon was irresponsible to our readers. We apologize."
Along with words, a few actions: Editors have fired the cartoonist. They pulled the print edition of Tuesday's paper from its Issuu archives. And they are reviewing the paper's editorial policies to ensure a similar strip is not run in the future.
My Take: I have immense respect for the Wildcat. The paper has distinguished itself numerous times in recent years, most notably its courageous, comprehensive coverage of the Tuscon shooting. This cartoon is far beneath the standards by which it normally operates.
It is brutally offensive. I'll be blunt: It is quite possibly the worst cartoon or comic depiction I've seen within the student press, and I've covered this world daily for half a decade. If there is a socially-conscious message buried in the strip, as the cartoonist suggests, it is so hidden I don't see it- at all.
Popular in the Community