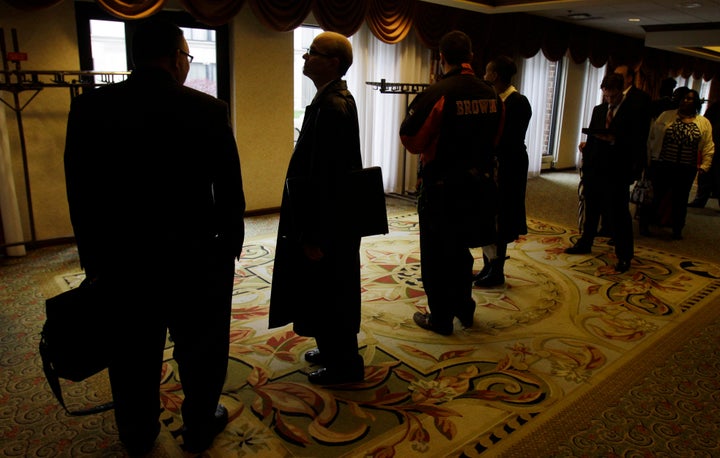 Democratic members of the Arizona legislature are going to donate their paychecks to the unemployed people they failed to help in a special session earlier this month.
Arizona lost its eligibility for the final 20 weeks of benefits for the long-term jobless because lawmakers didn't tweak state law to conform to a new federal standard created by Congress in December to keep the benefits flowing. As many as 45,000 Arizonans will miss out on the extended benefits by the end of the year.
In April, knowing the benefits would expire, Arizona lawmakers spent the waning hours of the legislature's regular session choosing a state gun. When Republican Gov. Jan Brewer called a special session to save the benefits in June, lawmakers argued over the benefits but didn't restore them. Republicans, who control the legislature, argued that additional federal money shouldn't be larded on their constituents.
"Eventually we have to quit paying unemployment benefits," said Republican Sen. Ron Gould, according to Bloomberg Businessweek. "And when does it stop being unemployment benefits and begin just being cash assistance?"
On Tuesday, Democrats from the Arizona House and Senate will make the dramatic gesture of donating the cash assistance they received for coming to Phoenix during a special session that started Friday, June 10, and ended Monday, June 13. Lawmakers earned $35 per day if they live within Maricopa County, the county where the capitol is located, and $60 per day if they live outside Maricopa.
"The amount collected per diem in this session by out-of-county representatives -- $240 -- is more than one week of unemployment insurance payment," according to statehouse Democrats.
The Democrats will donate the money they earned during the special session to Community Voice Mail, an organization that describes itself as providing "free, 24-hour statewide voice mail to people in crisis -- connecting them to jobs, housing and hope."
Preserving the federal Extended Benefits program, which gives 20 weeks of checks to long-term jobless who use up 79 weeks of combined state and federal benefits, would have pumped $3.5 million per week into the state for the rest of the year.
Calling all HuffPost superfans!
Sign up for membership to become a founding member and help shape HuffPost's next chapter