An impassioned fan letter inspired electro-pop trio A R I Z O N A to cast a real-life Michigan couple in the music video for "Electric Touch," the first single from their hotly anticipated debut album, "GALLERY." 
According to singer-songwriter Zachary Hannah, he and bandmates Nathan Esquite and David Labuguen received an email from fan Hailee Ritcey prior to a performance in Seattle earlier this year. In it, Ritcey explained how the band's music helped her and her girlfriend of four years, Carly, navigate challenges they'd experienced as a same-sex couple.  
"We had some on and off moments... coming out was just part of the struggle," she wrote in the email. "We had to learn what a serious relationship was about. We are strong now." 
Hannah, who hails from New Jersey, told HuffPost that Ritcey asked the band to dedicate a song to her girlfriend during the Seattle show. But the guys were "so touched" by the couple's story, they decided to film the women as they explored the city's waterfront for the new video instead. They also incorporated segments from Ritcey's original email to punctuate the song's more tender moments.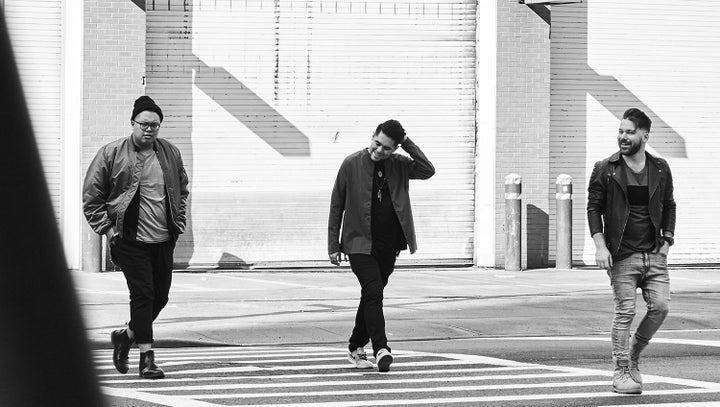 A R I Z O N A hopes viewers ultimately see "Electric Touch" as a simple love story rather than a political statement of any kind. Of course, Hannah said the band was aware that featuring a same-sex couple in their music video would resonate on a deeper level with their audience "because of what's going on" in the U.S. politically.
"I don't think we gave much thought to trying to hit a mark with it," he said. "[But] to see the world now that doles out so much hate and misunderstanding to communities, especially the [LGBTQ] community, is disheartening. It doesn't have to be this big, misunderstood concept ― that people love each other no matter who they are."  
According to press notes, Ritcey has felt "so much love" in the wake of the video's release. Calling "Electric Touch" an "incredible opportunity" for her and her girlfriend, she added, "I knew it was a long shot to even get a response, but then they took it one step further."
"Electric Touch" kicks off a busy spring for A R I Z O N A, with "GALLERY" set to hit retailers May 19. The men are also in the midst of a national tour, with upcoming concerts slated for New York, Chicago and Los Angeles, among other cities. 
Hannah hopes "GALLERY" is reflective of the band's multicultural backgrounds. "As long as it's honest to us, and as long as we feel it really resonates well with us, we put it out into the world," he said. He went on to note that he was proud of the response "Electric Touch" has generated so far. "If we can do something that can influence someone's way of thinking or help them through something, I think that's the biggest goal," he said. "If this has done that in even a small way, that's good for us."  
Calling all HuffPost superfans!
Sign up for membership to become a founding member and help shape HuffPost's next chapter
BEFORE YOU GO