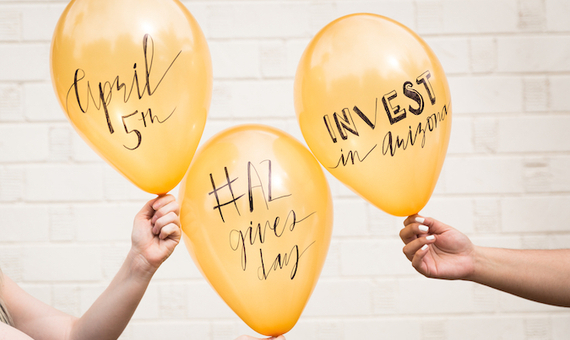 Every year, Arizonans dedicate Arizona Gives Day to donating funds to the nonprofit of their choice. With more than 20,000 such organizations in the state, they face no shortage of options. Beyond the often invaluable contribution nonprofits make to Arizonan life related to the range of issues they represent, all up the sector employs more than 150,000 people and generates skyward of USD 27 billion in revenues per annum. I interviewed Kristen Merrifield, CEO at the Alliance of Arizona Nonprofits, about the motivation behind AGD, which happens in 2016 on Tuesday April 5.
What's your personal background? How did you end up at the Alliance of Arizona Nonprofits?
I fell in love with nonprofit work very early in my career, with my first professional job at the Greater Phoenix Chamber of Commerce in 2003. After spending nine years at the Arizona Small Business Association, I had the opportunity to start a new journey leading the Alliance. I enjoy coming to work each day knowing I have the power to make a difference in the lives of the members we are serving. It has been a wonderful new adventure thus far, and I truly enjoy leading such a talented and passionate staff, board and group of volunteers.
What's the Alliance about, and how is it connected to Arizona Gives Day?
The Alliance' mission is to unite, strengthen and advance the Arizona nonprofit sector. I believe that Arizona Gives Day is an initiative that truly embodies our mission in all of those ways. It provides an opportunity for nonprofits to unite together to harness the power of collective giving, and, at the same time, helps advance their causes and impact to the entire state - by cultivating a vibrant and growing spirit of philanthropy throughout Arizona. A gift can help build a new community center, serve food to a homeless veteran, provide a scholarship to an at-risk teen, or even preserve the natural resources of this place we call home. But giving is just the first step. It is the beginning of what we hope is a long history of engagement and support of the nonprofits that are critical to our communities, our cities and our state.
There are a lot of nonprofits in Arizona! Do people find it overwhelming to choose which one to give to?
We have found that having the most nonprofits to choose from actually increases donations. For instance, a donor might be visiting azgives.org to donate to their favorite cause, and then see several other causes that spark their interest, which then moves them to give to several organizations that they might have never known of without Arizona Gives Day.
How can people get involved in AGD - as donors or nonprofits?
The easiest way for donors and nonprofits to get involved is to follow Arizona Gives Day on Facebook, Twitter and Instagram and then share, tweet and post about Arizona Gives Day through their social network before and on April 5. Today, and leading up to April 5, Arizona Gives Day will continue to have new and interesting content posted on its social media pages that can be shared.
REAL LIFE. REAL NEWS. REAL VOICES.
Help us tell more of the stories that matter from voices that too often remain unheard.