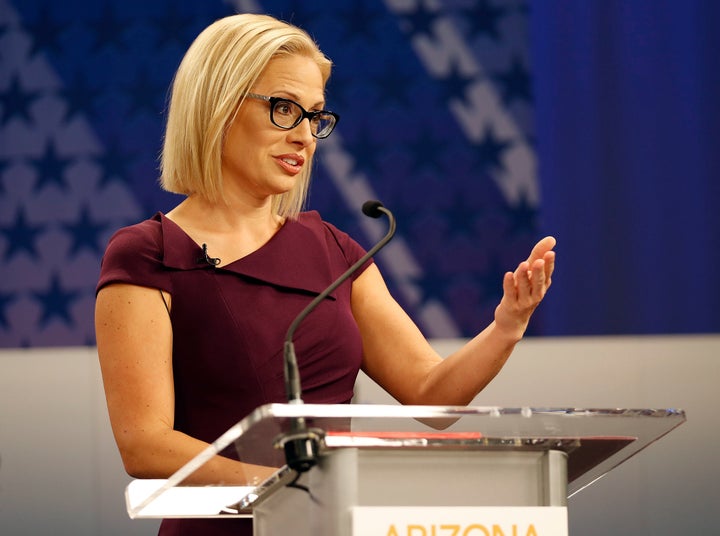 The Arizona Republican Party is sending mailers to Democratic voters tying the Green Party nominee in the state's crucial Senate race to Sen. Bernie Sanders (I-Vt.) in what appears to be an attempt to persuade liberals to support her over Democratic Rep. Kyrsten Sinema.
The Green Party candidate, Angela Green, endorsed Sinema earlier this week. Sinema is in a tight race with GOP Rep. Martha McSally to replace retiring GOP Sen. Jeff Flake, and a Democratic victory in the close contest is essential to Democrats' slim hopes of winning control of the U.S. Senate.
The mailers, which include an Arizona Republican Party authority line, are framed as an attack on Green and picture her next to Sanders. "Angela Green and Bernie Sanders are too extreme for Arizona," the mailer reads, before pointing to Green's "Sanders-style agenda" of Medicare for all, marijuana legalization, higher taxes on the wealthy and a 100 percent green energy mandate.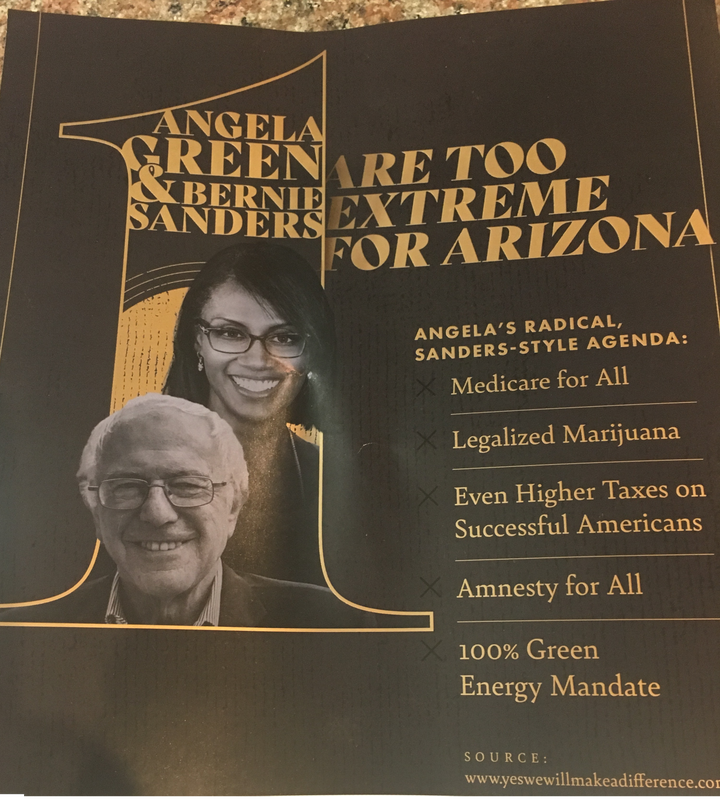 "Every voter should beware: Arizona Republicans are trying to trick voters into supporting a candidate who has already dropped out of the race," said Rodd McLeod, a spokesman for Red and Gold, a super PAC supporting Sinema. "Unfortunately, it's more dirty, dishonest politics from McSally and her pals."
In a statement, the Arizona GOP didn't address why it's attacking a candidate who has dropped out of the race.
"Angela Green has been proudly pushing her extreme progressive agenda, which is out of touch with Arizona," spokeswoman Ayeshia Connors said. "Kyrsten Sinema supports amnesty for illegals, and Sinema is an out-of-the-mainstream liberal as well. The only difference between them is that Kyrsten Sinema is in the witness protection program for liberals, trying to hide her extreme agenda from Arizonans."
Sanders has not endorsed Green, but he also has not formally backed Sinema. She did not attend two rallies Sanders held in Arizona last month. Sinema doesn't support Medicare for all, one of Sanders' signature issues.
"Bernie Sanders has been traveling the country visiting 13 states to try and end one party rule in Washington by electing Democrats up and down the ballot," Sanders spokesman Josh Miller-Lewis wrote in an e-mail, not addressing whether the democratic socialist supports Sinema.
Sinema is potentially vulnerable to efforts to encourage voting for the Green Party nominee because of her record as a moderate. A onetime leftist, Sinema has shifted to the center over the course of her political career and now votes with President Donald Trump more than 50 percent of the time. Liberal activists in the state have occasionally grumbled about supporting her.
While Green dropped out of the race earlier this week to back Sinema, extensive early voting in Arizona means ballots for her have almost certainly already been cast.
In an interview with a local television station, Green said she struggled with her decision to drop out but ultimately decided to back Sinema after watching her debate McSally. "Sinema's stance, on a lot of things, are very similar to mine," she said.
Priorities USA and Senate Majority PAC, two Democratic super PACs, are also paying for Facebook ads encouraging voters to back Sinema over Green.
"Arizona could be our key to taking back the Senate from a Republican majority," the ads read. "But Kyrsten Sinema needs every single vote to get there. Votes for third-party candidates like Angela Green only help Republicans keep their seats and maintain the status quo. So vote Sinema. Let's take back this country."
Attempts to encourage liberal and conservatives to vote for third-party candidates aren't uncommon in Senate contests. In Indiana's close Senate race between Democratic Sen. Joe Donnelly and businessman and former state legislator Mike Braun, the Indiana Democratic Party is paying for Facebook ads targeting conservatives and encouraging them to support Lucy Brenton, the Libertarian candidate.
This article has been updated with comment from a spokesman for Bernie Sanders.
Popular in the Community