WASHINGTON -- Supporters of President Barack Obama aren't welcome at the Southwest Shooting Authority, a gun store in Pinetop, Ariz. which took out an ad in the newspaper to protest Obama's reelection.
The ad, published in the White Mountain Independent on Nov. 9, reads, "If you voted for Barack Obama, your business is NOT WELCOME at Southwest Shooting Authority. You have proven you are not responsible enough to own a firearm."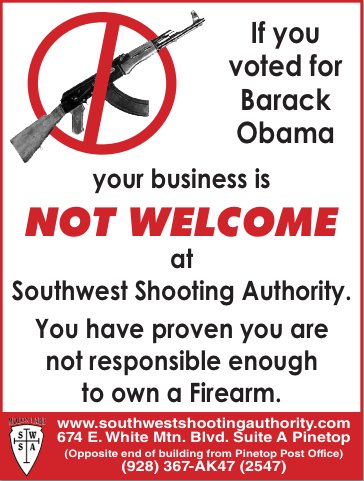 Store owner Cope Reynolds told The Huffington Post in a telephone interview Friday that the ad, which cost roughly $250, has "little to do with gun control."
"It is about the direction that this country is going and the direction it's been going for the last four years, and I feel like the people that voted for him are by and large the ones that are on the many entitlements and free stuff that they've been getting," Reynolds said.
He added: "If someone really believes that this country can get any stronger and do any better under the leadership of Barack Obama, then I don't feel like they're responsible enough to own a gun."
Reynolds said he's gotten a tremendous amount of support in response to the ad, which KPHO reported on Friday. He said some people had made the five-hour drive from Tucson to his shop in order "to shake our hand, get a picture," before returning home.
Much to the consternation of many liberals, Obama has not embarked on significant new gun regulations in his first term, despite several mass shooting incidents in the last couple years. He's faced minimal pressure on the broader issue, but went as far as to say that he'd consider reintroducing an assault weapons ban during the second presidential debate.
Some supporters of tighter gun control laws have been disappointed by the president's inaction on the issue, with New York City Mayor Michael Bloomberg one of the loudest critics among them. "In 2008, Obama ran as a pragmatic problem-solver and consensus-builder," Bloomberg wrote in early November. "But as president, he devoted little time and effort to developing and sustaining a coalition of centrists, which doomed hope for any real progress on illegal guns" and other issues.
New York Times columnist Gail Collins addressed the issue in an op-ed in October, writing, "Democrats running for national office are terrified of the whole subject."
"Party lore has it that passing the assault weapons ban in 1994 cost them control of Congress and Al Gore's election," she said. "(There is ample evidence that this isn't true, but that's what makes it lore.)"
Reynolds admits that the fear among conservatives that Obama would restrict gun rights hasn't been realized.
"People say that he has been friendly to guns and in a way, he has been. He has been very patient," he said, going on to argue that Obama would enact gun control regulations in his second term "now that he has nothing to lose."
Reynolds, who also hosts a radio show called "The Shooting Bench," said his shop has seen an increase in gun sales since the election, a trend that also appeared when Obama was first elected in 2008.
"While Bush was in, it was pretty steady, nothing special. As soon as Obama got in there it went through the roof, and then it tapered off, and now it's going through the roof again," he said.
As CNN Money recently reported, Obama's reelection led to higher gun sales at some stores. Bloomberg News also reported that the stock prices of gunmakers surged the day after the election because of optimism about increased sales.
Reynolds also said that while customers buy his guns for personal defense, hunting and recreation, "many of them that feel like there's a possiblity that [Obama] could become a dictator."
"For the most part, he has already," he said. "There are a lot of people who feel like he's going to take the guns away and rightfully so. I think that he will. I think that our rights will be infringed upon in a big way and very soon."
Reynolds later said that if Obama hadn't curbed gun rights by 2016, he'd be happy to "take back everything I said and tell him I was wrong."
Support HuffPost
The Stakes Have Never Been Higher
Before You Go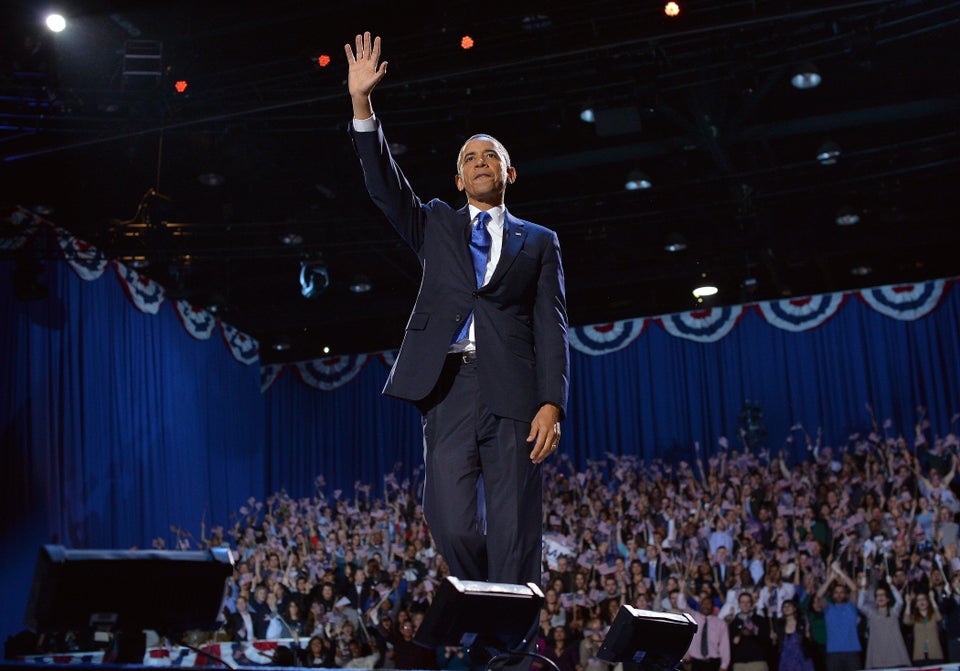 100 Years Of Election Night Winners
Popular in the Community