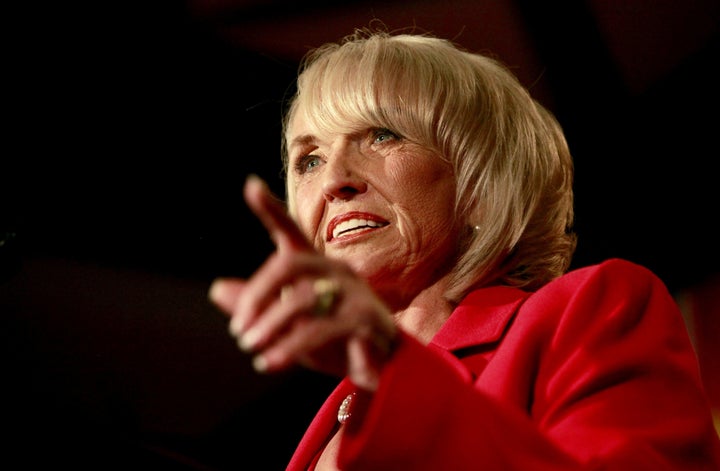 It's one thing to dedicate legislative time over selecting an official state firearm -- only two months since the horrific Tucson shooting.
It's another matter to blacklist and ban (and allegedly rough up) Latino activists from participating in Capitol hearings on immigration bills.
But on the heels of introducing a bill that grants a state committee the right to nullify "existing federal statutes, mandates and executive orders" -- what Arizona Republic columnist E.J. Montini refers to as the right "to secede without officially doing so" -- the Arizona state legislature is now considering SB 1495, which would give Gov. Jan Brewer the right to establish "an armed force for the safety and protection of the lives and property of the citizens of the state which shall be known as the Arizona state guard."
Here's the coda: If a "major portion" of the National Guard is away on service, this bill gives Gov. Brewer the right to call up this new state army "for any other reason the governor considers to be necessary."
Any other reason the governor considers to be necessary.
In case your attention has been on uprisings elsewhere in the world -- and in Wisconsin -- lately, the California-transplanted Brewer recently filed a suit against the federal government for its failure to protect Arizona against "an invasion" from Mexico.
Brewer's right-hand man -- Arizona State Senate President Russell Pearce -- is not only worried about Mexico. Last fall he accused President Obama of engaging in "jihad" against America.
As Brewer discussed on ABC-TV news last Sunday: "We believe that the federal government just needs to get out of the way and let us run the states."
Or perhaps Brewer should say: Let us run our states, with federal money.
Despite beefed-up Border Patrol apprehensions, according to former Arizona governor and Department of Homeland Security chief Janet Napolitano, "a key indicator of illegal immigration -- have decreased 36 percent in the past two years, and are less than half of what they were at their peak," Brewer clearly plans to ride the fear-mongering border security gravy train for as long as she can.
Private armies are nothing new for Arizonans, of course. In 1917, when immigrant copper miners went on strike in Bisbee, a gun-toting sheriff and his posse helped the Phelps Dodge copper company round up 1,286 miners by force, load them on trains and deport them. The militia simply asked each striker: "Are you American, or are you not?" Last month, a Washington-transplanted anti-immigrant activist in Arizona was given the death penalty for the murder of a 9-year-old Arizona citizen and her father.
If this bill passes, Brewer will have a private army -- the Arizona state guard -- to back her up for whatever the governor considers "necessary."
Popular in the Community