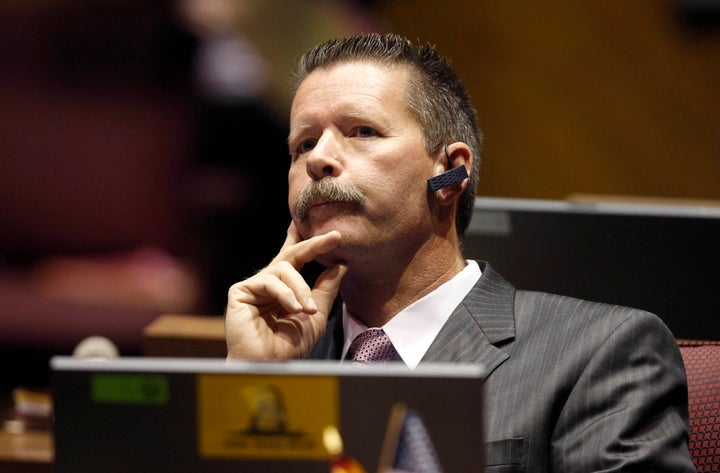 Two days after the Jan. 8 Tucson shootings, as Rep. Gabrielle Giffords lay in a medically induced coma, Arizona's House of Representatives introduced the session's very first piece of legislation: a bill allowing college professors to carry concealed weapons on campus.
A similar bill, SB 1467, which would allow anyone to carry a gun on the sidewalks and roads of public universities, sailed through the House last Thursday, despite the fact that the majority of Arizonans oppose sending guns to college.
"The legislature is being very extreme on gun issues, and it couldn't be more opposite to what the public wants," said Hildy Saizow, President of Arizonans for Gun Safety, a gun control advocacy group.
Nearly 70 percent of Arizonans and 56 percent of gun owners did not want to expand gun rights on college campuses, according a February poll by American Viewpoint, a Republican-leaning research company.
On campuses, the opposition is even stronger. More than 80 percent of the state's students and parents opposed the bill in its original form -- which would have allowed guns inside university buildings and dorms -- according to a 1,400-person survey done by Arizona State University Regents' professor Stuart Lindsay. Another round of polls by the Graduate and Professional Student Association at ASU found that two-thirds of graduate students would feel less safe if firearms were allowed anywhere on campus, even within locked cars or in the hands of professors.
"Firearms do not have a place in educational institutions," said Rhian Stotts, an anthropology graduate student at ASU who has been involved with the association that conducted the poll. "The people I interact with are concerned the legislation has gone through."
SB 1467, sponsored by Sen. Ron Gould (R-Lake Havasu City) and passed by a 33-24 margin, prohibits public universities from banning guns on a "public right-of-way." Arizona joins Utah as the second state to force universities to allow guns, although Utah's laws extend into the classrooms and dorms. The term "right-of-way" could be interpreted narrowly, to refer only to major streets running through a campus, or broadly enough to mean all internal university sidewalks and walkways. If Gov. Jan Brewer signs the bill into law, anyone over 21 will be able to carry a concealed gun on campus -- and anyone older than 18 will be able to carry a visible firearm.
The bill is a compromise -- whittled down from an earlier version that would have allowed guns inside buildings -- but its passage still represents another success in a long string of wins for gun-rights advocates in Arizona. In 2009, packing heat became legal inside bars, restaurants and privately owned parking lots. Then last year, the state eliminated concealed carry permits for individuals over 21 and background checks for firearms transferred between private parties. Despite these laws, more than 80 percent of Arizonans say they would support a law requiring all prospective gun buyers to pass a background check before purchase.
Some gun control advocates think that aggressive lobbying and funding from gun rights groups explains the discrepancy between public opinion and legislative action. "This [legislation] is being pushed by an extremist gun lobby," Saizow said.
Indeed, five of the eight co-sponsors of SB 1467 accepted campaign donations, ranging from $100 to $410, from the National Rifle Association in 2009. Five more House representatives who voted for the bill were also given campaign donations in 2009, although one representative returned the money. A few hundred dollars is chump change compared to the $452,200 Sen. John McCain (R-Ariz.) received from gun rights groups during his presidential campaign. But "for the state legislature, a little bit of money goes a long way," said Saizow, whose group does not fund any political candidates.
On campus, faculty members are threatening to leave or teach classes online if they bill is enacted.
"I can't face a class if I don't know how many students are carrying guns," said John Hildebrand, head of the Department of Neuroscience at the University of Arizona, who noted that he's one of the lucky ones old enough to retire. "I don't want to retire, but I very well could," he said. "I'm on the brink of hysteria over this."
Faculty members on ASU's Tempe campus, such as theater professor Jeff McMahon, are particularly sensitive to the issue because in 2009 a graduate student committed suicide with a gun while standing in a professor's office.
"I know of people who will immediately commence looking for positions elsewhere," said Arizona State University professor Jeff McMahon, who has himself contemplated leaving the university if the legislation is enacted. "I think this is not just rhetoric. I think there will be visiting scholars and professors who say, 'I can't teach here.'"
Some professors feel betrayed by their legislators, such as Linda Essig, who teaches arts entrepreneurship at ASU. When SB 1467 went before the senate in March, she reached out to Sen. John McComish (R-Ahwatukee) as a private citizen -- in Arizona, professors and university administrators are not allowed to lobby -- and asked him to oppose the bill. In an email Essig shared with The Huffington Post, McComish replied, "I agree and oppose this bill." Much to Essig's surprise, McComish went on to introduce an amendment limiting SB 1467 to outdoor premises only, and then supported it.
"It's a very different bill," Sen. McComish told HuffPo. "People were reacting to guns in classrooms and dormitories, and now that's not the issue."
Indeed, gun rights advocates think that the bill in its current form is no more than a logical extension of allowing concealed carry in public areas.
"This is a common sense law in my opinion," said Daniel Crocker, regional director of Students for Concealed Carry on Campus. "We've heard the debate in Arizona, which is the usual debate: 'Blood will flow in the streets.' But that's not going to happen. So in a year from now people will say, 'Wow, nothing happened. Maybe we should allow guns everywhere on campus.'" (SB 1467 sponsor Sen. Gould has made it clear that his next step will be to introduce legislation allowing guns inside university buildings and dorms.)
But others think that the bill is just as dangerous for Arizona's reputation as it is for the student body -- one more link in the increasingly radical agenda of the state legislature, which also passed SB 1070, last summer's controversial immigration law.
"This is not good news coming out about Arizona," said Gary Grossman, president of the ASU Senate, a body that represents all academic units in the university. "It's not helping in our economic development activities, not helping us recruit doctors, and not helping us do many things that we need to do."
Concern about recruiting out-of-state students runs high, especially after the legislature slashed education funding, leaving universities increasingly reliant on the higher tuition out-of-staters pay. Academic conferences could also be relocated elsewhere, in the same way that high-profile events fled the state in the wake of the SB 1070 controversy.
Mark Lussier, president of ASU's Tempe Academic Assembly, recalls a national literature conference that moved to New Mexico this year. "There was a ground swell of people that insisted that the conference be moved, and it was moved," he said. "And I'm quite frankly worried because I'm running another conference in 2012, and I have a feeling that what happened last time might very well occur again."
Plus, the very logistics of the bill, which allows guns outside but not inside, baffle administrators.
"This bill is going to be extremely difficult to enforce," said Grossman. "It's a situation where it will be okay to have guns on sidewalks and in our streets but not in our classrooms. Are we going to have gun racks like bike racks?"
Correction: An earlier version of this article stated that, under the new law, 18 to 20-year-olds would be able to carry concealed weapons on campus, provided they had a special permit to do so. This is incorrect. In addition, the article misstated Mark Lussier's title. He is the President of the ASU Tempe Academic Assembly, not President of the ASU Tempe campus.
Popular in the Community