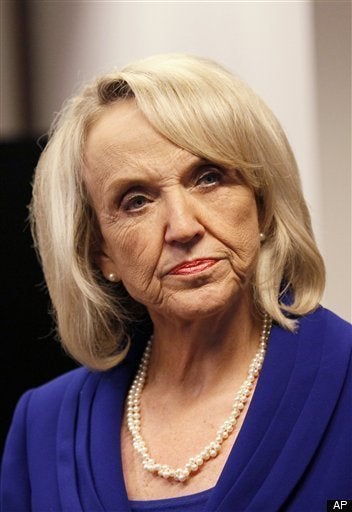 Arizona Governor Jan Brewer vetoed a controversial measure on Monday that would have permitted guns to be carried on public rights of way at public university and community college campuses, the Arizona Republic reports.
The bill's scope had been scaled back partway through the legislative process when the Senate amended it to only apply to rights of way.

The bill originally would have allowed carrying of concealed weapons in buildings, including classrooms.
According to the Arizona Daily Star, Brewer called the measure "poorly written," but also signaled she supports larger efforts to expand where firearms are allowed to be carried. The AP reports:
The bill didn't define public right of way and also could have been interpreted to apply to K-12 schools in addition to universities and community colleges, Brewer said in her veto letter.

"Bills impacting our Second Amendment rights have to be crystal clear so that gun owners don't become lawbreakers by accident," she said.
Local station KOLD 13 reports that University of Arizona President Robert Shelton, who urged Brewer to veto the measure last week, commended the governor's decision to not sign off on the bill.
"I am pleased and grateful to Gov. Brewer for her decision to veto SB 1467," he said. "Our law enforcement officers, along with many of our faculty and students, were extremely concerned that this bill would have had a detrimental effect on the campus learning environment -- one which encourages open and vigorous debate. I appreciate the Governor's decision, which helps us maintain the safety of our campus community."
Popular in the Community