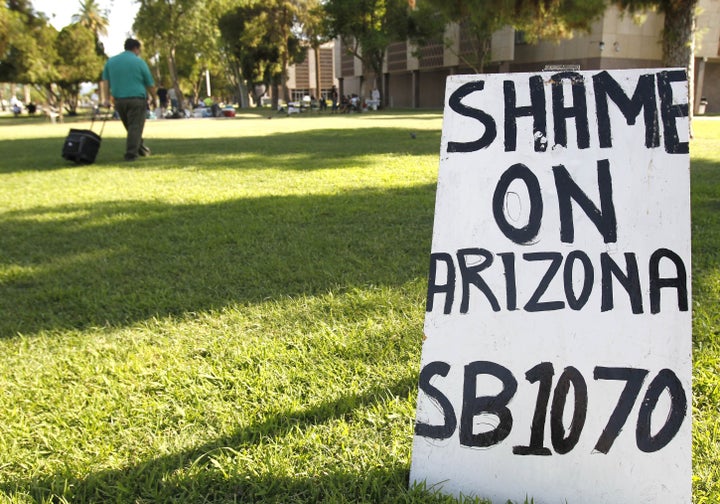 A federal judge has dismissed challenges to a civil rights lawsuit against Arizona's controversial immigration law, allowing the action against the recently enacted law to proceed.
U.S. District Judge Susan Bolton ruled Friday that motions filed by Arizona Gov. Jan Brewer, Maricopa County Sheriff Joe Arpaio and Pinal County Sheriff Paul Babeu that were designed to force the dismissal of lawsuits against the enacted immigration enforcement measure were not sufficient.
"While Governor Brewer correctly points out that, for the most part, the organizational plaintiffs' allegations involve threats of future harm, the threat of future harm is sufficiently imminent," Bolton ruled, according to Courthouse News Service.
In her decision, Bolton also found that "race, alienage, or national origin discrimination was a motivating factor in the enactment of S.B. 1070," and maintained that the lawsuit was appropriate due to the "alleged harm to the organizational plaintiffs will occur if S.B. 1070 goes into effect, regardless of how it is enforced or applied."
Bolton found merit in the plaintiffs' arguments for potential Fourth Amendment and 14th Amendment violations because the immigration law "contains no meaningful procedural safeguards against erroneous deprivations of liberty, and immigration status is not something that is easily ascertainable. A person who is lawfully present in the U.S. may look and act the same way as a person who does not have permission to be in the country, and plaintiffs' allegations of 'subjective and arbitrary' detention decisions by law enforcement agents are plausible."
Calls by the plaintiffs, which include groups such as the ACLU, Friendly House and labor unions, for a full injunction of S.B. 1070 were rejected however, because Bolton had already placed a stay on what she believed to be the most controversial aspects of the legislation.
The Arizona Republic reports that "there will be a hearing regarding that stay in San Francisco on Nov. 1 before the U.S. Court of Appeals for the Ninth Circuit."
Bolton also found merit in Brewer's challenge of a First Amendment complaint in the lawsuit, ruling that S.B. 1070 "does not purport to limit the rights of individuals to speak." The plaintiffs had argued that the law would cause people to be scared to speak a non-English language or with a foreign accent.
A total of seven lawsuits have been filed against Arizona's new immigration law, Judge Bolton has already dismissed two and is still scheduled to hear the final two.