WASHINGTON -- The Supreme Court on Monday delivered a split decision in the Obama administration's challenge to Arizona's aggressive immigration law, striking multiple provisions but upholding the "papers please" provision. Civil rights groups argue the latter measure, a centerpiece of S.B. 1070, invites racial profiling.
Monday's decision on "papers please" -- Section 2(B) in S.B. 1070 -- rested on the more technical issue of whether the law unconstitutionally invaded the federal government's exclusive prerogative to set immigration policy. The justices found that it was not clear whether Arizona was supplanting or supporting federal policy by requiring state law enforcement to demand immigration papers from anyone stopped, detained or arrested in the state whom officers reasonably suspect is in the country without authorization. The provision that was upheld -- at least for now -- also commands police to check all arrestees' immigration status with the federal government before they are released.
"The nature and timing of this case counsel caution in evaluating the validity of [Section] 2(B)," wrote Justice Anthony Kennedy on behalf of Chief Justice John Roberts and Justices Ruth Bader Ginsburg, Stephen Breyer and Sonia Sotomayor, noting that the law has not yet gone into effect. Because "[t]here is a basic uncertainty about what the law means and how it will be enforced," the majority chose to allow the law to go forward, but made clear that "[t]his opinion does not foreclose other preemption and constitutional challenges to the law as interpreted and applied after it goes into effect."
Indeed, such constitutional suits are already proceeding against Arizona's "papers please" policy. Earlier this month, U.S. District Judge Susan Bolton heard arguments on whether to certify a class of what could be hundreds of thousands of individuals now trying to bring equal protection, free speech and due process challenges to S.B. 1070.
While Arizona succeeded on Section 2(B), the Supreme Court gave the Obama administration a victory by striking three other challenged provisions as stepping on federal prerogatives. Two of the provisions made it a crime for undocumented immigrants to be present and to seek employment in Arizona, while a third authorized police officers to make warrantless arrests of anyone they had probable cause to believe had committed a deportable offense.
"The history of the United States is in part made of the stories, talents and lasting contributions of those who crossed oceans and deserts to come here," Kennedy wrote. "The National Government has significant power to regulate immigration. With power comes responsibility, and the sound exercise of national power over immigration depends on the Nation's meeting its responsibility to base its laws on a political will informed by searching, thoughtful, rational civic discourse. Arizona may have understandable frustrations with the problems caused by illegal immigration while that process continues, but the State may not pursue policies that undermine federal law."
Justices Antonin Scalia and Clarence Thomas each wrote separately to say they would have upheld all four of S.B. 1070's challenged provisions, while Justice Samuel Alito wrote that he would have upheld all but the provision that criminalized an immigrant's failure to register with federal authorities.
Delivering a forceful oral summary of his dissent before a full courtroom, Scalia said that Arizona's own sovereignty as a state makes it "entitled to impose additional penalties and consequences for violations of the federal immigration laws, because it is entitled to have its own immigration laws."
In addition, Scalia cited the Obama administration's recent decision to stop deporting certain undocumented immigrants under 30 years old as a policy change that defies the administration's argument that S.B. 1070 eats up the federal government's scarce resources. "The husbanding of scarce enforcement resources can hardly be the justification for this [policy change], since those resources will be eaten up by the considerable administrative cost of conducting the nonenforcement program, which will require as many as 1.4 million background checks and biennial rulings on requests for dispensation," said Scalia, referring to the number of undocumented immigrants estimated to benefit from the secretary of homeland security's announcement on June 15.
"The President has said that the new program is 'the right thing to do' in light of Congress's failure to pass the Administration's proposed revision of the immigration laws. Perhaps it is, though Arizona may not think so," said Scalia. "But to say, as the Court does, that Arizona contradicts federal law by enforcing applications of federal immigration law that the President declines to enforce boggles the mind."
Beyond the Grand Canyon State, lawmakers in Utah, Indiana, Alabama, Georgia and South Carolina will be parsing the Supreme Court's decision to see how their Arizona-style immigration statutes will be affected.
Justice Elena Kagan did not participate in Arizona v. United States, presumably because she worked on the case during her tenure as President Barack Obama's first solicitor general.
Erin Mershon contributed to this report.
Support HuffPost
The Stakes Have Never Been Higher
Before You Go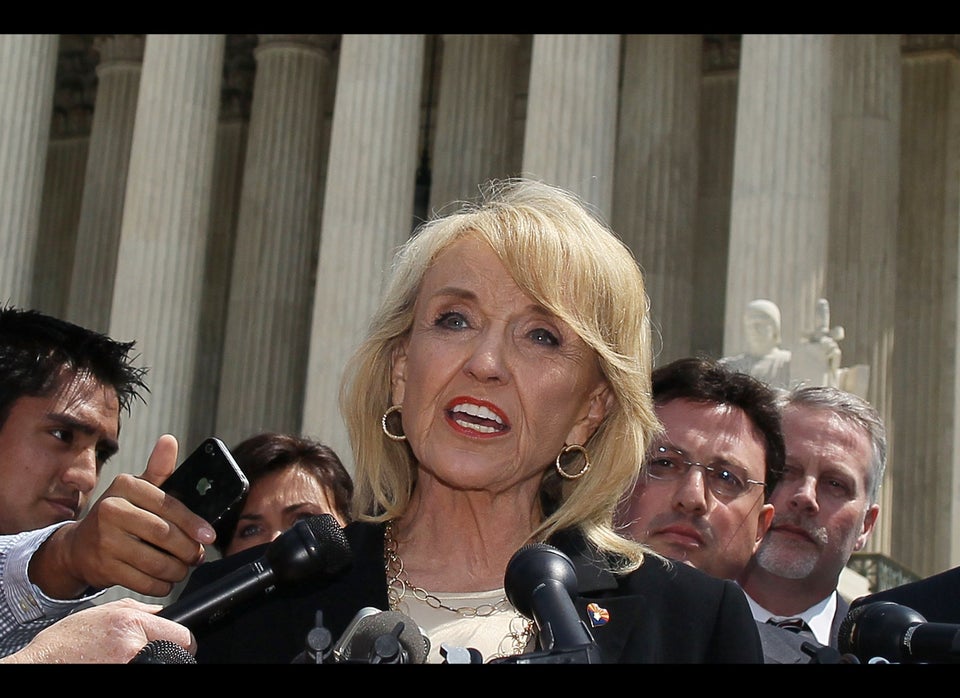 Political Reaction To SB 1070 Ruling
Popular in the Community