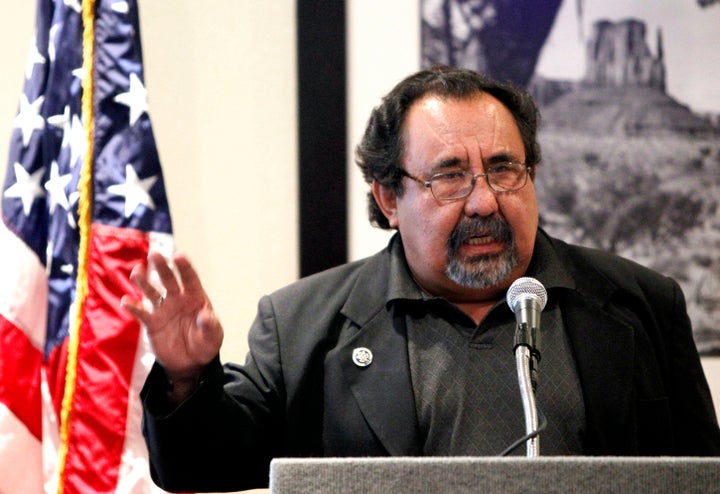 WASHINGTON -- While the Supreme Court justices took up health care, opponents of Arizona's extreme immigration law looked ahead.
Eleven attorneys general filed an amicus brief on Monday in support of the federal government's suit against the law, SB 1070, which the Supreme Court will hear in April. Nearly 70 House Democrats, led by Rep. Raul Grijalva (D-Ariz.), filed a separate, but similar, brief.
The fight over Arizona's immigration law, though slightly lower profile than the constitutionality question on health care, is likely to provoke a firestorm as the Obama administration pits itself against Republican state lawmakers who attempted to take up enforcement of immigration law on their own.
The Justice Department sued Arizona in July 2010, two months after the law was passed, to block measures that government lawyers argued were unconstitutional. A few of those provisions were blocked before the end of the month, including measures requiring police to check immigration status of those they suspected to be in the country illegally or violators of offenses that could lead to deportation.
Opponents say the law is unconstitutional because it preempts the federal role to police immigration, an argument echoed in both "friend of the court" briefs. But they also said the law is harmful for other reasons, such as diverting police efforts from other issues.
"We're not being asked to choose between the Constitution and an effective state law," Grijalva, co-chairman of the Congressional Progressive Caucus, said in a statement. "We're being asked to choose between the Constitution and an ineffective, one-sided, intentionally divisive political stunt."
New York Attorney General Eric Schneiderman, who led the effort by state attorneys general against SB 1070, said the Arizona law "completely undercuts" federal enforcement efforts. The attorneys general of California, Connecticut, Hawaii, Illinois, Iowa, Maryland, Massachusetts, Oregon, Rhode Island and Vermont also joined the brief.
Schneiderman told The Huffington Post that although he supports, and defends, states' rights to run their affairs, immigration enforcement is not an area in which they can do so without preempting the government.
"As protective as those of us who represent state governments are of the power of the states, there are some areas in which we're ultimately better off if the federal government is exercising a uniform set of policies," Schneiderman said.
Schneiderman drew a distinction between laws like SB 1070 and efforts by states such as New York to pass more immigrant-friendly measures, such as in-state tuition for undocumented students.
"The states have decisions to make about how you treat people, how your welfare system operates, your school system, your criminal justice system. How you treat people in your borders, that's the providence of the state," he said. "The decision of who gets into the country and who is expelled from the country is very different."
He said that should SB 1070 be found unconstitutional, as he believes it will, it should stop similar laws in Georgia, Alabama, South Carolina and Utah.
"I think this should resolve it," Schneiderman said. "From my point of view, this is a pretty clear area of law."
Calling all HuffPost superfans!
Sign up for membership to become a founding member and help shape HuffPost's next chapter
BEFORE YOU GO