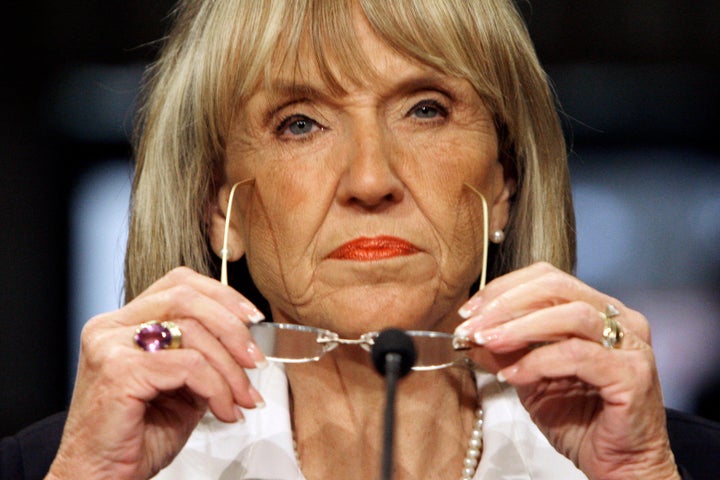 PHOENIX (Reuters) - Arizona will file a lawsuit in federal court to learn whether a controversial medical marijuana law passed by voters last November is legal, Arizona's governor said on Tuesday.
Republican Governor Jan Brewer said the state will file the court action by Friday to make sure that Arizona does not put state workers and consumers in jeopardy as it implements its voter-sanctioned Medical Marijuana Act.
The decision to seek clarification comes after the U.S. Attorney for Arizona, Dennis Burke, warned in a letter to state health officials earlier this month that the cultivation, sale and distribution of marijuana is still against federal law and subject to prosecution.
In it, Burke said he would "vigorously prosecute individuals and organizations that participate in unlawful manufacturing, distribution and marketing activity involving marijuana, even if such activities are permitted under state law."
Brewer said she wants to follow voter's wishes, but remains concerned.
"I won't stand aside while state employees and average Arizonans acting in good faith are unwittingly put at risk," she said in a prepared statement released Tuesday.
"In light of the explicit warnings on this issue offered by Arizona's U.S. Attorney, as well as many other federal prosecutors, clarity and judicial direction are in order," she added.
Arizona became the 15th state in the nation to approve medical marijuana. Last November, voters gave the go-ahead to a ballot measure by a razor-thin margin.
The state has been accepting applications from individuals seeking to used marijuana for medical purposes since April.
Figures show that 3,696 people have been given cards to use marijuana for a range of medical problems, with the bulk of the users approved because of chronic pain.
The legal action also comes as the state readied to accept applications statewide on June 1 for those seeking to dispense the drug under the new law. There will be 125 dispensaries allowed under Arizona Department of Health Service rules.
Officials have said the dispensaries would start operating in late September or early October. But a governor's aide told Reuters that Brewer wants to put the dispensary part of the law on hold pending a decision on the legal case.
(Editing by Tim Gaynor and Jerry Norton)
Calling all HuffPost superfans!
Sign up for membership to become a founding member and help shape HuffPost's next chapter