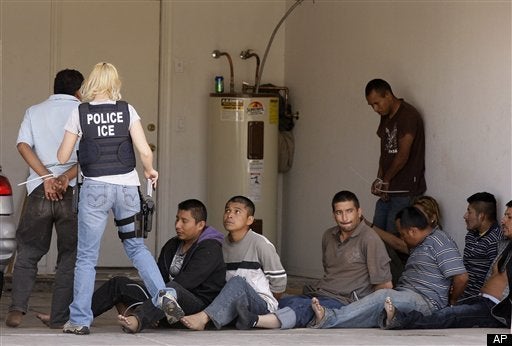 PHOENIX -- Maricopa County Sheriff Joe Arpaio launched his latest crime and immigration sweep Thursday, arresting 89 people, with 61 suspected of being undocumented immigrants.
Arpaio, whose tough crackdowns have made him a hero in the anti-illegal immigration community, has conducted 14 of the sweeps since 2008. Critics allege Arpaio's deputies racially profiled Hispanics during the sweeps, but Arpaio says people were approached because deputies had probable cause to believe they had committed crimes.
"We do not go on the street corner and grab people because they look like they're from another country," the self-styled "toughest sheriff in America" told the local ABC affiliate.
The sheriff claimed Wednesday that this latest crime sweep was scheduled weeks ago and was unrelated to Arizona's new anti-immigration law.
Arpaio has lauded the new law, however, saying it gives him new authority to detain undocumented migrants who aren't accused of committing any other crimes.
Calling all HuffPost superfans!
Sign up for membership to become a founding member and help shape HuffPost's next chapter