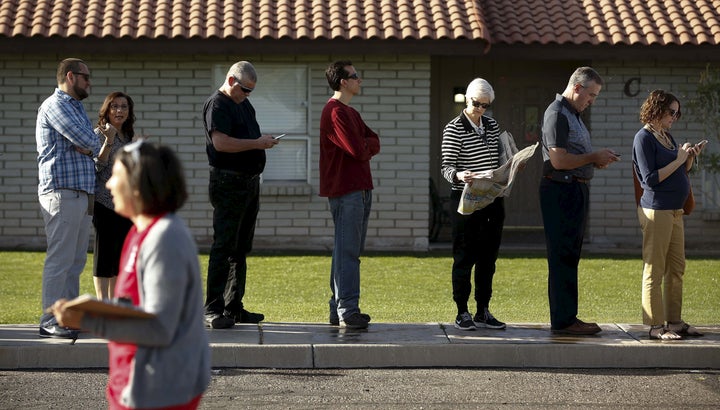 Jennifer Robbins' appalling experience with Arizona's election process illustrates just how chaotic the state's presidential primary was on Tuesday.
Robbins, 27, had never before "found a politician that I felt like I could put my faith in." But the message of Sen. Bernie Sanders (I-Vt.) resonated with her, she said. In February, she registered in Maricopa County, looking forward to voting for the first time in her life.
Arizona uses a closed primary system, meaning that a voter must register as a Democrat to vote for a Democratic presidential candidate or as a Republican to vote on the GOP side. Robbins registered as a Democrat on Feb. 18, four days before the primary registration deadline. She received her voter registration card identifying her as a Democrat in the mail.
On Tuesday, Robbins brought her 9-month-old son to a polling site in Avondale, Arizona, and stood in line for two hours, waiting to vote. One she was inside, a poll worker scanned her identification card and said she came up in the system as "party not designated." The poll worker suggested that Robbins cast a provisional ballot.
Robbins insisted they scan her card again. This time, the system said she was registered as a Republican. She was told she wouldn't be able to vote a regular ballot, even when she showed her voter registration card.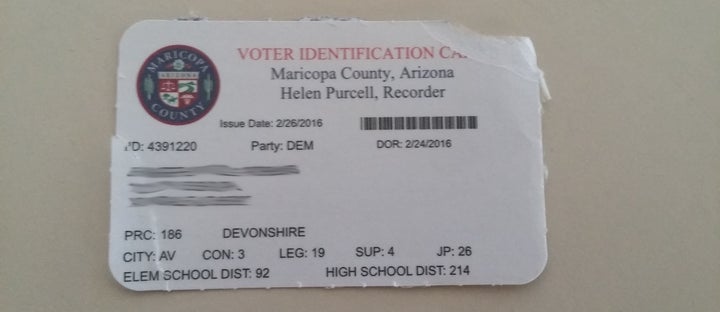 Robbins says the poll worker told her that her provisional ballot probably wouldn't count. Arizona discards more provisional ballots than most larger states, so this was probably correct. Robbins says she asked for a number where she could call and complain, and the poll worker refused to give her one.
Robbins reached out to the office of Michele Reagan, Arizona's secretary of state. She was told that she was indeed registered as a Democrat. Then she was transferred to a supervisor who told her that even though she had registered before the deadline, the state hadn't processed her registration in time, and therefore she wasn't actually registered.
"I've waited my entire adult life, and I finally find somebody I want to vote for, and they deny me," Robbins said. "I left there crying. It's always been my dream to vote, but I hadn't found a politician I liked enough to vote for."
The media, meanwhile, has mainly focused on the long lines that formed at voting places throughout Maricopa County. Some voters waited up to five hours on Tuesday to cast a ballot. The long lines were a predictable result of the county's decision to cut its number of voting sites from 200 to 60, which the county said it did to cut costs. (Pima County, which has just one-fourth as many eligible voters as Maricopa County, had more than twice as many polling places this week.)
Maricopa County Recorder Helen Purcell (R), who is in charge of the county's elections, partially blamed "the voters, for getting in line," but later admitted to making "bad decisions" and said the county had underestimated how many voting sites it would need. Purcell's office did not respond to The Huffington Post's request for comment.
Theresa Caplis, 47, has lived in the same house in Gilbert, Arizona, for 12 years. Like Robbins, she had problems voting in Maricopa County this Tuesday. Caplis and her husband waited two hours to vote at library near their house, and while he had no problem casting a regular ballot, she was told that she had already voted when the poll worker scanned her identification. She was told she had requested an early ballot (she hadn't), and the poll worker gave her a provisional ballot. She says she doesn't know whether her vote actually counted.
"I've never seen that many people vote with provisional ballots before," Caplis told HuffPost. "The containers for the provisional ballots were full. I could hardly fit mine in."
Caplis joked that this happened to her because she'd canvassed for Sanders the weekend before.
"I felt like they're trying to have someone win. I feel like it's set up," she said. "Someone is interfering with the process."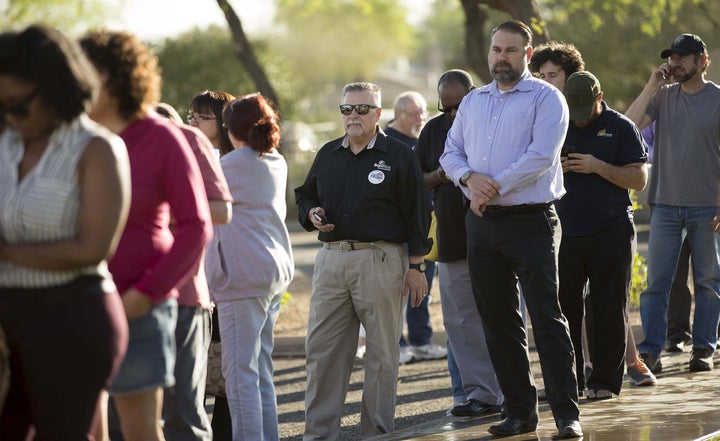 The number of comments and suspicions voiced by Sanders supporters on Reddit after the primary led Marc Elias, campaign counsel for former Secretary of State Hillary Clinton, to weigh in. Elias argued that the way Maricopa County ran its election is "the result of a larger Republican effort to make it harder for people to vote."
"Now, some have suggested that this whole thing is a plot to shut Sanders supporters out of the process," he wrote Wednesday on Reddit. "This just isn't true. In Arizona (like most states), county governments administer elections. Neither the Clinton campaign nor the Sanders campaign -- nor for that matter the Trump campaign -- have anything to do with them, beyond being on the ballot. And the county with the biggest issues last night -- Maricopa -- is run almost entirely by Republicans. (In fact, there's only one Democrat serving on the county government, and he's a Sanders supporter.)"
Arizona Gov. Doug Ducey (R) said in a statement Wednesday that the state's election officials must investigate what went wrong with the primary and prevent similar problems in the future. He called for making the state's primaries open, rather than closed, so independent voters can participate.
But Democrats say the state needs to focus more on the reduction in voting sites, which Ducey didn't mention in his statement. Democrats have noted that predominantly Latino areas in Arizona had fewer voting sites this week than areas with greater numbers of white people. Phoenix Mayor Greg Stanton (D) wrote the Department of Justice Wednesday asking it to investigate how Maricopa County officials "distributed fewer polling locations to parts of the county with higher minority populations."
As Zach Roth at MSNBC and Ari Berman at The Nation have noted, Maricopa County probably wouldn't have been able to slash its number of voting sites so dramatically if the Supreme Court hadn't gutted the Voting Rights Act in 2013. That federal civil rights act required Arizona and other states with a history of racial discrimination in elections to get approval from the DOJ or a federal court before making any changes to their electoral procedures or policies, to ensure such changes wouldn't leave voters of color worse off. But those protections have been greatly weakened.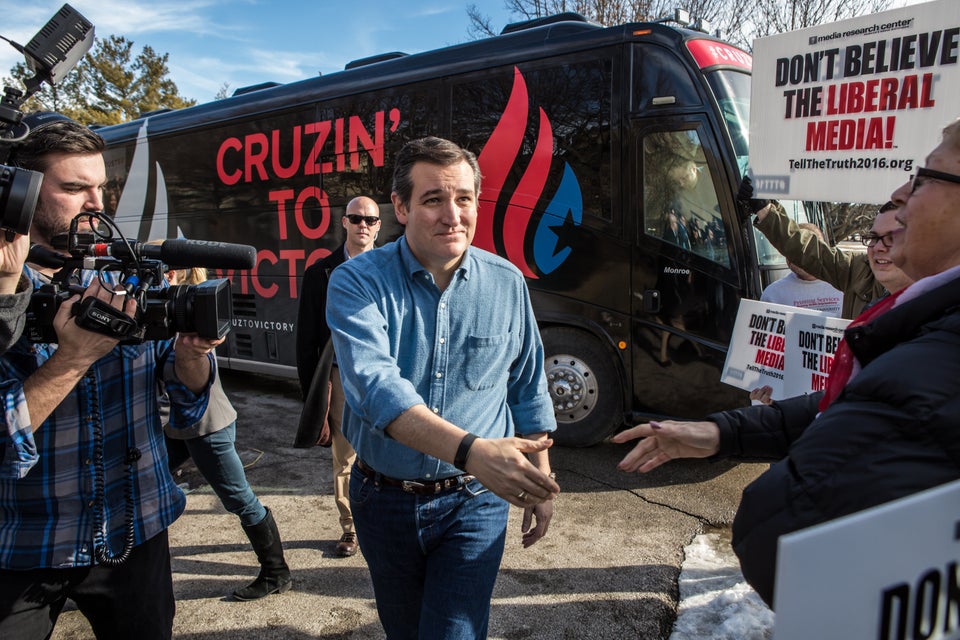 20 Things You MUST Do During The Presidential Primary
Popular in the Community