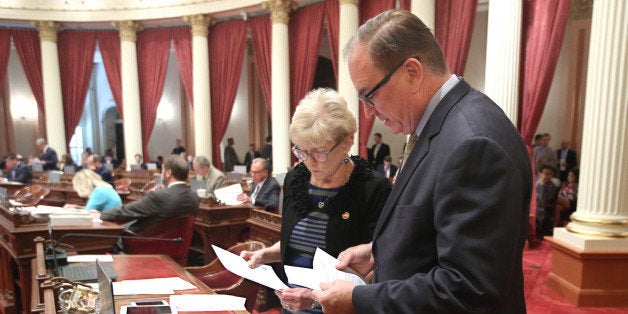 WASHINGTON -- California Republicans were thrilled to see Arizona Republicans lose at the Supreme Court on Monday, serving as a reminder that gerrymandering is perpetrated by both major political parties.
"I am glad that the decades of gerrymandering are officially over," California state Senate Minority Leader Bob Huff (R) said in a statement to The Huffington Post, adding that he was "pleased" the court "has sided with the people" in an illustration of how Republicans in his state were breathing a sigh of relief.
Arizona's Republican legislative leadership had sued over an independent redistricting commission that draws congressional district lines in their state every 10 years, arguing that the 2000 ballot initiative that took the line-drawing power away from the legislature was unconstitutional. But five Supreme Court justices upheld the commission Monday, in a victory for those who have felt the consequences of gerrymandered, noncompetitive districts in Arizona and other states.
The case before the court turned on the meaning of the word "legislature" in the Constitution's elections clause, which dictates that the "times, places, and manner" of federal elections "shall be prescribed in each state by the legislature thereof." Arizona Republicans said they couldn't be entirely cut out of the congressional redistricting process.
It was assumed that California's redistricting commission would be in danger if the justices had ruled in favor of the Arizona GOP, since California voters had similarly taken away the responsibility of drawing district lines from their legislature in a 2008 ballot measure for state legislative districts that was expanded to cover congressional districts in 2010.
Jim Brulte, the chairman of the California Republican Party, told HuffPost the California GOP had been paying close attention to the case because a ruling in favor of the plaintiffs would have "obviously" affected Republican lawmakers in the Golden State. He said the party suspected Democrats would have tried to take advantage of the decision in their state by bringing a lawsuit to strike down the commission.
"Redistricting is the most partisan activity a legislature can engage in," Brulte said.
California's commission is tasked with producing districts with a "fairly regular shape." The commission must also think about "communities of interest," which include minorities, in drawing congressional lines, and is barred from considering how boundary would affect incumbents or political parties. The independent redistricting commission has been credited with making both congressional and state legislative districts more competitive. Five Democrats, five Republicans and four commissioners from neither major party sit on California's commission; they are chosen by legislative leaders from both parties and the state auditor's office.
"California voters overwhelmingly approved propositions 11 and 20 to take the redistricting process out of the hands of elected officials and give it to an independent body, the California Redistricting Commission," Huff said. "The Court's decision will ensure that Californians will continue to have an open and fair redistricting. In their first effort, the Commission showed itself to be non-partisan by producing a set of maps that allowed for competitive campaigns in more districts. Competition keeps elected officials closer to the people and more accountable for their actions."
Eleven other states also have commissions, though their lawmakers are relatively more involved in the process than in Arizona and California.
REAL LIFE. REAL NEWS. REAL VOICES.
Help us tell more of the stories that matter from voices that too often remain unheard.
BEFORE YOU GO
PHOTO GALLERY
Most Iconic Photos Of Obama's First Term