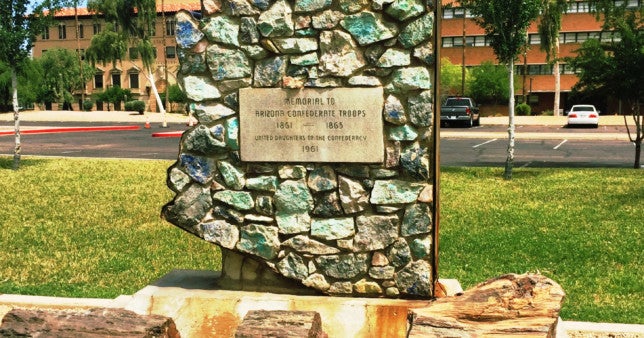 In January of 2005, my then graduate student, Jason Bell, who had just began working at the Arizona State Archives, noticed something familiar as he drove by and looked on at Patriot's Square Park, just a few blocks away.  It was the National Flag of the Confederate States of America (CSA). The park has been "reborn" within CityScape in downtown Phoenix, "a new urban public space," boasting an "eclectic mix of specialty stores, boutiques, restaurants and entertainment venues." Unlike the state-of-the-art CityScape, the public space at Patriot's Square Park of 2005 was marked by the CSA banner, a nefarious symbol of violence, torture, rape, enslavement and murder.
Bell contacted me the same day, and although I grew up in Phoenix, I was stunned to realize that I had never noticed the flag. Bell remembers doing a "double-take," and being shocked when he saw the flag, which replaced the Confederate Battle Flag that was raised at the same location during the 1970s (see photo below), flying in "Patriot's Square Park." The Confederacy, he believes, represents the antithesis of patriotism. "I have never understood why Arizona is so proud of their so-called Confederate heritage. The CSA were the worst kind of traitors, not to mention their heritage of hate and human bondage. The CSA did recognize the southern half of Arizona as their territory, and they did have representatives in their Congress long after Arizona was taken back in 1862. Still, that is nothing to honor or be proud of unless you are a fan of racist traitors who murdered and enslaved fellow Americans."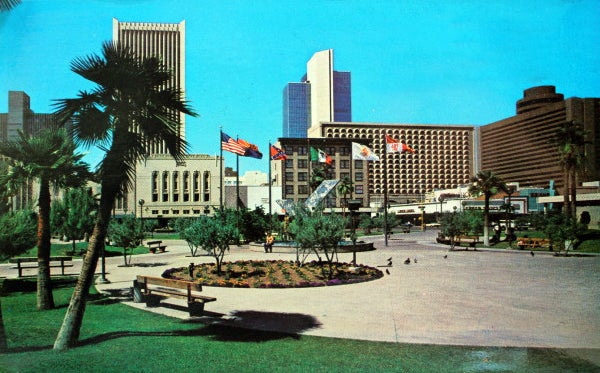 The brief Civil War Battle of Picacho Peak in southern Arizona, which took place on April 15, 1862, often invoked when this issue is raised, involved less than 30 men, and saw the Union cavalry "withdraw" and the Confederates "flee" to Tucson. It was literally and figuratively as far from Gettysburg as one could get. The question, therefore, is why does Arizona continue to oblige this historical shell game and cultural stigmata? Are our leaders Confederate sympathizers? Do they realize that the existence of Civil War Memorials in Arizona, like the CSA National Flag at Patriot's Square Park, are endorsements of White supremacy, slavery, racialized class-warfare, and treason?
Let us be clear and factual. The so-called Confederate States of America was a pseudo, seditious government that waged war against the United States of America, to maintain the horror of chattel slavery, which shackled 4.4 million Black people by 1865, and remains antithetical to the freedom America claims to hold dear. The U.S. fought a bloody Civil War between 1861 and 1865, against this mutinous regime, during which over 600,000 people perished, to rid our nation of the symbolism and substance of their calumny. In fact, if President Andrew Johnson, the virulent racist, devout slave owner, and Confederate he was, hadn't succeeded President Abraham Lincoln, and pardoned pro-slavery CSA leaders, his peers, the country may have averted a return to "home rule" in the south and "Jim Crow segregation" (virtual slavery) that dominated America for another 100 years.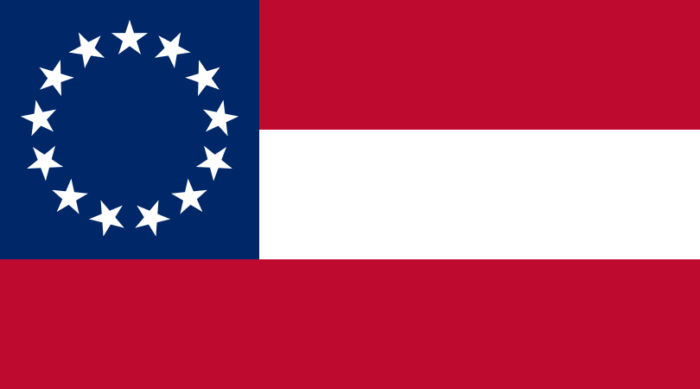 This didn't happen, however, because a-historical, self-serving, CSA-apologist-spin, began as soon as the war was over, and it has continued, unabated and largely unchallenged by White elected officials in particular, ever since. To his credit, after I alerted his office to the matter, Phil Gordon, who was Phoenix's mayor in 2005, moved swiftly and decisively to remove the CSA National Flag from Patriot's Square Park, and Arizonans, particularly its Black residents, were immediately spared the cognitive dissidence and emotional pain of seeing the symbol of our enslavement and hatred billowing in the hot Phoenician winds. He and his administration didn't hem and haw, worry about Neo-Confederate push back, or entertain their obtuse, revisionist, and deceitful tributes to "heritage not hate."
Incidentally, Black people are deep in the backbone marrow of Southern "heritage," but Neo-Confederates are not touting Southern iconography. They are pushing the veneration of Confederates. Confederate heritage was not about sunsets on the bayou, moonlight and magnolia, mint juleps, and cultured ladies and gallant gentlemen, any more than Nazism was about German solidarity, the restoration of order, youth leadership, and healthy girl and womanhood. Nazism was predicated upon the degradation and destruction of the Jewish people, and its flag is the symbol of this vile history. Many Neo-Confederates still assert that the CSA was motivated by a desire for "states rights." The Confederate flag is, in fact, a symbol of states rights. State's rights to enslave and oppress Black people. A mule in horse harness is still a mule. No matter how some like to dress it up. The Confederate Flag is a dreadful representation of White supremacy and Black persecution. Those who support it know it and Black people know it.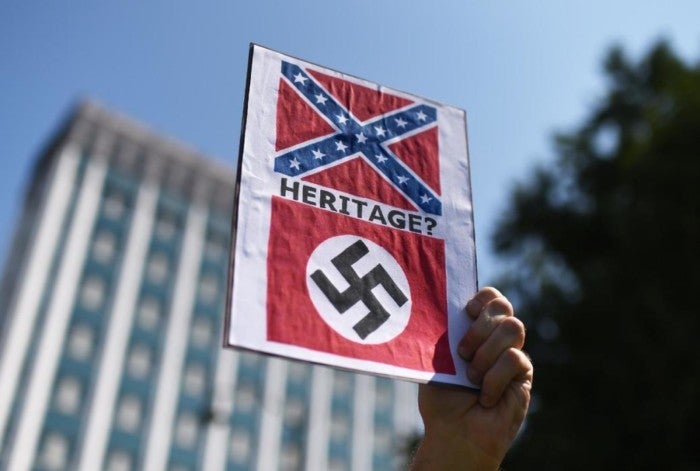 What's particularly curious is the large number of working class and poor Whites who embrace the Confederate Flag and genuflect at Confederate monuments, when they were viewed and treated as "trash" and "cannon fodder" by CSA leaders, who didn't think much more of them than they did Black people. Following the war, in fact, CSA leaders and the landed Southern elite, locked poor White people and Black people into despotic and backbreaking systems of crop leasing, sharecropping, and tenant farming for over 150 years. Why the descendants of these oppressed working class Whites harken back to some fantastical era of White, Southern prosperity and solidarity, in the face of their own humiliation and struggle, is beyond me. Perhaps they blame Black folk. If only we could have accepted our lot, every Southern White man and woman in America could be Scarlett O'Hara and Rhett Butler. In the words of Alice Randall, however, that "Wind Done Gone," and our White working class brothers and sisters need to see the CSA, and its legacy, which continues to tax our minds and ensnare our hearts, for what it was and is, a stain.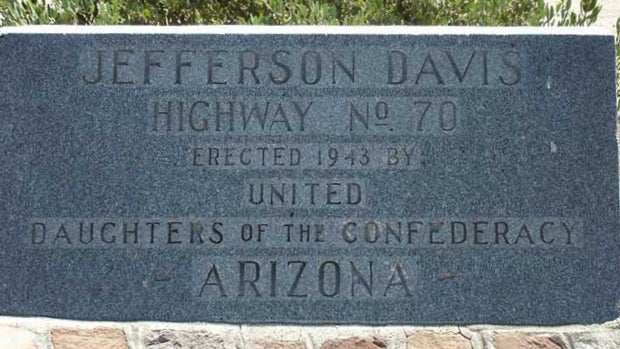 This is why the debate over the existence and removal of Confederate monuments in Arizona is heating up. Black leaders and allies in the Grand Canyon State escalated our opposition to Confederate memorials, following the 2015 massacre of nine, black, Charleston, South Carolina churchgoers, by White supremacist, Dylann Roof. Successful Confederate monument removal efforts in Louisville, Kentucky, New Orleans, Louisiana, and Richmond, Virginia, since the slaughter, have again stirred local leaders to action. According the Arizona Republic, the state "has half a dozen Confederate memorials, and a small highway southeast of Apache Junction is named after Jefferson Davis — the first and only president of the Confederate States of America. The most public memorial is located across from the state Capitol in Wesley Bolin Memorial Plaza. Another memorial marks the Battle at Picacho Peak.
Gordon, or "Whipped Peter," escaped captivity and ran 80 miles to join the Union Forces in Baton Rouge, Louisiana. This photo of the extensive scars on his back, from whippings received in enslavement, was taken while he was being fitted for a uniform. This is the CSA's heritage.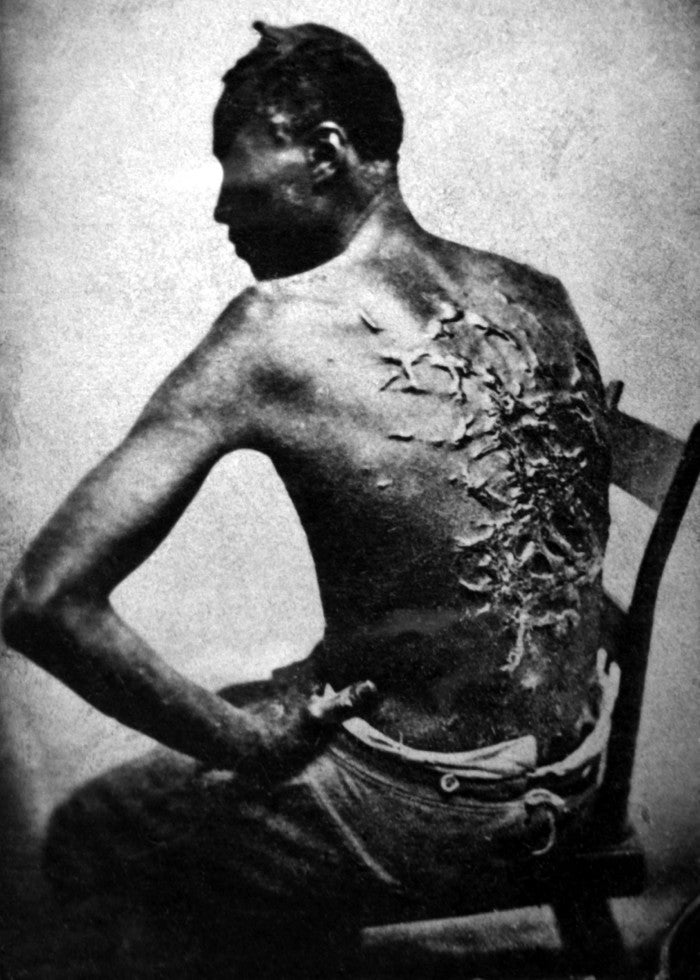 "We can't go through our daily lives honoring symbols of hate," argued Rep. Reginald Bolding, D-Laveen, in 2015, "symbols of separation and segregation." Curt Tipton, an adjutant with the Arizona division of the Sons of Confederate Veterans," however, told the Republic that "taking down a [Confederate] statue because somebody is offended is ridiculous.   It's part of history."  This is a callous and specious argument, and reveals just how intellectually inferior people like him believe we are. Merely being a part of history does not make one worthy of public adoration and memorial. I don't see a bevy of Benedict Arnold monuments dotting the American landscape. But this is the rub isn't it? Arnold is seen as a traitor almost universally. Confederates are still seen as loyal good ole' boys, who were simply hapless victims. "never meaning no harm," defending their family, farm, and "way of life," against "Northern aggression." And yet, these allegedly well-intentioned blokes were every bit the defectors that Arnold was and then some. Perhaps many White people are simply unwilling to see and acknowledge the 346 years of horror we endured as a part of their "heritage."
In any event, Black leaders and our allies, particularly in Arizona, are not calling for the removal of Confederate memorabilia from museums and private property. We simply do not believe that public funds and spaces should celebrate individuals, and a self-styled government, that attacked and killed Americans in violent rebellion, while seeking to maintain a blatantly racist society at our expense.
Our humanity is not up for debate.  Furthermore, we will not drive down a highway or tolerate monuments, and support their maintenance through our tax dollars, named after men who viewed and treated us as less than human, and no respectable elected official should ask us too. Many officials treat Black Lives Matter as subversive and un-American, but have no qualms with the exaltation of people who enslaved us and actually waged war against this nation. What is to be made of this moving target of a moral compass that always seems to privilege White people, no matter what they've done or been a party to, dead or alive? Historically, Arizona has been dragged kicking and screaming into modernity, and we stand yet again at a fork in the racialized road. Arizona Governor Doug Ducey, legislators, fellow residents, are we in for yet another contemporary battle over antiquated ideals?
Dr. Matthew C. Whitaker is the Editor-in-Chief of MCU VO!CE – MyClickUrban.  He is also the Founder and CEO of the Diamond Strategies, LLC (DSC) and the 2016 Arizona Diversity Leadership Alliance (DLA) Diversity and Inclusion Leader Award winner. A decorated educator, author, activist, motivational speaker, and founder of the Center for the Study of Race and Democracy, and winner of the 2014 DLA Inclusive Workplace Award, at Arizona State University.  He can be followed here and on Twitter at @Dr_Whitaker and DSC can be followed on Twitter at @dstategiesllc.
Calling all HuffPost superfans!
Sign up for membership to become a founding member and help shape HuffPost's next chapter
This post was published on the now-closed HuffPost Contributor platform. Contributors control their own work and posted freely to our site. If you need to flag this entry as abusive,
send us an email
.