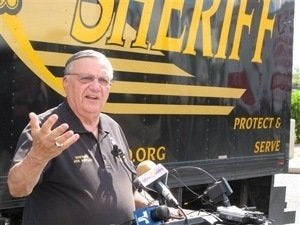 Just days after Arizona's controversial new immigration law went into effect, Maricopa County Sheriff Joe Arpaio doubled down on his tough talk, saying he's not concerned about overcrowding when it comes to locking up illegal immigrants in the state.
"I put up tents, Korean war tents in 1993," the Sheriff said. "Seventeen years we've been doing it. I just extended an area of the tents for those what would have been arrested under that new law, but that's on hold, but I still have 200 illegal aliens in our tents anyway doing their time. So, I have plenty of room for any cop that wants to arrest people."
The remarks come on the heels of a federal appeals court blocking some of the most controversial provisions in Arizona's newly adopted measure to combat illegal immigration. Arpaio called the legal decision "sad," but insisted that it hasn't deterred him from being the self-proclaimed "poster boy" for running such law enforcement operation.
At the conclusion of the segment, the Arizona sheriff extended an invitation to President Obama to discuss immigration -- a kind of beer (or in this case wine) summit.
"Why doesn't he call me to the White House and we'll have a little wine like he called the Cambridge police sergeant that arrested the professor," Arpaio said. "I'll be glad to talk and give him some advice of my 30-years in the federal government, but he won't call me, he's had the Justice Department investigating me."
Popular in the Community