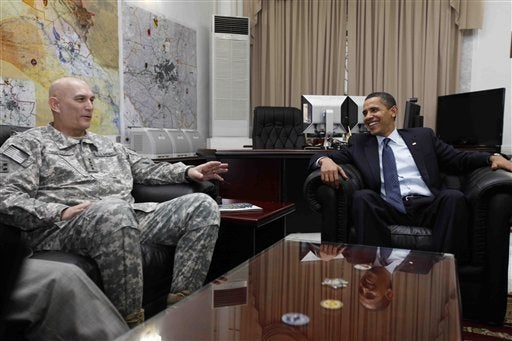 After a day of withering criticism over its decision not to award President Barack Obama an honorary degree, Arizona State University announced on Saturday that it would expand a scholarship program in the president's name.
In a press release sent out by ASU spokeswoman Sharon Keeler, the university "apologized" for the "confusion" over the past few days. Its president Michael Crow, meanwhile, framed the "President Barack Obama Scholars" program as a higher honor than the honorary degree, one that would "affect the lives of thousands of students" and be "an honor befitting, not only the president's exceptional achievements, but also his values as an individual."
Crow also suggested that the school had never ruled out the degree for Obama - something that earlier statements suggested - but merely had yet to make a determination as to what honor would suit the president best.
"It has always been our intention to recognize and honor President Obama's accomplishments during his visit," said Crow, "but we had not yet determined the best or most appropriate way to do so."
ASU undoubtedly faced an intense amount of media and political scrutiny for its decision to not offer Obama an honorary degree. In particular, the message from many alumni of the university, as gathered by dozens of emails to the Huffington Post, was one of disappointment and anger.
The expansion of the scholarship program is an effort to temper these emotions. But for the cynics, the fact that the announcement came only after a day of vocal complaints - and didn't include giving the degree to the president - is not likely to go unnoticed.
HERE IS THE RELEASE FROM ASU

ASU to name and expand most important scholarship program to honor President Obama University apologizes for honorary degree confusion

TEMPE, Ariz. - Arizona State University invited President Barack Obama to speak at its graduation ceremony out of the greatest respect for him as an individual and world leader.

"I apologize for the confusion surrounding our invitation to President Obama to address ASU students at commencement," said ASU President Michael M. Crow. "The entire ASU community has been electrified with excitement since we learned of his participation in our commencement ceremony. We hope that the recent discussion of honorary degrees will not detract from the honor and thrill that ASU - and indeed all of Arizona - is experiencing in anticipation of his visit. I am honored, as are our faculty, staff and students, that President Obama will give his first commencement speech as president of the United States at ASU."

In recognition of President Obama's commitment to educational access and to an entire career dedicated to public service, ASU is naming and expanding its most important scholarship program in his honor. Going forward, this program will be called the President Barack Obama Scholars and will offer thousands of students with the greatest financial need the opportunity to go to college.

"It has always been our intention to recognize and honor President Obama's accomplishments during his visit," said Crow, "but we had not yet determined the best or most appropriate way to do so. Although the focus and attention of the media and others has been on an honorary degree, we never felt that was the only--or even the best--means of honoring his tremendous service to our country. Naming this scholarship program after President Obama that will affect the lives of thousands of students is an honor befitting, not only the president's exceptional achievements, but also his values as an individual. The President Barack Obama Scholars program will be a legacy that will endure and inspire others for generations to come."

Arizona State University
Tempe, Arizona USA

Popular in the Community