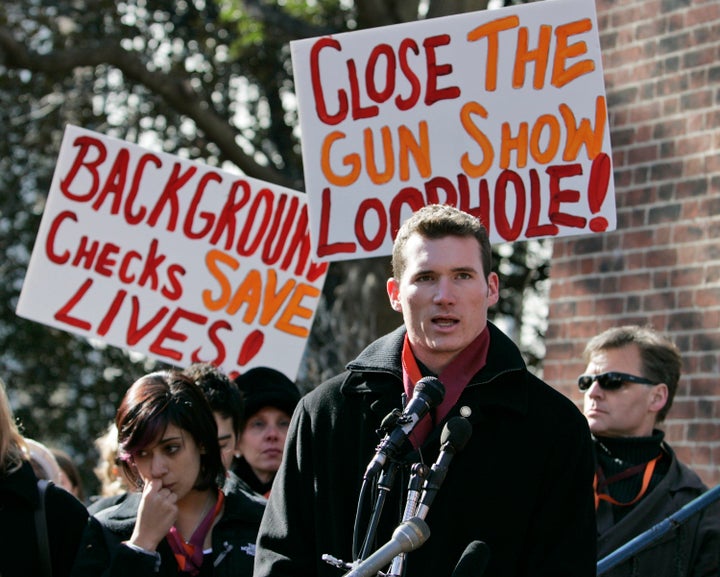 Almost two months after the shootings in Tucson, Ariz., Colin Goddard, a survivor of the Virginia Tech massacre, is speaking to Arizona students about recovering from tragedy, as well as legislation that could help prevent gun violence on higher education campuses and elsewhere.
"What defines a community, what defines a group of people, isn't the things that happen to them outside of their control -- it's how they choose to recognize and remember the people who were lost and injured that day and take steps to make it less likely to happen to someone else," Goddard, 25, told HuffPost.
On April 16, 2007, the Virginia Tech shootings left 32 dead and 17 injured. Out of a class of 17, Goddard was one of seven students to survive. After graduating, he went to work on a documentary film about the massacre, "Living for 32", and is promoting the documentary while serving as an assistant director of legislative affairs for the Brady Campaign To Prevent Gun Violence.
"The time for thoughts and prayers is over," Goddard said. "Now it's time to actually do something that would stop a future Jared Loughner," the alleged Tucson shooter.
Such calls have not gone unheeded. Last week, Sen. Chuck Schumer (D-N.Y.) announced legislation, supported by New York City Mayor Michael Bloomberg, that would require all gunbuyers to undergo a background check and increase penalties for states that fail to comply with the rule. Rep. Peter King (R-N.Y.) has already introduced legislation to make it illegal to bring a gun within 1,000 feet of a government official, and Rep. Carolyn McCarthy (D-N.Y.) has announced a measure to limit the sale of high-capacity clips like the one used in the Arizona shootings.
"It upsets me because it seems that that's as far as the average American wants to take it," Goddard said, "just sending their thoughts and prayers to those whose lives have been turned upside down."
Added Goddard: "We shouldn't be surprised if something like this happens again, because we've done absolutely nothing to change it."
The Arizona talks are part of a larger educational tour by Goddard, which began at New York University in December and will end with a trip to Capitol Hill. Goddard and the Brady Campaign were expected to appear Tuesday with Arizona state Sen. Steve Gallardo and representatives of the nonprofit organization Arizonans for Gun Safety during events at the state capitol and the University of Arizona, and on Wednesday at Glendale Community College and Arizona State University. Some events will include a screening of the Virginia Tech documentary.
"I was in the right place at the right time -- I was in class," Goddard says at the outset of the film. "People tell me that God was looking out for me that day, that that's why I'm here. I just got lucky."
Popular in the Community