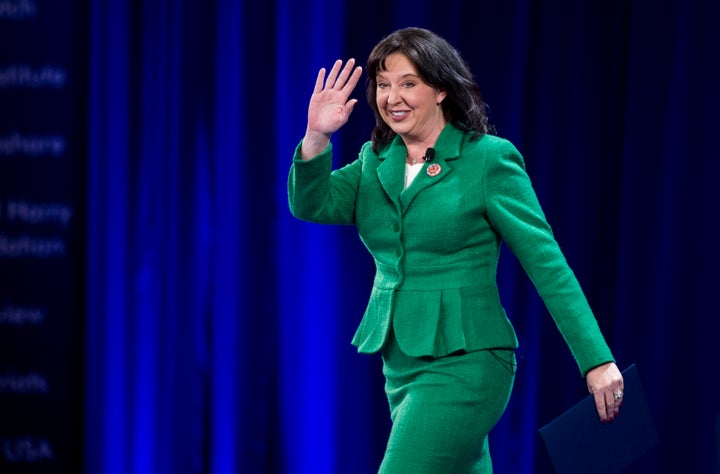 Arizona reached an agreement on Monday with two groups suing the state to add voters to the rolls regardless of what form they use to register to vote or whether they provide proof of citizenship.
Arizona law requires people to prove their citizenship when they register to vote in state elections, but the two groups that sued, the Arizona office of the League of United Latin American Citizens and the Arizona Students Association, said the state's process for registering people was unconstitutionally complex. The groups said the system was preventing tens of thousands of people from getting on the rolls ― something the agreement is designed to remedy.  
Arizonans can use either a state or federal form to register to vote. But under the state's current system, the form they registered with could affect which elections they could vote in. If a voter used the federal form, but did not provide proof they were a citizen, they would only be registered to vote in federal elections if the state did not have other evidence on file that they were a citizen.
If a voter used the state form but failed to provide proof of citizenship, 14 of the state's 15 counties would reject their application outright and they wouldn't be registered in any election. The plaintiffs in the case said that in Maricopa County, the state's most populous, the policy resulted in at least 26,000 people being blocked from voting.
The new agreement requires the state to accept voter registration applications, regardless of whether a person can prove their citizenship at the time of registration. However, the agreement also requires the state to check Arizona's motor vehicle database to see if the applicant has already proved they are a citizen (the state requires people to show proof of citizenship to get a driver's license). If the state's check finds that a person hasn't provided proof of citizenship to the DMV, the person is notified that they will only be registered to vote in federal elections until they provide proof of citizenship to the state.
Danielle Lang, senior counsel at the Campaign Legal Center, one of the groups that represented the plaintiffs in the suit, said in a statement that the system that had been in place in the state was a "bureaucratic nightmare."
"Our lawsuit will successfully protect eligible Arizonans from being unfairly prevented from registering to vote and participating in federal elections because of unnecessary requirements," Lang said.
Courts have blocked states from asking people to prove their citizenship when they register to vote using the federal form, but states have been permitted to ask for proof of citizenship when they use the state forms. In Kansas, for example, a federal judge in 2016 blocked the state from asking people to prove their citizenship when they register to vote, but the state has continued to require proof of citizenship when people use the state form.
In the November complaint, LULAC, a Latino civil rights group, and ASA, a coalition of college students, said the state's requirements also made voter registration drives difficult because potential new voters have drastically different access to proof-of-citizenship documents. Whether or not a given person would ultimately become registered, the groups said, could depend on which form a voter registration drive organizer chose to use.
In the agreement, known as a consent decree, Arizona Secretary of State Michele Reagan (R) and Maricopa County Recorder Adrian Fontes both maintained that they had the legal authority to require potential new voters to submit proof of citizenship when registering to vote. Nonetheless, they said they wanted to settle the case because they wanted to make it as easy as possible for Arizonans to register to vote.
"The registration system will now verify the eligibility of each and every person who has yet to provide evidence of citizenship," Reagan said in a statement. "With this agreement in place we'll have confirmed an individual's eligibility before issuing them a ballot with any state elections listed. While the Supreme Court has ordered Arizona to allow people who have not provided such proof of citizenship to vote in federal elections, it's a relief the system will now proactively verify eligibility for all applicants."
"We've always said that it should be easy to vote and hard to cheat," she continued. "I'm proud to say this compromise achieves both. Voters will now have the clarity they need along with a heightened level of election integrity."
Calling all HuffPost superfans!
Sign up for membership to become a founding member and help shape HuffPost's next chapter