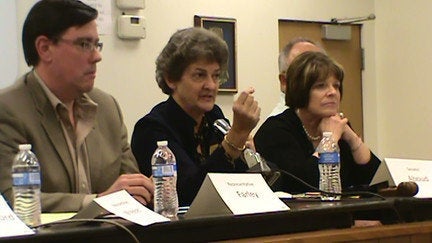 With six anti-labor bills winding their way through the Arizona Legislature, union workers are gearing up for a fight.
During a standing room only public forum with a panel of Democratic Party Legislators, workers representing several unions voiced anger and frustration with Republican Governor Jan Brewer and the Republican-controlled Arizona Legislature.
The legislature has been considering four anti-union bills that would end collective bargaining for public employee unions and make it difficult to collect dues and one anti-civil service bill which would strip thousands of state workers of their protections in committee for a few weeks.
The anti-civil service bill--championed by the governor-- passed the House Committee on Employment and Regulatory Affairs on Friday, Feb. 17 on a 6-3 party line vote, with all Democrats voting "no."
A sixth bill, targeting the minimum wage, would put an initiative on the ballot to lower wages for tip workers from $4.65 per hour to $2.13 per hour and lower wages for employees who are under 20 years old to $3 per hour less than the current minimum wage.
During the two-hour forum on Feb. 17, dozens of the 200 workers in attendance took turns at the microphone to rail against the governor, the legislature, and the American Legislative Exchange Council (ALEC), who drafted the anti-union bills with legislators last fall. Others spoke of the importance of collective bargaining and the loss of wages and savings due to furlough days and pay freezes. All vowed to fight back against the state government.
"People who run this state are peas in a pod. They're little people who are being told by Washington how to trickle down," said one life-long union worker, who added that it is not a coincidence that so many states are attacking unions.
"Talk about going back in time," said Bruce Slabaugh, local leader of the American Federation of State, County, and Municipal Employees (AFSCME) union.
"I grew up in an area of southwestern Pennsylvania where little kids who were 10 years old used to work 14 hours a day, six days a week, in coal mines. That's what [Southern Arizona State Senators] Frank Antenori, Al Melvin and the rest of them want us to go back to. I am not going without a fight," Salbaugh shouted. He also called out his Republican legislative representatives and others from Southern Arizona who did not attend the forum -- Terri Proud, Vic Williams, Ted Vogt, David Gowan, Melvin, and Antenori (who has announced a run for Congressional District 2, Gabrielle Giffords' former district) -- and scolded them for not having the nerve to attend the forum and listen to their constituents.
"This is the last gasp of a super majority," said Rep. Steve Farley, referring to the lopsided legislature as a result of the 2010 Republican sweep. "They know they won't have these numbers going forward." Farley also argued that things would be different if we were dealing with a "fact-based legislature," but said we are not.
Alluding to corporate control of the Arizona Legislature, Rep. Bruce Wheeler said, "We serve in the people's house or the people's senate, but unfortunately it's corporate occupied territory, and the enforcing occupation army is the Goldwater Institute." The Goldwater Institute is a Phoenix-based, right-wing think tank that has influenced the legislature for years.
Farley, Wheeler, and Representatives Sally Ann Gonzales and Macario Saldate, along with State Senators Olivia Cajero-Bedford and Linda Lopez made up the seven-member panel chaired by State Senator Paula Aboud, who also has announced her intention to run for Giffords' Congressional seat.
Aboud called for the unionists to fight back and encourage them to tell their friends and family members to fight back. Aboud and Cajero-Bedford both said that the Republicans are not all in agreement about these bills.
"We can't stop these bills, but the people can," said Aboud forcefully. "If you can create enough momentum... if you can make it hot for the Republicans who support these bills, then we might get change. But, remember, it's the power of the people that will make the change."
At the close of the forum, Rebekah Friend, executive director of the Arizona AFL-CIO, outlined the unions' strategies. The AFL-CIO is sponsoring a second union forum in Phoenix on Feb. 24 and a "large-scale demonstration at the state Capitol on March 1. According to Friend, the AFL-CIO will be bussing workers from across the state to the Capitol for the March 1 Day of Action. They also have an online petition, which they plan to deliver to the governor and the legislature; the petition has collected more than 12,000 signatures to date.
In addition, labor leaders and Democratic legislators are urging everyone to call and e-mail their Senators and Representatives. As of Friday, 4000 calls to the legislature had been made, Friend reported.
Popular in the Community