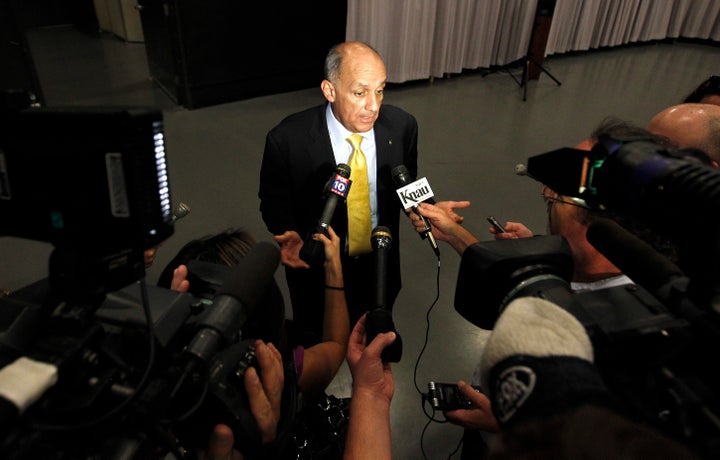 When 20-year Phoenix resident and businesswoman Maria Maqueada turned in her emergency ballot today at the Maricopa County Recorder's Office, thanks to the assertive efforts of Citizens for a Better Arizona, one more vote was cast in what observers are already calling a record Latino vote in Arizona.
Whether such a grassroots surge in the Latino vote will be able to overcome out-of-state contributions and Republican hijinks, including the latest report today on misleading robocalls to Arizona Democrats on polling stations by Republican U.S. Senate candidate Jeff Flake, a determined network of Latino and community groups galvanized by citizens fed up with Maricopa County Sheriff Joe Arpaio's notorious reign and the state's SB 1070 "papers, please" immigration policy has already shifted the political landscape in tomorrow's election -- and beyond.
In a statement released today by Promise Arizona in Action, a community group dedicated to greater civic involvement, more than "111,975 Latinos in AZ have already voted early," marking an extraordinary 28 percent increase in early voting among Latinos in 2008.
"These numbers reflect what our volunteers have been seeing while speaking to voters at their doors," Promise Arizona's Petra Falcon said. "The Latino community here is experiencing an awakening of civic engagement. Latino voters are really excited and enthusiastic about voting this year."
Falcon's growing ranks of Latino youth in Promise Arizona, along with the Adios Arpaio Campaign, Joe's Got to Go, Campaign for Arizona's Future, AZ Center for Empowerment, Mi Familia Vota and nearly a dozen other organizations have registered tens of thousands of new voters. In a stunning upset last year, Parraz and his Citizens for a Better Arizona led the historic recall of SB 1070 architect and state senate president Russell Pearce.
According to the Promise Arizona statement:
In 2008, approximately 180,800 Latino voters were on Arizona's Permanent Early Voting List (PEVL) statewide. This year, there are 251,752 Latinos on the list, accounting for a dramatic 39 percent increase. The number of Latinos on PEVL today would represent 92 percent of all Latinos who voted in AZ in the last Presidential elections. Of the people on the PEVL in 2008, 86,902, nearly half (48 percent) took advantage of their option to vote early.

This year, at least 111,975 Latinos in AZ have already voted early. That is already a 28 percent increase in the number of Latinos who voted early this year compared to 4 years ago. This proves that Latinos are turning out to vote in unprecedented numbers across Arizona this year.

In Maricopa County, there are 152,604 Latinos on PEVL, and 70,754 have already voted. 50,966 Latinos voted early in 2008 accounting for 40 percent increase from 4 years ago.
With former U.S. Surgeon General Richard Carmona in a neck-in-neck race with Flake for the U.S. Senate, every vote in Arizona counts.
Outside the Maricopa County Recorder's Office, after the Citizens for a Better Arizona turned in more than 3,000 ballots collected from area voters, Parraz hailed the record turn out and predicted, "Sheriff Arpaio is going to be in for a surprise tomorrow night."
Popular in the Community