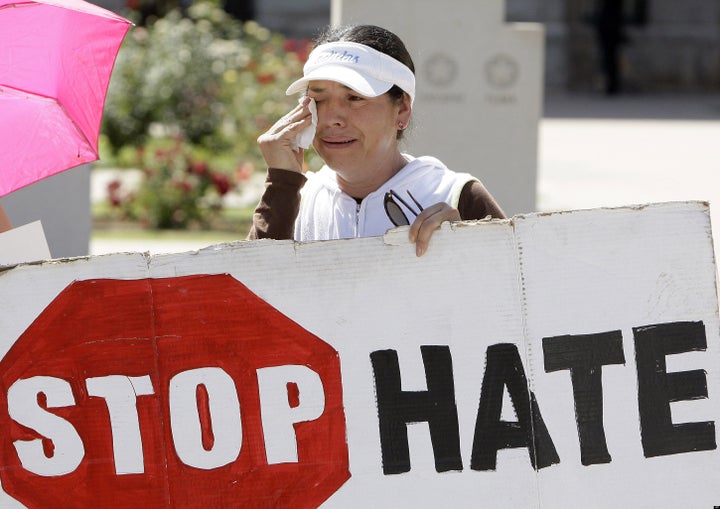 I got up at 4:30 a.m. on Tuesday morning to fly to Phoenix, Arizona, to speak at a press conference and rally at the State Capitol at the invitation of the state's clergy and other leaders in the immigration reform movement. The harshest enforcement bill in the country against undocumented immigrants just passed the Arizona state House and Senate, and is only awaiting the signature of Governor Janet Brewer to become law.
Senate Bill 1070 would require law enforcement officials in the state of Arizona to investigate someone's immigration status if there is "reasonable suspicion" that the person might be undocumented. I wonder who that would be, and if anybody who doesn't have brown skin will be investigated. Those without identification papers, even if they are legal, are subject to arrest; so don't forget your wallet on your way to work if you are Hispanic in Arizona. You can also be arrested if you are stopped and are simply with people who are undocumented -- even if they are your family. Parents or children of "mixed-status families" (made up of legal and undocumented, as many immigrant families are out here) could be arrested if they are found together. You can be arrested if you are "transporting or harboring" undocumented people. Some might consider driving immigrant families to and from church to be Christian ministry -- but it will now be illegal in Arizona.
For the first time, all law enforcement officers in the state will be enlisted to hunt down undocumented people, which will clearly distract them from going after truly violent criminals, and will focus them on mostly harmless families whose work supports the economy and who contribute to their communities. And do you think undocumented parents will now go to the police if their daughter is raped or their family becomes a victim of violent crime? Maybe that's why the state association of police chiefs is against SB 1070.
This proposed law is not only mean-spirited -- it will be ineffective and will only serve to further divide communities in Arizona, making everyone more fearful and less safe. This radical new measure, which crosses many moral and legal lines, is a clear demonstration of the fundamental mistake of separating enforcement from comprehensive immigration reform. We all want to live in a nation of laws, and the immigration system in the U.S. is so broken that is serving no one well. But enforcement without reform of the system is merely cruel. Enforcement without compassion is immoral. Enforcement that breaks up families is unacceptable. And enforcement of this law would force us to violate our Christian conscience, which we simply will not do. It makes it illegal to love your neighbor in Arizona.
Before the rally and press event, I visited some immigrant families who work at Neighborhood Ministries, an impressive community organization affiliated with Sojourners' friends at the Christian Community Development Association. I met a group of women who were frightened by the raids that have been occurring, in which armed men invade their homes and neighborhoods with guns and helicopters. When the rumors of massive raids spread, many of these people flee both their homes and their workplaces, and head for The Church at The Neighborhood Center as the only place they feel safe and secure. But will police invade the churches if they are suspected of "harboring" undocumented people, because it is the law? Will the nurse practitioner I met at their medical clinic serving only uninsured people be arrested for being "with" the children of families who are here illegally as she treats them?
At the rally, I started with the words of Jesus (which drew cheers from the crowd gathered at the State Capitol), who instructed his disciples to "welcome the stranger," and said that whatever we do to "the least of these, who are members of my family" we do to him. I think that means that to obey Jesus and his gospel will mean to disobey SB 1070 in Arizona. I looked at the governor's Executive Tower and promised that many Christians in Arizona won't comply with this law because the people they will target will be members of our "family" in the body of Christ. And any attack against them is an attack against us, and the One we follow.
Catholic Cardinal Roger Mahony of Los Angeles just called this Arizona measure "the country's most retrogressive, mean-spirited, and useless immigration law" in the land. On CNN, I defended the Cardinal's comments, which likened the requirement of people always carrying their "papers" to the most oppressive regimes of Nazism and Communism. I wonder whether the tea party movement that rails against government intrusion will rail against this law, or whether those who resist the forced government registration of their guns will resist the forced government requirement that immigrants must always carry their documentation. Will the true conservatives please stand up here? We are all waiting.
Arizona's SB 1070 must be named as a social and racial sin, and should be denounced as such by people of faith and conscience across the nation. This is not just about Arizona, but about all of us, and about what kind of country we want to be. It's time to stand up to this new strategy of "deportation by attrition," which I heard for the first time today in Arizona. It is a policy of deliberate political cruelty, and it should be remembered that "attrition" is a term of war. Arizona is deciding whether to wage war on the body of Christ. We should say that if you come after one part of the body, you come after all of us.
Popular in the Community