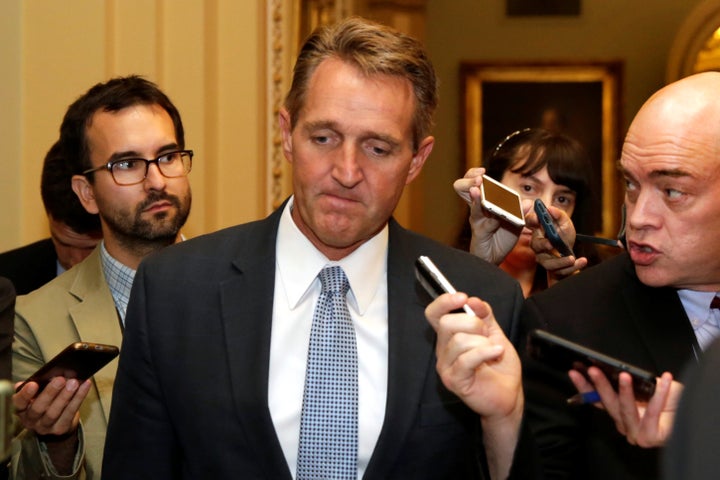 Sen. Jeff Flake was not among them.
Early that morning, Flake, 54, left his home in Mesa, a Phoenix suburb, and traveled 120 miles south, to Tucson. The decision wasn't exactly surprising. For more than a year, Flake has been Trump's most consistent Republican critic, refusing to vote for him in last November's election and then, after Trump took office, tsk-tsking his party's new president on topics ranging from trade policy to the tone of his tweets.
Flake even spent several months secretly writing (and several more very publicly promoting) a new book, "Conscience of a Conservative," which compares Trump's campaign to a "late-night infomercial" that was "free of significant thought," then goes on to explain in pained, I-wish-I-didn't-have-to-do-this detail why almost none of what Trump stands for — banning Muslims, building a border wall — actually qualifies, in Flake's view, as conservative.
Technically, Flake's road trip didn't have anything to do with Trump. But the symbolism was striking. At first Flake's press secretary told me the senator would not be participating in any public events while the president was in Arizona. The night before Trump arrived, however, she forwarded an invite to a small ceremony at the Pima County sheriff's department. I wound up being the only national reporter in attendance.
At the event, police officers presented Flake with two awards commending him for the courage he displayed on June 14, when James Hodgkinson, an apparently deranged left-wing radical activist, opened fire on a team of Republicans practicing for the annual congressional baseball game.
"Without regard for his safety, Sen. Flake went to the assistance of wounded colleagues, potentially exposing himself to further danger during a dynamic and still unfolding situation," said Pima County Sheriff Mark Napier. "His selfless actions and decisiveness likely saved lives."
An emotional Flake insisted he wasn't "deserving" of an award "at all, frankly." But he did want to say a few words.
"I just remember thinking as the shots first rang out, seeing the bullets pitch off the gravel near the dugout: 'Why? Why here? Why us? Who could look at a field of middle-aged members of Congress playing baseball and see the enemy?'" Flake told the assembled cops. "We have to stop ascribing the worst motives to our political opponents. It's the language we use, the rhetoric we use. Obviously I'm a fierce partisan at times, when you argue on policy. But it ought to end there. Fellow Americans aren't our enemies."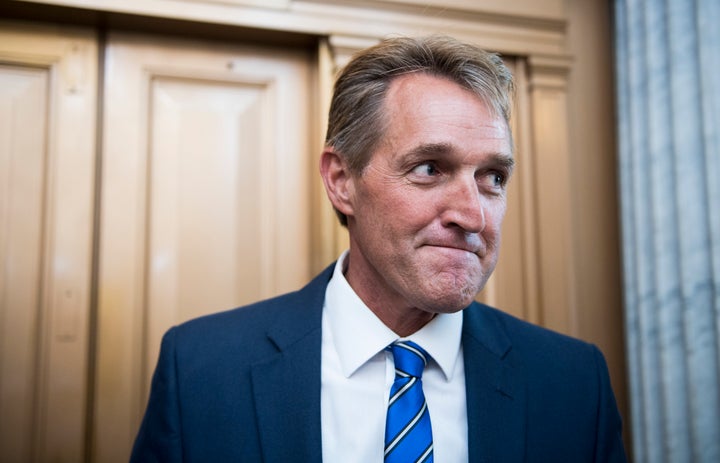 If Flake's cri de coeur was meant as a message to Trump, it didn't get through. Before his big speech that night at the Phoenix Convention Center, the president was seen huddlingwith Arizona state Treasurer Jeff DeWit and former state GOP Chairman Robert Graham, both of whom are thinking of challenging Flake in 2018. Later, on stage, Trump couldn't resist lashing out — first at Flake's Arizona Senate colleague, John McCain, who is battling brain cancer, and then at Flake himself (without mentioning him by name).
"Nobody wants me to talk about your other senator, who's weak on borders, weak on crime, so I won't talk about him," Trump said. "Nobody knows who the hell he is."
When the Beltway media covers Flake, it tends to frame his feud with Trump as a personality clash. "The Arizona Republican is betting his Senate seat on the political appeal of decency," according to a recent headline in the Atlantic. "But can that pay off in Trump's America?"
Yet there's more at stake here than style.
Over the last six decades, the story of the Republican Party has been the story of movement conservatism. Free-market economists such as Friedrich Hayek inspired William F. Buckley to start National Review; National Review fueled the rise of Flake's hero and predecessor, Arizona Sen. Barry Goldwater, who ripped the 1964 GOP presidential nomination away from the Eastern establishment (and wrote the original "Conscience of a Conservative"); Goldwater paved the way for Ronald Reagan, who was twice elected governor of California and president of the United States; Reagan begat generations of conservative Republicans who rallied around his gospel of limited government, muscular internationalism and Christian moralism, transforming the GOP in the process.
Among today's Republicans, Flake is perhaps the purest distillation of this tradition: a former executive director of Arizona's free-market, small-government Goldwater Institute who has spent five terms in the House and one term in the Senate fighting for earmark bans, spending cuts, entitlement reform, free-trade deals and the spread of democracy abroad (particularly in Cuba). His lifetime American Conservative Union rating is 93 percent.
Trump, in contrast, won the 2016 election by rejecting each of the three main tenets of movement conservatism. He trashed free-trade agreements and promised to preserve entitlements. He bad-mouthed NATO and vowed to disengage abroad. And he bragged about grabbing married women by the genitals.
"Of all the illusions Trump has dispelled … none is more significant than the illusion of the conservative movement," wrote political science professor Samuel Goldman last year. "In state after state, voters indicated that they did not care much about conservative orthodoxy on the economy, foreign policy, or what used to be called family values."
If Trump turns out to be a party of one — a celebrity-in-chief with no ideological coattails — then Flake and his fellow movement conservatives will probably be fine. But if Goldman is right — if Trump has shown that rank-and-file Republicans care more about putting "America First" than, say, reforming Medicare — then movement conservatism could be a thing of the past.
(It's worth noting, as Democrats often do, that Flake has voted "with" Trump 93.5 percent of the time; to progressives, this demonstrates the senator is merely grandstanding. But so far, none of Flake's major points of disagreement with Trumpism — trade, immigration — have come up for a vote in the Senate. Until they do, he seems determined to continue speaking out.)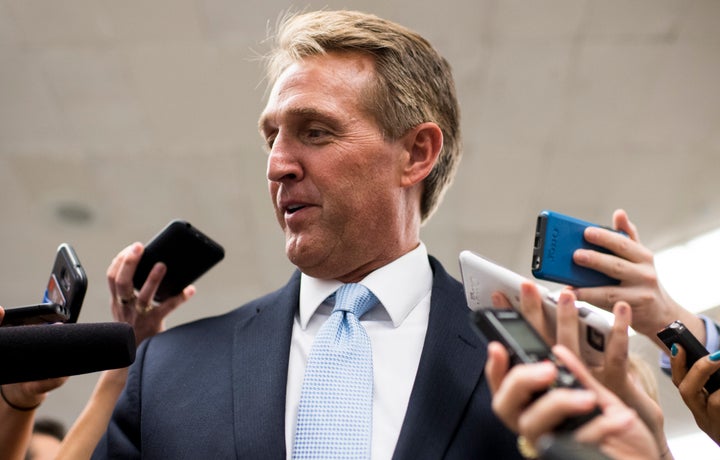 After the awards ceremony in Tucson, I caught up with Flake in a hallway. He was rushing to his next appointment, but I was able to ask a couple of questions before he disappeared behind a closed door.
Given Trump's success and support within the GOP, do you worry that the moment for movement conservatism is over? I wondered. Have Republican voters moved on?
Flake grimaced. "That's my concern," he said. "My fear is that this kind of populist, nationalist, antitrade movement is not a governing philosophy." Another grimace. "I'm worried that it could take over."
Flake's 2018 reelection campaign is the first real test of that question — of whether Trumpism can spread beyond Trump and "take over" the GOP. Flake, who is widely considered one of the two most vulnerable Republican senators in the country, has made it clearer than any other GOP incumbent that he opposes this path. As a result, the senator has already attracted one pro-Trump primary challenger in former state Sen. Kelli Ward — and he might get at least one more.
Early polls (all of them from small right-wing firms) show Ward ahead by double-digit ratios, and even Senate Majority Leader Mitch McConnell has taken notice. Last week, McConnell's super-PAC released a web ad that painted Ward — and, by implication, the entire Trump movement — as out of touch with reality.
The battle lines, in other words, are drawn.
By the time Arizona Republicans select their Senate nominee next August, Ward may no longer have Flake all to herself. The White House is trying to persuade a more prominent Republican, such as Graham or DeWit, to enter the race, and even former sheriff of Maricopa County Joe Arpaio, the anti-immigrant hardliner who recently received Trump's first presidential pardon, is claiming that he's mulling a bid."I'm sure getting a lot of people around the state asking me" to challenge Flake, Arpaio told the Washington Examiner on Monday. "All I'm saying is the door is open and we'll see what happens. I've got support. I know what support I have."
But for now, Ward, a 48-year-old osteopathic doctor, is Flake's only real primary competition, and her simple message — I support the president; he doesn't — will continue to define the contest no matter how many Trump loyalists eventually jump in.
As Flake was leaving the Phoenix area for Tucson, Ward, who lives in Lake Havasu City, made a beeline for the site of Trump's rally. A dozen volunteers assembled in the lobby of the nearby Renaissance hotel, where an organizer passed out a bunch of T-shirts in Ward's signature bright yellow. The logo on the front was an Arizona license plate with the words "TRUMP 2016" on one side and "WARD 2018" on the other; the back of the shirt said #MAKEARIZONAGREATAGAIN.
"They're brand-new," one volunteer boasted.Outside, a line of eager Trump fans had already encircled an entire city block, even though the rally was still five hours away and the temperature was 106°F. Ward's street team set up a folding table at the corner of Second and Washington and went to work. Goal No. 1: gathering the 12,000 or so signatures needed to get Ward on the primary ballot. Goal No. 2: convincing as many Trump voters as possible to wear yellow "Ward 2018" stickers.
"Any Kelli Ward supporters here?" shouted volunteer Susan McAlpine, a 64-year-old retired teacher with dangly earrings and a thick Boston accent. No response.
"Any Jeff Flake fans here?" she added."F*** Jeff Flake," one man immediately snapped."Flake the Flake!" another chimed in."Might as well be a Democrat," a third muttered.McAlpine pulled me aside. "As soon as they hear the name Flake, they're all like 'WHAT?!?!'" she said.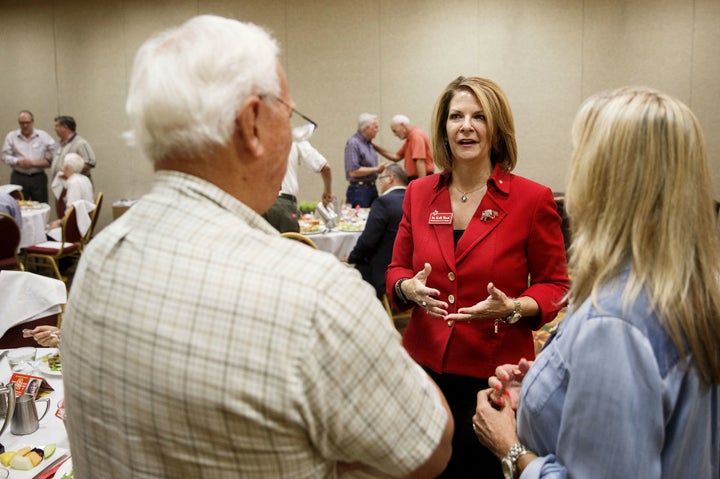 By the time Ward herself materialized on the corner and began to shake hands and smile for selfies in (what else?) a bright yellow blazer, McAlpine & Co. had canvassed the entire block. More than half the attendees now seemed to be sporting WARD 2018 decals. Nearby, consultant Brent Lowder smiled approvingly.
Lowder's presence in Phoenix is one of several early signs of how much has changed since Ward's last campaign. In 2016, she attempted to unseat McCain and wound up losing the GOP primary by more than 11 percentage points. Ward made several rookie mistakes that year, plagiarizing a Mitt Romney ad, mocking McCain as "old" and "weak" and failing to fully dispel the opposition's "Chemtrail Kelli" caricature (which gained traction after Ward hosted a town hall meeting in 2015 to discuss the conspiracy theory — a theory she says she doesn't believe — that the trails of white condensation emanating from airplane engines are actually dangerous chemicals being dispersed by the government).
But the biggest difference between then and now is that back then, Trump seemed likely to lose the election. Now he's leader of the free world — and he is personally gunning for Flake.The rise of Trumpism has, in turn, boosted Ward. On Aug. 9, the reclusive hedge fund billionaire and top Trump donor Robert Mercer sent $300,000 to Ward's super-PAC. Two days later, Lowder and his partner, Eric Beach, signed on to run Ward's campaign; they previously led the largest pro-Trump super-PAC in the country, raising $30 million during the 2016 election cycle. And on Aug. 17, Trump himself tweeted about Ward, stopping just short of formally endorsing her.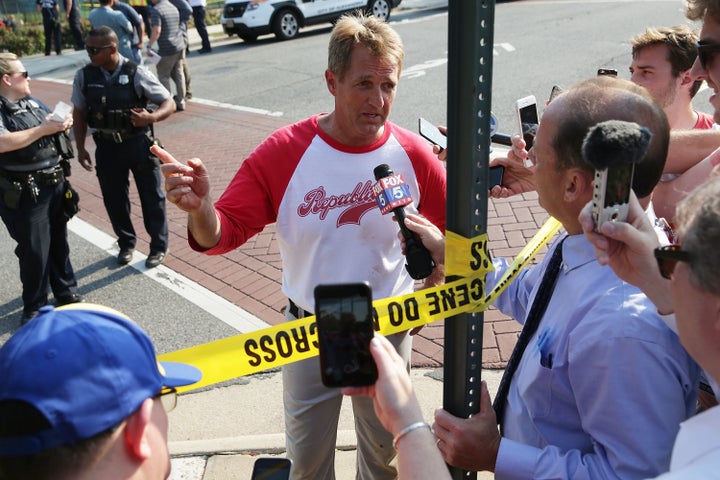 The morning after Trump's rally in Phoenix, Ward still sounded delighted — and surprised — by all the national attention."Our momentum has been YUGE!" Ward told a crowd of 100 local Republicans sipping coffee and nibbling cookies in the Navajo Room of Arizona's Sun Lakes Country Club. "It's been 'big league!' The media coverage alone — there were 3,000 hits about that tweet!"
Pacing back and forth between two life-size cardboard cutouts of Trump, Ward rattled off all the things she agreed with the president about: building the border wall, halting Muslim immigration, repealing Obamacare, ending sanctuary cities."Our race is going to be ground zero for the heart and soul of the Republican Party," Ward said. "Do we want to be what we've had for decade after decade — the same thing that has gotten us into this position where we can't get anything done? Or do we want to be the party of freedom and hope and opportunity? That's what Donald Trump has offered us as president — and that's what we have to continue in 2018. This is the new GOP."
Suddenly, Ward's phone rang. She raised her hand and shushed the crowd; the room went silent. It was Sean Hannity's producer. Unable to resist a last-minute interview request — and the publicity it promised — Ward decided to take the call in the middle of her appearance.For a few minutes, Ward just listened. Then she smiled. "Thank you!" she said. Ward covered the phone and turned to the crowd. "Sean Hannity just endorsed me!" she whispered. "Yay!"
After the event, I talked to Joyce Sample, a retiree from Chandler, about why she wasn't supporting Flake.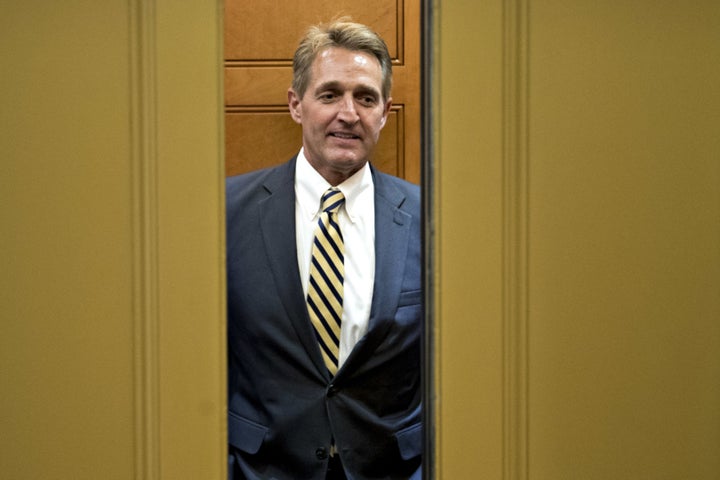 But Flake would say Americanism is not conservatism at all, I suggested. In fact, that's what his entire book is about."You mean his hit piece on the president?" Ward snapped. "It's all very condescending. He's basically tapping all of us on the head who are conservative and saying, 'You don't really know what conservatism is.'
"Things do change over time," Ward continued. "Things work or they don't work. You can't be stagnant. You have to look at the direction you want to go and see if the path you're taking is getting you there. And if it isn't, you have to take a turn."
A few days earlier, before the Trump tornado touched down in Arizona, Flake attended a breakfast hosted by the East Valley Chambers of Commerce, 20 miles southeast of Phoenix. The theme: "Good Government."
The senator was in his element. Men in suits and women in heels tapped at their smartphones. A large screen hovering overhead listed nine corporate and institutional sponsors. Attendees held crisp copies of "Conscience of a Conservative," which Flake happily signed as he made his way to the stage."Arizona tends to elect senators who stand on principle and are independent in their thinking," said the executive tasked with introducing Flake. "Certainly, Sen. Flake is that."
In his remarks, and in his responses to questions, Flake sounded like the same senator I profiled in 2015 — and, I imagine, like same candidate who will be crisscrossing Arizona for the next 14 months, fighting for his political life. He extolled the virtues of NAFTA, arguing that it "has been good for Arizona." He described Trump's "rejection of the Trans-Pacific Partnership" as "a big mistake that will haunt us for a long time." He called for a grand, bipartisan bargain on the deficit, saying that the only way to produce a "sustainable" budget is to "work across the aisle." He insisted that "when people talk about one solution on the border, they haven't traveled the border" — and proudly reminded the audience that he was one of the main architects of the Gang of Eight's comprehensive immigration reform bill in 2013. On North Korea, he warned that "our allies need to know we are steady and predictable — in my mind, that's what a conservative is." As for foreign policy in general, "we need to lead, as we have in the past."
"This vitriol we have, it's preventing us from achieving conservative ends," Flake concluded. "We've got to get away from calling our opponents 'losers' or 'clowns.' It just makes it difficult to work with them on big issues."Listening to Flake, it was hard to believe that recent polls have shown him with an approval rating as low as 18 percent. Perhaps that's what happens when you refuse, in such a polarized era, to pander to your party's base — and actively antagonize the president they adore. You become a man without a country.
The bet Flake is making is simple — and risky. He is wagering, in effect, that most GOP primary voters would rather elect a senator who obeys his principles than one who obeys their party's president.
But there's another factor at work here that Flake may not be considering — and might not be able to survive. What if Republican primary voters don't share his principles anymore? What if they never really did?As we got to the end of that hall in the Pima County sheriff's office, I asked Flake one last question: Has your reelection contest become a referendum on conservatism itself?
Flake chuckled nervously. "Whether it is or not, I am who I am," he said. "This is what I think traditional conservatism is. And I do think people will rally around it — given the alternative."Flake can be very convincing. But this time, it didn't sound like he was trying to convince me. It sounded like he was trying to convince himself.
Read more from Yahoo News:
Popular in the Community