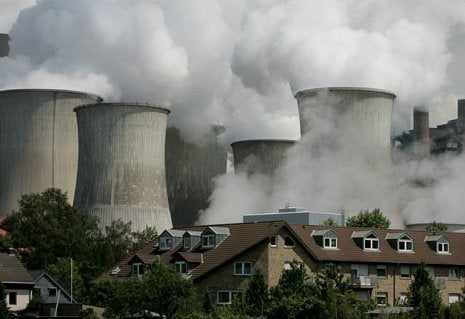 The showdown in sunny Arizona now turns to clean energy versus dirty coal.
Strangely enough, while the state infamously cracks down on immigrant rights, some residents claim their borderlands utility company is reportedly locking its customers into a costly and toxic dirty-energy future to cater to the potential demands of a Canadian mining operation.
In the historic corridor of Arizona's Apache, Buffalo Soldiers and our nation's oldest cowboy heritage, clean energy advocates in southern Arizona say the Sulphur Springs Valley Electric Cooperative (SSVEC) is proposing a wildly unnecessary and increasingly prohibitive coal-fired power line that could effectively destroy a unique grassland habitat in the southern Arizona desert region for nearly two dozen endangered or threatened species, raze a nearly 200-year-old historic Spanish-land-grant Babacomari ranch, displace needed film and rural jobs, and ultimately raise utility rates.
"Once a power line is constructed, it can't be undone," says bewildered area resident and Mountain Empire Energy Project member Gail Getzwiller. "So what's going on?"
The answer to that question for many southern Arizona residents has nothing to do with the energy needs of local consumers. It has to do with the needs of Canadian mining company, Wildcat Silver. They point to the preparation of Wildcat Silver's huge open pit mine, just south of Patagonia. Says Wildcat Silver CEO Chris Jones: "The Hardshell deposit is emerging as one of the most important silver and manganese development projects in the US." Wildcat Silver shareholder reports an estimated net present value totaling $295 million--or $450 million, depending on market rates.
Dirty coal for dirty silver?
Despite its sunny image, southern Arizona is already saddled with seven "high hazardous" toxic coal ash dumps. On America's classic home on the range, nothing but discouraging words are being uttered about the increasing human and social costs of dirty coal. Residents point to a secret EPA study on coal ash dumps released last year that estimated "up to 1 in 50 nearby residents could get cancer from exposure to arsenic leaking into drinking water wells from unlined waste ponds that mix ash with coal refuse. Threats are also posed by high levels of other metals, including boron, selenium and lead."
Enter the pioneers of southern Arizona -- for solar energy.
Recognizing the huge waiting list for solar photovoltaic systems, SSVEC CEO Creden W. Huber even hailed his cooperative's desire to look to "renewable energy options to help meet the increasing demand for electricity here in Southeast Arizona."
So why, asks Getzwiller, with renewable energy booming does SSVEC want to hurriedly build a massive and controversial 69,000 volt (69kV) coal-fired-powered sub-transmission line that far surpasses the needs of the area?
But this spring, despite an independent study that supported the SSVEC's position on the lack of renewable energy options, Getzwiller openly questioned the hidden agenda of SSVEC in an op-ed:
SSVEC presently serves our communities with a 7 megawatt-capable power line. The recent feasibility study states: "Most of this feeder load is less than 5 megawatts." The study shows our communities at the very most will need only 1.5 additional megawatts by 2019 that's a total of 6.5 needed and a capability of 7. We don't need the added capability for 60 or more megawatts. There is no electric emergency here. We averaged three hours of customer outage each year for the past decade. The study shows this area's performance was better than the national standard. The feasibility study describes options other than the power line to meet our needs include locally generated renewable energy; distributed energy from natural gas generators whenever peak loads are approached; effective time of use rates and demand side management programs. These options are significantly more economical than the proposed and more expensive high voltage power line.
Citing future rate hikes, Getzwiller concludes:
Unless we find another solution for our energy future, our rates will continue to go up every year. The 69kV is just the first step to locking us into dependence on expensive coal-generated energy, energy when less expensive renewable energy is a viable alternative. What is the real reason for constructing a system capable of 60 megawatts when we won't need more than 10 megawatts total? What is the motivation?

What's behind the SSVEC frenzy to put in this line? There is a much bigger picture!
At an upcoming public hearing before the Arizona Corporation Commission next week, southern Arizona residents hope the truth behind that bigger picture and SSVEC's machinations will be discussed. Meanwhile, the nation will be watching whether Arizona continues to be pioneers in solar energy, or locked into a dirty coal past.
Calling all HuffPost superfans!
Sign up for membership to become a founding member and help shape HuffPost's next chapter