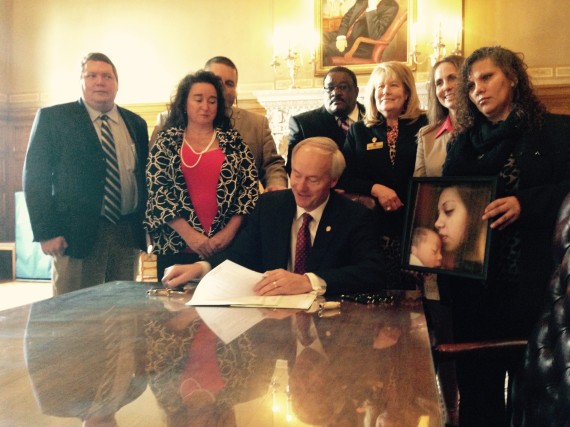 Arkansas Gov. Asa Hutchinson signs "Laura's Law" as Laura Ponce (far right) watches. Ponce's daughter, Laura Aceves, pictured in the framed photo, was killed in 2012 and inspired the legislation.
Arkansas Gov. Asa Hutchinson (R) signed a bill on Wednesday requiring police to screen domestic abuse victims to assess their risk of being killed in a domestic homicide, a proactive step that aims to reduce lethal intimate partner violence.
The legislation, called "Laura's Law," is named after Laura Aceves, a 21-year-mother of three who was murdered by her ex-boyfriend in 2012. Last year, The Huffington Post ran an investigative story on Aceves' death, examining why the criminal justice system was unable to protect her and exploring Arkansas' poor record on domestic violence.
"Hopefully, we can do better as a state," Hutchinson said upon signing the bill.
According to the Centers for Disease Control and Prevention, one-third of U.S. women have experienced domestic violence at some point in their lives. On average, three women are killed by an intimate partner each day.
Under "Laura's Law," law enforcement officers who respond to domestic violence incidents will be required to ask victims a set of questions that evaluate their level of risk, such as whether the offender has access to a gun or has strangled the victim in the past. The legislation was approved with no dissenting votes last week in both houses of the Arkansas state legislature.
Many domestic violence experts have come to believe that screening domestic violence victims for known risk factors for homicide, a method known as lethality assessment, can help identify victims who are in the greatest danger and target them for intervention.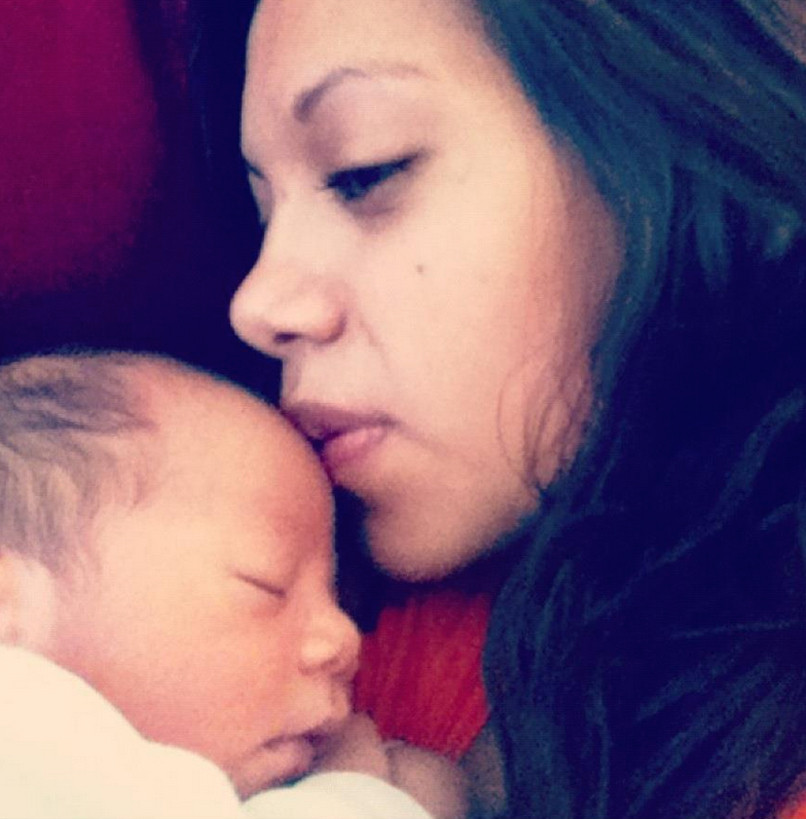 Laura Aceves with her son, Jordan.
The questions come from the work of pioneering domestic violence researcher Jacquelyn Campbell, who developed the first lethality assessment tool in the 1980s. (For more on how Campbell's research is being used to reduce domestic violence homicides, read Rachel Louise Snyder in The New Yorker.) After tallying the answers to the questions, police inform the victim how much danger she is in and offer to connect her with domestic violence resources. Even if the woman is not ready to seek help, she is told where help is available and advised of her level of danger.
HuffPost's original investigation determined that, had Aceves been screened for risk factors, she would have scored an 18 on Campbell's risk assessment tool, meaning she was in "extreme danger" of dying by homicide.
In the year before she was killed, Aceves' then-boyfriend, Victor Acuna-Sanchez, allegedly beat her with a baseball bat, dragged her behind a car, strangled her until she was unconscious and repeatedly threatened to take her life. At the time of Aceves' murder, Acuna-Sanchez was out on bail, awaiting trial for charges stemming from two prior assaults on Aceves.
"I was thinking, how can I help?" he said. "I don't think that lethality assessment is the cure, but it's something that may be able to help and ought to be done." Ballinger said that lethality assessment ensures that the victim, the police and domestic violence support services are on the same page about the severity of the victim's situation. He said he hopes that once domestic violence victims are made aware that they are at high risk of death, they will be empowered to seek help.
"The next step is to make sure that the help is there and we provide it," he said. "This is a start."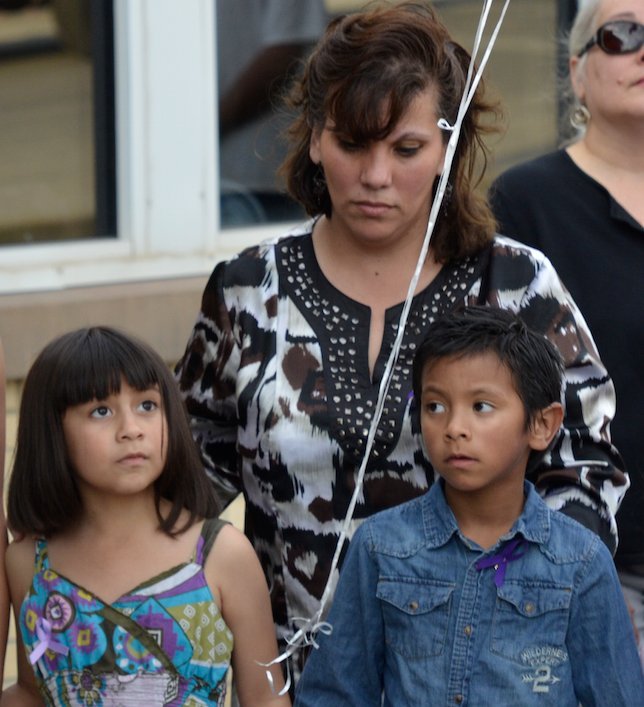 Laura Ponce with two of Aceves' children, Josie and Christopher.
Aceves' mother, Laura Ponce, applauded the passage of the bill.
"To me, this is like we won," she said. "It's going to save a lot of lives -- not only women but children."
She said she hopes that across the state, local authorities will make sure that domestic violence victims feel safe and supported -- something she feels was lacking in the lead-up to her daughter's death.
"They were dealing with my daughter's case like it was a traffic violation," Ponce said. "But now with this bill ... She is not going to be invisible anymore."
"Laura's Law" will require law enforcement officers across the state of Arkansas to conduct lethality assessments. But police in Carroll County, where Aceves lived, have started using the tactic on their own.
Randy Mayfield, the county's new sheriff, successfully campaigned last year on a platform of improving law enforcement's response to domestic violence. After taking office in January, Mayfield appointed Maj. George Frye as his chief deputy. Frye was familiar with lethality assessment from his time working at the Tulsa police department, which participated in the Oklahoma pilot program. (Based on the success of the program, lethality assessments became Oklahoma state law in 2014.)
Weeks after becoming chief deputy, Frye developed a lethality questionnaire, modeled on the one he used in Tulsa, that county officers now use when responding to domestic violence calls.
"We believed this was the right thing to do for Carroll County," Frye said. "It indicates to victims that law enforcement is looking at their situation and are going to do their very best to help them."
Before You Go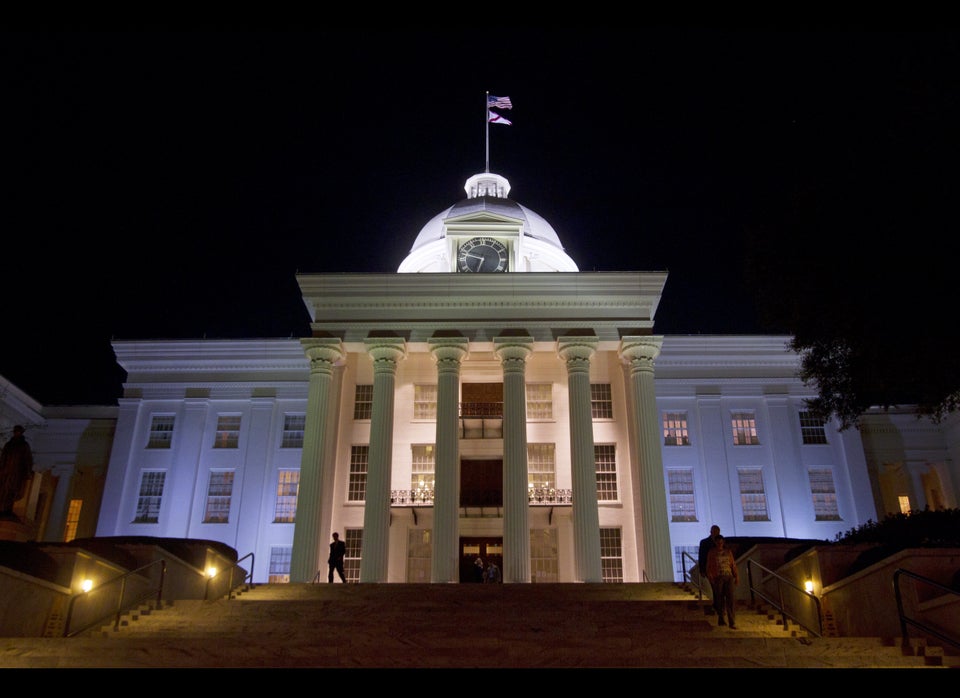 U.S. State Capitol Buildings
Popular in the Community