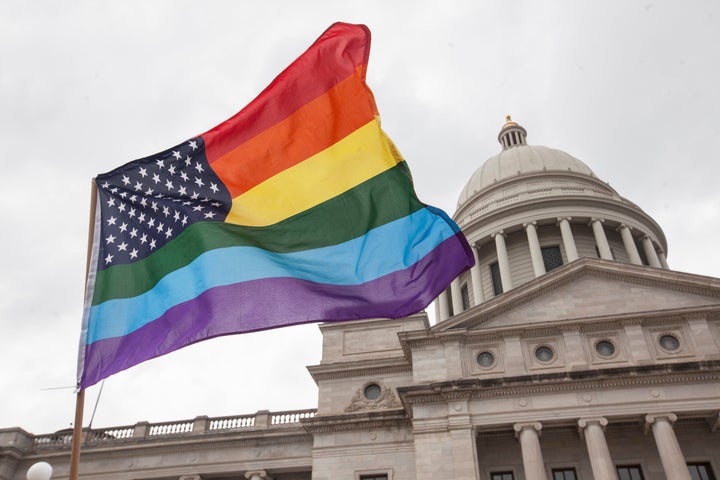 Arkansas is among a growing number of U.S. states to offer its residents a third gender option on driver's licenses and other state identification cards.
Zach Miller, an Arkansas resident,told Grindr's digital magazine Into that they successfully updated their state ID with an "X" marker this month. Miller, who identifies as neither gender and uses gender-neutral pronouns, learned that a friend, trans activist Beck Witt, had updated their ID, according to the report.
Miller, an Arkansas Transgender Equality Coalition board member, said they received their updated ID card Monday and called the experience "very affirming."
"It makes it clear that we exist — that gender nonconforming, non-binary, intersex, and trans people exist," Miller said.
Interestingly, the policy allowing state departments to issue nonbinary ID cards appears to have been on the books since 2010. "Our official policy is to allow a licensee to change their gender as requested, no questions asked, no documentation required," Arkansas' assistant commissioner of operations and administration at the time, Mike Munns, told state workers in a memo dated Dec. 3 of that year. "Please see that this policy is followed."
Arkansas Department of Finance and Administration spokesman Scott Hardin confirmed the report in an email to HuffPost, saying, "Although it has not received considerable attention, this policy has remained in place since it was initially issued in 2010."
"An Arkansas Department of Finance and Administration policy memo was issued to Revenue Office employees in December 2010, informing them that any licensee may request to change the gender listed on a license, no questions asked," he said. "The policy was simply highlighted in a recent article, resulting in additional interest."
The news was praised on social media by a number of LGBTQ advocacy groups.
Oregon was previously thought to be the first U.S. state to issue nonbinary ID cards when it began allowing residents to select from three gender options — not specified, male and female — last June. Similar policies have since been adopted in California, Maine, Minnesota and Washington, D.C.
Lambda Legal senior attorney Paul Castillo called the policy a "great step forward for people in Arkansas."
"I think you will continue to see states move in this direction with regard to identity documents from state identification to birth certificates," he told Into.
Popular in the Community