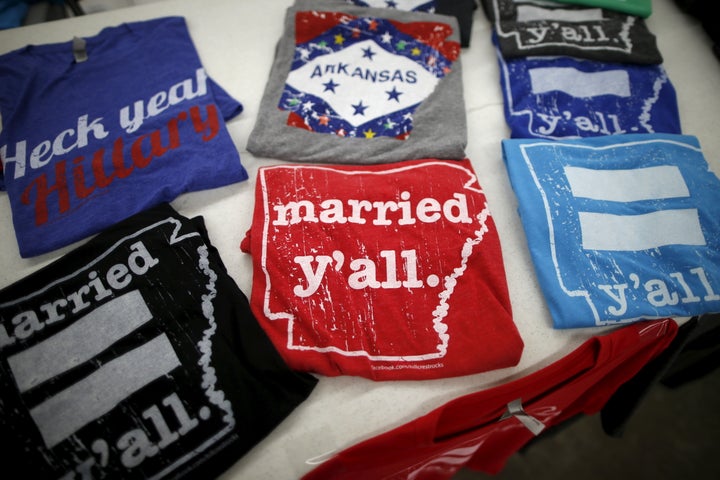 Arkansas is looking to deliver a blow to the Supreme Court ruling on marriage equality on none other than Valentine's Day. 
Republican Senator Jason Rapert's Senate Joint Resolution 7, filed last week, says "Nothing in this Constitution or in the constitution or laws of any state may define or be construed to define marriage except as the 2 union of one man and one woman, and no other union shall be recognized with 3 legal incidents thereof within the United States or any place subject to 4 their jurisdiction." 
Thirty-four states need to call for the constitutional convention, and 38 states are required for the amendment to be added to the Constitution. 
"I think the country now knows the silent majority is out there and they spoke during the 2016 election, and they're going to speak again," Rapert said in an interview with local ABC affiliate KATV. "There is no hypocrisy in standing up for what you believe in. It is not bigoted to say that marriage is between a man and a woman."
Rapert has long been anti-LGBT, fighting against same-sex marriage and same-sex couples' right to adopt, saying at a rally in 2011, "we're not going to allow minorities to run roughshod over what you people believe in," NewNowNext noted. 
"I encourage all political leaders of Arkansas and leaders in the faith community to rally around County Clerks who choose to refuse to comply with an unjust ruling that violates religious freedom and states rights," he said, according to Arkansas Online. "I encourage all likeminded political leaders around the entire nation to do the same. We cannot sit idly by while 5 robed lawyers try to seize power from the states and the people."
REAL LIFE. REAL NEWS. REAL VOICES.
Help us tell more of the stories that matter from voices that too often remain unheard.
BEFORE YOU GO
PHOTO GALLERY
U.S. Celebrates Marriage Equality