 "I couldn't breathe. My throat and nose and eyes were burning really bad," recalled Appleman, who lives on Lake Conway, about a mile outside the 22-home evacuation zone -- but next to a slough now full of the thick, sticky diluted bitumen. "I could smell that horrible smell. I got really scared."
After nine days of headaches, stomachaches and a persistent sore throat, Appleman's sleep was disturbed again on Monday night by what she perceived as a "strange noise" coming from the lake. She spotted three guys in a boat equipped with a computer and large video screen netting several dead fish from the popular fishing spot. According to Appleman, the men ignored her questions and shined a spotlight on her as she tried to take pictures from the shore with her iPhone.
"I can't figure out half of the stuff that is going on," said Appleman. "They haven't given us any answers."
ExxonMobil, owner of the ruptured Pegasus pipeline, maintains that none of the leaked Wabasca heavy crude mined from Canada's tar sands region has migrated into Lake Conway. The company also said air quality has remained safe for residents outside the immediate cleanup areas.
Nevertheless, health concerns are increasing. The local elementary school sent home eight children last week after they became ill breathing the petrochemical fumes. John Gray, Mayflower School District superintendent, told The Huffington Post that while an oil odor was obvious inside and outside the school building that day, air monitoring showed chemical levels were safe.
Public health advocates said they believe this is just one of many mistakes made since the March 29 spill.
"A lot of the released chemicals -- benzene, hydrogen sulfide, toluene -- are still extremely toxic, especially to children, the elderly and pregnant women, at very low levels," said April Lane, chair of school health and safety with the Faulkner County Concerned Citizens Advisory Group.
Lane suggested that Mayflower residents may misinterpret air quality tests coming back from local agencies and industry with zeros, or with values that fall below what Exxon calls "necessary action levels," to mean that they are not in danger. The tests are not sensitive enough to detect levels of toxins that could cause harm, Lane noted. Further, such action levels are generally outdated and set for healthy workers, which means they may not take into account the greater effects a chemical can have on more vulnerable populations.
In order to better inform residents of the risks, Lane and her group are monitoring the air around Mayflower for a broader array of chemicals, and at levels in the parts per billion rather than the parts per million of current tests. They anticipate their independent results by late April.
"Claiming that the air is okay is simply inappropriate and unsafe," said Lane.
Government and industry air monitoring so far does show days with levels of toxic pollutants above occupational health benchmarks in Mayflower clean-up areas. Benzene reportedly averaged 0.6 parts per million in the air -- and reached as high as 2.2 parts per million at work areas on March 29, for example. The National Institute for Occupational Safety and Health recommends workers wear special breathing equipment when they are likely to be exposed to benzene at levels exceeding 0.1 parts per million because "benzene can cause cancer."

Multiple witnesses told HuffPost they saw workers cleaning up oil without protective equipment, especially during the first days after the spill.
"These guys were walking around in this nasty stuff, with rakes and hoes, knocking down vegetation, and I didn't see anyone wearing a respirator," said Rocky Kistner of the Natural Resources Defense Council.
Meanwhile, last Tuesday, the National Safety Council presented Exxon Mobil Corporation with the Green Cross for Safety medal for its leadership and "comprehensive commitment to safety excellence."
James Rutherford of the Calhoun County Health Department in Michigan recalled the same mistakes among clean-up crews in the aftermath of the Enbridge tar sands oil spill in Kalamazoo in 2010. He also said he foresees a familiar tragedy playing out from the oil stopped up in Mayflower wetlands, including the swale by the Applemans. "Those areas are the worst," he said. "That's where oil sits and not only vaporizes, but sinks."
"So not only are you going to have short-term health issues, but a year or two from now, there will also be long-term problems," said Rutherford. "That's what we're dealing with now in Kalamazoo -- almost three years out."
Some of the more persistent contaminants in tar sands crude, the material slated to run through the proposed Keystone XL pipeline, are polycyclic aromatic hydrocarbons, better known as PAHs. Workers dredging up sediment or kids playing in the dirt, even years later, may stir up the contaminants and the risk of exposure. No PAH monitoring is underway in Arkansas.
Dr. Michael Harbut, chief of the Center for Occupational and Environmental Medicine at the Wayne State University School of Medicine in Detroit, has been treating patients in the aftermath of the Kalamazoo disaster. "Some people developed problems within a couple weeks. Others got sick several months later," he said, with issues that have included respiratory and immune system problems and memory losses. "It's too soon to see the cancers. Those tend to occur 20 or 30 years after exposure."
No one is currently tracking long-term health problems among people exposed in Kalamazoo, even though Rutherford said he has petitioned state and national partners for such a study. Therefore, it remains difficult to prove any connections or say for certain what may be in Mayflower's future.
Further troubling researchers is the lack of knowledge about the ingredients in the black slime that flowed from the broken pipeline into suburban streets. Crude oil typically contains some 1,000 chemicals, including benzene. Heavier versions, such as the bitumen extracted from Canadian tar sands, also include a cocktail of potentially toxic solvents that allows the thick material to be pumped through a pipeline. Exxon would not name the specific solvents used as diluent, but told HuffPost that they were "petroleum-based."
Meanwhile, Appleman can't prove her own persistent symptoms are caused by the spill. Nor can she prove a connection for her husband's worsened condition. Ed, a lung cancer patient, went to the hospital on Monday to start his latest round of chemotherapy. His doctor turned him away, suggesting he was too weak and should try again in another week.
Appleman said she wishes that she and Ed had been warned. It wasn't until this week that the couple first heard from ExxonMobil. A representative called and offered medical help as well as financial assistance to move into a hotel.
"That's 10 days too late and $10 too short," Appleman said. "The damage has already been done."
Related
Before You Go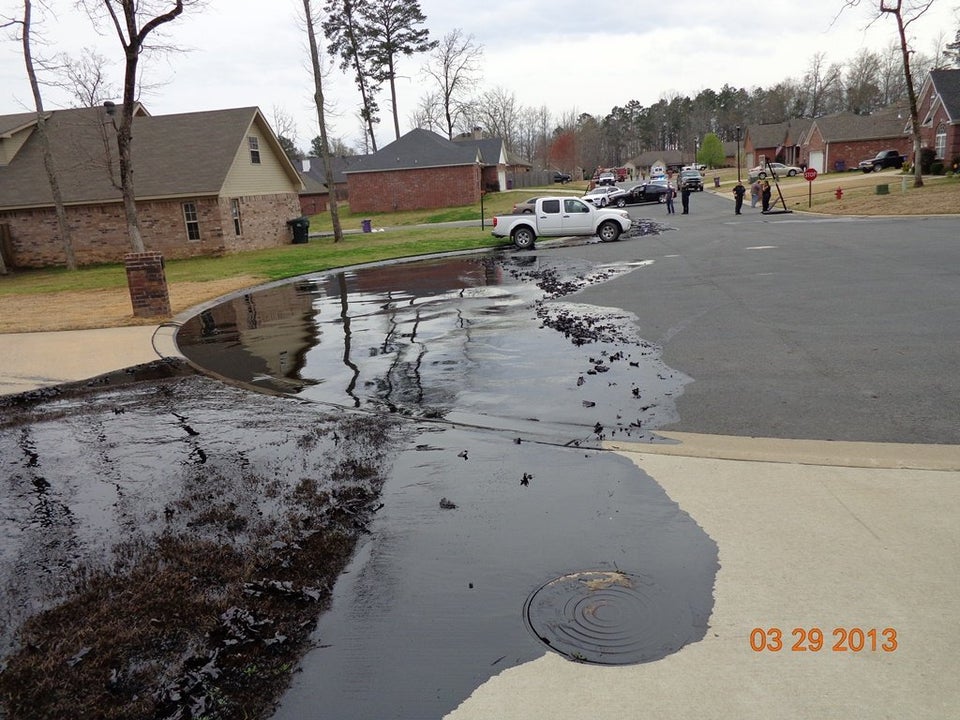 Exxon Pipeline Mayflower, Ark. Oil Spill
Popular in the Community