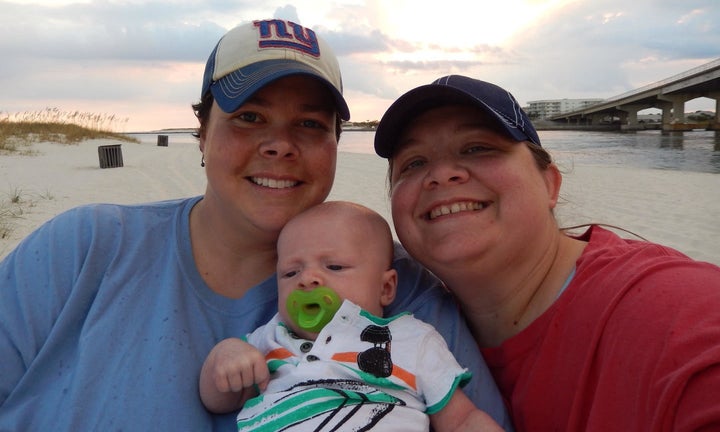 Arkansas's largest county is now listing some same-sex parents on birth certificates, a shift in policy from earlier this week and a move that goes against the guidance of the state attorney general. 
On Tuesday, Pulaski County Circuit Judge Tim Fox struck down part of a state law that barred same-sex couples from being listed on their children's birth certificates, ordering government officials to immediately issue amended certificates to the three plaintiff couples.
But the state did not allow other same-sex couples who weren't part of the lawsuit to do the same. When Jennifer Gardner-Glaze and her wife, Tracee, tried to get the Department of Health to amend their 4-month-old son's birth certificate, officials told her they were unable to do so at that time. 
Arkansas Attorney General Leslie Rutledge (R) advised state officials not to issue more amended birth certificates because she planned to appeal the ruling and ask for a stay of the decision. 
On Friday evening, however, Gardner-Glaze was successful. 
Gardner-Glaze said she and her wife were tipped off about the change by Cheryl Maples, the attorney for the three plaintiff couples. Maples posted about the new policy Friday afternoon on Facebook.
"We looked at the clock and said, 'It's 4:05 [p.m.].' We live 10 minutes from there, we're going now," Gardner-Glaze told The Huffington Post. 
Gardner-Glaze said an official initially told them it was best if they left their information and came back Monday to complete the process, since the office was closing shortly. 
"Normally, under any other circumstance, I'd be fine coming back Monday morning. But if this judge issues this stay Monday morning at 8:01 a.m., and you tell me I can't have this, I'm going to be really pissed. And those were my exact words," Gardner-Glaze said. 
A supervisor standing nearby agreed that they could get it done on the spot, and they went forward. Because it was a bit rushed, there are a couple of errors on the new birth certificate -- her maiden name, instead of her married name, is on the document, and some details are missing. 
"But I'm on there now," Gardner-Glaze said. "They can fix that on Monday regardless of whatever stay happens. Because I'm on there, and they can't take me off."
Judd Deere, a spokesman for the attorney general, said the office's guidance to health officials has not changed. 
"As I said the other day, we advised the Department of Health to follow Judge Fox's order with regard to amending the birth certificates of the three minors in this case," Deere said. "As far as how the Department of Health is proceeding otherwise unless and until there is a stay from the Arkansas Supreme Court, I would direct you to the Department of Health."
A spokesperson for the Department of Health did not return a request for comment. 
Calling all HuffPost superfans!
Sign up for membership to become a founding member and help shape HuffPost's next chapter