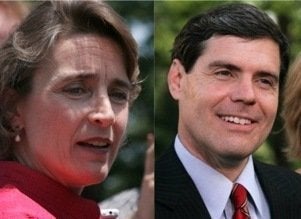 (AP) - The bitter and expensive runoff for Arkansas' Democratic Senate nomination moved into its final hours Tuesday as Sen. Blanche Lincoln and Lt. Gov. Bill Halter made their last campaign stops in a race that could end Lincoln's political career.
After voting Tuesday morning at his polling place in North Little Rock, Halter said he expects the runoff to be close but he still hoped to improve his vote total in every county over the May primary.
"I think that's why everybody's vote matters so much," said Halter, who planned to talk to voters until the polls close at 7:30 p.m.
Lincoln, who has been attacked by both the left and the right on issues such as health care, defended her Senate votes, saying groups from Arkansas have criticized her because she has tried to work with both parties.
"There are very few who come out on the battleground and dare to say, 'Where is the common ground? Where do we solve these problems?' One of the reasons I've been beat up is I've gotten out of that foxhole. I'm out here in the middle," Lincoln said after voting in west Little Rock Tuesday afternoon.
Tuesday's vote marks the end of a three-week runoff between Lincoln and Halter. The winner will face Republican U.S. Rep. John Boozman in the general election.
Despite the intense advertising and campaigning, the candidates still missed the mark for some voters.
"I feel like I just stabbed my country in the back," said Pat Wallace of North Little Rock after voting at Halter's precinct. "With fear and trembling, I voted for Blanche."
"I don't like this," Wallace said. "I want to vote for someone. We just don't have any leaders."
Lincoln, considered one of the most vulnerable incumbents seeking re-election, greeted Little Rock-area voters at polling places Tuesday before voting with her husband, Steve. She had other appearances scheduled in the Little Rock area later Tuesday.
Halter wrapped up a three-day road trip across the state with a midnight breakfast at the International House of Pancakes in Conway. He also planned to make stops in central Arkansas later Tuesday.
Lincoln and Halter have spent more than $10 million on the contest combined, and outside groups such as the AFL-CIO and the U.S. Chamber of Commerce have poured millions more into the race. Lincoln spent the closing days of her campaign attacking unions and liberal groups backing Halter's bid, saying they're trying to buy Arkansas votes.
Though Lincoln edged Halter in the May primary, Halter won in Garland County. He expressed concern in recent days because the county opened only two polling places Tuesday, down from 40-plus in May.
Halter said Tuesday that the campaign was posting volunteers at each of the May polling places to steer supporters to the correct location and organizing carpools and vans to transport voters.
About 650 people voted in Garland County by 10:30 a.m., a pretty heavy turnout. Garland County Election Commission Chairman Charles Tapp said a few locals complained but most of the criticism came from people calling from out of state.
"They just don't understand Arkansas. They don't understand Garland County. The Garland County people are handling it real well," he said.
Lincoln has angered conservatives by voting for the Democratic-led health care overhaul, and liberals have criticized her for opposing a government-run insurance option as part of the health reform. She's also been targeted by labor unions backing Halter for opposing the Employee Free Choice Act, legislation that would make it easier for workers to unionize.
Halter has accused Lincoln of flip-flopping on that legislation and other key issues. Despite the backing of liberal groups, Halter says he's the more fiscally conservative of the two in the race.
Tuesday's election also features a Republican contest for northwest Arkansas congressional seat and Democratic runoffs for congressional seats in central and eastern Arkansas. Democrats also will choose their nominee for secretary of state and land commissioner. Arkansas Secretary of State Charlie Daniels has not predicted how many voters will cast a ballot in Tuesday's election, but history suggests it will be much lower than the May 18 primary.
Twenty-nine percent of the state's 1.6 million registered voters turned out for the May primary.
Calling all HuffPost superfans!
Sign up for membership to become a founding member and help shape HuffPost's next chapter