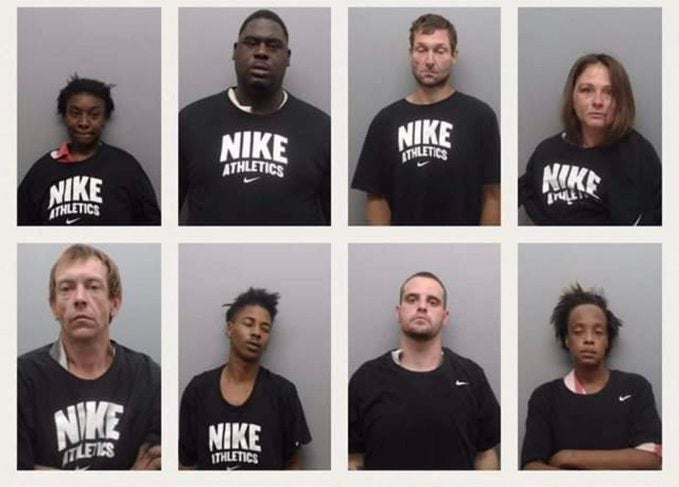 An Arkansas sheriff's office removed photos of its inmates in Nike T-shirts after they made the rounds on Twitter.
The Union County Sheriff's Office posed at least 18 of its inmates in Nike T-shirts for their mugshots, then added the images to its online jail roster.
Columnist Shaun King tweeted the photos on Wednesday and said his source told him the mugshots were meant to mock Colin Kaepernick, the former NFL player whose protests of police brutality landed him an ad campaign with Nike.
A Nike ad featuring Kaepernick and a new slogan ― "Believe in something. Even if it means sacrificing everything." ― made waves when it was introduced early last month. Many people loved it; others launched an ineffectual boycott of the sportswear company by burning their Nike gear. Nike sales, meanwhile, increased significantly.
Union County began using its inmates to mock the ad campaign 10 days after the Nike ad was released, King told HuffPost, citing the same unnamed source mentioned in his tweet. The sheriff's office removed all mugshots from its website within hours of King's tweet, but a cached version of the site is still online and confirms the photos are real.
King told HuffPost that his source at the sheriff's office described Union County Sheriff Ricky Roberts as a Trump supporter who disliked Kaepernick and hated Nike for supporting him.
Roberts released a statement later on Thursday, saying that the Nike gear was intended for arrestees who "enter our facility that lack proper attire."
"It has been brought to my attention that there are those who feel that one of our shirts of choice may be viewed as inappropriate," he wrote. "We are not, and will not, be influenced by current political and social debates in the media. … This shirt is not only in use now, but has also been for several months prior. We have taken steps to rectify this issue and insure that this will never happen again."
Frank Hash, mayor of El Dorado and the seat of Union County, did not return a request for comment on Thursday.
The image of a black inmate being used by police to make a point ― even a joke ― is precisely the kind of thing Kaepernick was protesting. President Donald Trump and other conservatives have classified Kaepernick kneeling during the national anthem at NFL games as an act of disrespect toward the American flag. But Kaepernick and other players who have joined the protest maintain that they're using their public platform to raise awareness about how black people in the U.S. are treated by the police, the government and behemoth corporations like the NFL.
This article has been updated with Roberts' comment.
Popular in the Community