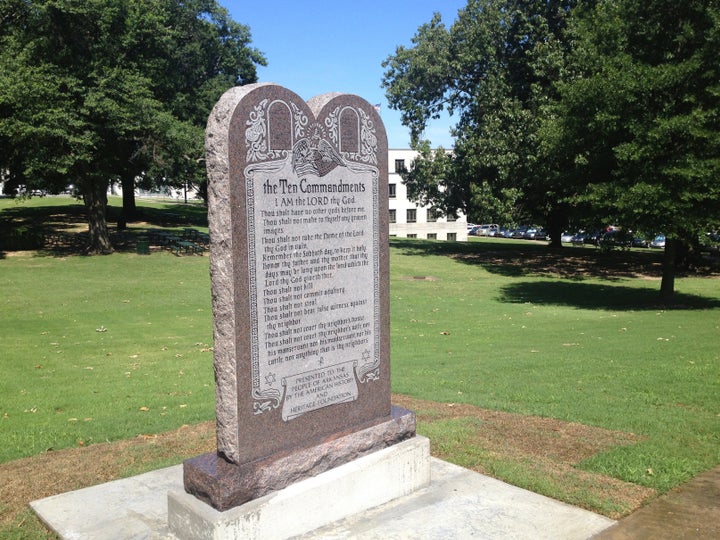 A man was arrested early Wednesday for allegedly destroying a long-disputed monument of the Ten Commandments outside the Arkansas Capitol that had been in place for less than 24 hours.
Arkansas had installed the monument on Tuesday, a move criticized by many as a violation of the separation of church and state. A spokesman with the Arkansas secretary of state's office told the Arkansas Democrat-Gazette that Capitol police arrested a man shortly after 5:15 a.m. The man had allegedly filmed himself driving into the monument and knocking it to the ground, where it shattered.
The 6-foot, 3,000-pound monument on the Capitol grounds in Little Rock was erected following a 2015 court decision approving it. 
Rita Sklar, executive director of the Arkansas chapter of the American Civil Liberties Union, had called the monument "a visible symbol of government endorsement of one particular religious belief over others, or over no belief."
Prior to the monument's destruction, Sklar had said the ACLU was planning to file a lawsuit challenging the display.
"We have a beautiful Capitol grounds, but we did not have a monument that actually honored the historical moral foundation of law," Republican state Sen. Jason Rapert told reporters at the installation ceremony Tuesday. "And today we have now, through the support of people all over the country, mostly from Arkansas, been able to erect this monument at zero taxpayer expense."
After the legislation was proposed two years ago, the Satanic Temple, a group known for pushing the envelope on the issue of separation of church and state, petitioned to have a statue of the goat-headed, angel-winged god Baphomet installed at the Arkansas Capitol.
Other groups, including atheists and Hindus, attempted similar measures to protest the Judeo-Christian monument. 
Rapert and other supporters have argued that the U.S. Supreme Court ruled in favor of a similar display on the Texas Capitol grounds in 2005. But in 2015, the Oklahoma Supreme Court ordered the removal of a Ten Commandments monument from state Capitol grounds, calling it an unconstitutional display of religion.
The Freedom From Religion Foundation, a group that promotes the separation of church and state, released a statement Tuesday asserting that Arkansas would "regret" its decision to install the monument.
"We expect that this monument will be challenged by Arkansas citizens and that it will be struck down by our courts, which have an obligation to uphold the First Amendment," said FFRF Co-president Annie Laurie Gaylor. "This shameless promotion of religion by legislators will not be allowed to stand."
Patrick Elliott, the group's staff attorney, added, "When Arkansas officials inevitably lose in court, taxpayers will be on the hook to cover the attorneys' fees for the plaintiffs."
This story has been updated with details about the monument's destruction.
REAL LIFE. REAL NEWS. REAL VOICES.
Help us tell more of the stories that matter from voices that too often remain unheard.
BEFORE YOU GO
PHOTO GALLERY
Churches turned into secular buildings