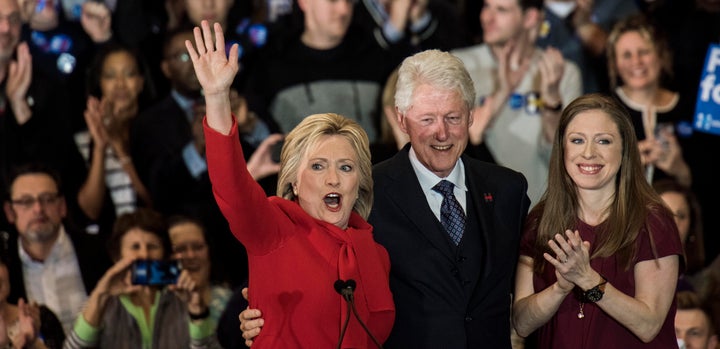 MANCHESTER, N.H. -- They've been coming here to help Bill Clinton win since 1992. And this week, they're back to help Hillary.
The Arkansas Travelers, as they're known, are some of the Clintons' most loyal supporters. The informal group formed in 1992 for Bill's first run for the White House, and they have paid their way around the country ever since to be where the Clintons need them to be to win elections.
This week, there are 86 Arkansas Travelers in New Hampshire to help Hillary try to defeat Sen. Bernie Sanders (I-Vt.) in Tuesday's Democratic presidential primary. Some have been with the group since the beginning, and some are relatively new additions.
"We'll go anywhere. We'll do rope lines, welcome people. Whatever it takes to get 30 seconds of their time to tell them about our Hillary," said Cathy Koehler, 55, from Little Rock.
She and her fellow Traveler, Jana Teeter, were at the McIntyre-Shaheen 100 Club Celebration Friday night, where thousands of Democrats turned out to hear Sanders and Clinton speak. Teeter and Koehler are both teachers, and they said they got to know Clinton through her work on education.
"The part that people need to understand is that the Arkansas Travelers -- we did this out of our pockets. We paid every bit of this ourselves. We're not financed by the campaign," Koehler added. "They coordinate with the campaign, but we do this because we believe so much in her leadership ability that it is worth sacrificing time and talent and our treasure to be the advocates on the ground that get to tell people, 'This is the Hillary Clinton I know.'"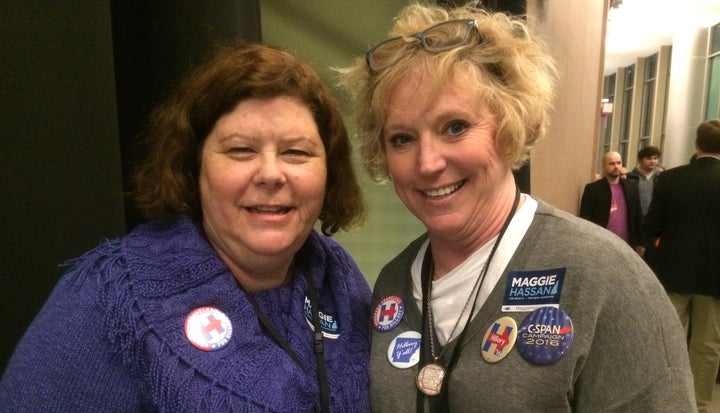 The group includes mayors, county judges and even former U.S. senators -- David Pryor and his son Mark.
On Friday, the Travelers were out canvassing for Clinton -- despite the heavy snow -- and then spent the afternoon phone-banking. They've been tweeting their adventures as well:
About 100 Travelers came to New Hampshire in 1992 to help Bill Clinton, and now there are about 300 people in the group, according to The Washington Post.
Sheila Galbraith Bronfman, the coordinator of the group who started it in 1991, said she modeled it on a smaller group of Georgians who helped former President Jimmy Carter in early primary states and called themselves the Peanut Brigade.
This year, all the Travelers are wearing buttons identifying themselves as part of this tight-knit group.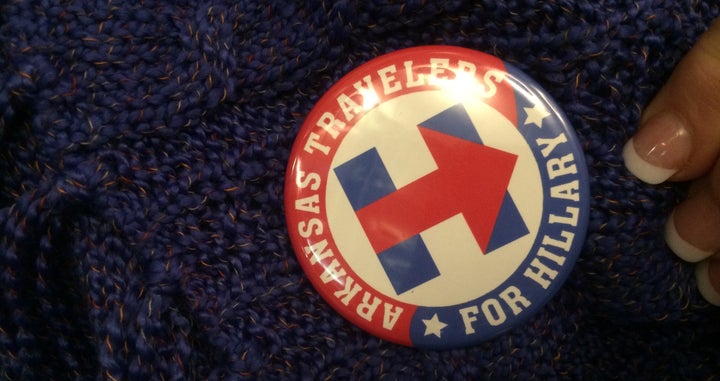 The Clintons have deep ties in New Hampshire, and Hillary frequently reminds voters of that connection in her speeches.
"It is impossible to express how grateful I feel for everything the people of this state have done for me and my family, for our country, over the years. ... Going all the way back to 1992, you opened your homes and your hearts to us. In 2008, you lifted me up and gave me back my voice," Clinton said in her 100 Club speech Friday night, referring to her win over Barack Obama in that Democratic primary.
Clinton has been keeping a busy schedule in the final days before the primary on Tuesday, hoping to break into Sanders' lead in the polls.
Popular in the Community