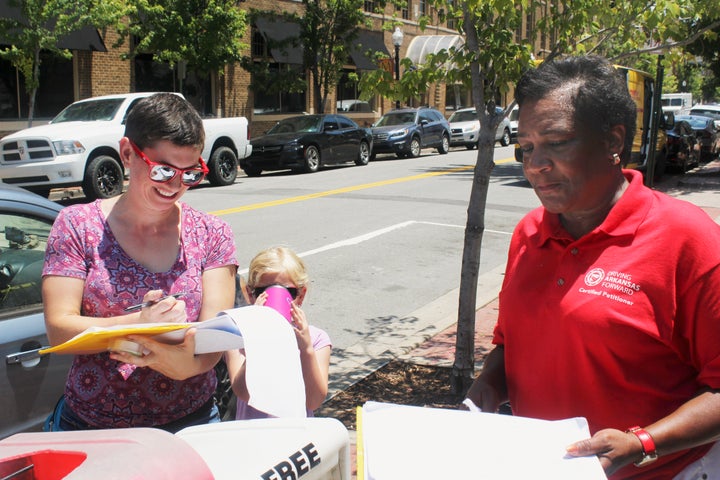 The lowest earners in Arkansas will see higher hourly pay next year thanks to a ballot initiative passed by voters Tuesday.
Arkansans approved a proposal known as Issue 5 that will gradually hike the state's minimum wage from its current rate of $8.50 to $11 per hour. The rate will increase first to $9 on Jan. 1, then to $10 in 2020 and finally to $11 in 2021.
The main group supporting the measure, Arkansans for a Fair Wage, estimates that the higher minimum wage will affect 300,000 workers in the state.
By passing the initiative, Arkansas joins a long list of states that are increasing the wage floor in lieu of congressional action. Most states now require employers to pay higher minimum wages than the federal level of $7.25, which is set by Congress and the president; that minimum hasn't changed since 2009.
The last time Arkansas passed a minimum wage raise was 2014, when voters overwhelmingly approved a measure putting it on a trajectory to $8.50.
Such referendums have proven extremely popular with voters, even in red states like Arkansas. Republicans control both chambers of the Arkansas statehouse and occupy the governor's mansion. In general, GOP lawmakers have opposed increases through legislation, both at the state level and in Washington.
But statewide ballot measures have given worker advocates an end-run around legislation to hike the minimum wage. In addition to Arkansas, Missouri considered a referendum on election day that would raise the state minimum wage from $7.85 to $12 by 2023. Back in 2014 four states approved minimum wage ballot measures followed soon after by four others in 2016.
Labor unions and other progressive groups pushing for higher wage have funded a lot of those groups. Arkansans for a Fair Wage took in more than $1.4 million in contributions, the bulk of that money from the D.C.-based Sixteen Thirty Fund.
Critics of the Arkansas proposal, including the state chamber of commerce, sued in an effort to stop the measure before it could go before voters, saying that some of the signatures used to get it on the ballot were invalid. The state Supreme Court unanimously rejected that claim in October.
The chamber argued that the wage hike would raise prices on consumers and force business owners to cut workers' hours.
Popular in the Community