Chemical reactions at a flooded Texas factory resulted in a large fire on Friday sending thick black smoke hundreds of feet into the air.
It's the second blaze in as many days at the factory northeast of Houston. CNN and CBS News tweeted aerial footage of the flames:
At least two tractor trailers at the facility containing organic peroxide have now burst into flames, and several more remain intact.
In a statement Friday evening, Arkema Inc. said representatives of the Harris County Emergency Operation Center "observed multiple dark plumes of smoke" coming from its plant in Crosby, Texas, around 5:50 p.m. local time. A fire was spotted shortly thereafter.
"Organic peroxides are extremely flammable and, as agreed with public officials, the best course of action is to let the fire burn itself out," the company said. "We will likely see additional incidents. Please do not return to the area within the evacuation zone until local emergency response authorities announce it is safe to do so."
Rachel Moreno, a spokeswoman for the Harris County Fire Marshal's Office, told HuffPost in an email that residents who opt to remain within the 1.5-mile evacuation zone "should shelter in place" and "make sure their windows are shut."
For the last two days, the owner of the factory has refused to disclose its inventory or a map of the flood-damaged facility, citing terrorist threats. During a teleconference Friday, Arkema Inc. CEO Richard Rowe told reporters he was balancing "the public's right to know and the public's right to be secure."
The company did not respond to multiple requests for comment Friday.
The Environmental Protection Agency said Friday that it conducted air quality monitoring on the ground and tested the fire's smoke using an aerial surveillance aircraft, but "neither testing methods found toxic concentration levels in areas away from the evacuated facility."
"The refrigeration units have been compromised due to the massive flooding and therefore we expect these containers to catch fire similar to the way the first trailer did last night," the EPA and the Texas Commission on Environmental Quality said in a joint statement.
On Thursday morning, chemical reactions at the flooded factory resulted in flames and black smoke, sending 15 deputies to the hospital for smoke inhalation. By midday, the blaze at the factory had burned out, but not before some 2 tons of organic peroxides inside a storage trailer went up in smoke, The Associated Press reported late Thursday. And the company warned additional fires could follow.
"We continue to monitor the temperature in the remaining trailers and there is evidence suggesting that other trailers will soon burn, but there have been no reports of any fires or smoke," Arkema Inc. said in a statement Thursday afternoon.
The company initially referred to the early morning incident as "explosions," but officials later described them as "pops" and said they were not anticipating serious destruction.
"There were different organic peroxides that were released and created a pop in the containers where they were stored," Harris County Sheriff Ed Gonzalez said. "Smoke initially emanated from it, and that turned into black smoke."
Officials said the fire was blazing as of 10 a.m. local time Thursday but had expected the flames to die down without causing a tremendous amount of damage.
By Thursday morning, all 15 deputies had been released from the hospital, the sheriff's office announced. Gonzalez told reporters Thursday that the fumes released in the fire were not toxic and compared the smoke from the plant to campfire smoke.
But minutes later, Arkema executive Richard Rennard wouldn't say whether the fumes were nontoxic.
"This isn't a chemical release," Rennard said. "What we have is a fire, and when you have a fire where hydrocarbons, these chemicals, are burning, you have smoke. Any smoke is going to be an irritant to your eyes or your lungs or potentially your skin. If you are exposed to that, we certainly encourage anyone that may be exposed to the smoke coming from the fire to call their doctor or seek medical advice."
When pressed about the danger the smoke could pose to the community, Rennard remained vague in his explanation.
"I don't know the composition of the smoke, but it's certainly noxious," Rennard said. "Toxicity is a relative thing."
Rennard said he expects the other eight box containers holding organic peroxide to also decompose and catch fire, but wouldn't speculate how long it would take.
"It's not over," Rennard said. "This a very serious issue, and we know that."
The Environmental Protection Agency released a statement Thursday noting that data collected by an aircraft surveying the scene indicated "no concentrations of concern for toxic materials" at this time.
Arkema North America on Wednesday had warned that a fire or explosion in the next few days at a flooded chemical plant on the outskirts of Houston was virtually inevitable.
The factory lost power early Sunday, which it needs to refrigerate volatile chemicals. Those chemicals ignite if they get too warm, said the company's CEO, Richard Rowe.
"Materials could now explode and cause a subsequent intense fire," Rowe said. "The high water that exists on site, and the lack of power, leave us with no way to prevent it."
"We're really blocked from taking meaningful action," he added.
The company powered its coolers with backup generators at first, but they were overwhelmed by water and have failed, leaving the chemicals to warm.
"There are nine bins. Of the nine, three had lost refrigeration to keep them cool," Harris County fire marshal Mike Montgomery said during a news conference on Thursday.
Residents living within a 1.5-mile radius of the plant were evacuated Tuesday, along with a skeleton crew of Arkema workers who had stayed behind during the storm in case of an emergency.
Arkema manufactures organic peroxides at the Crosby plant. According to a safe storage manual by AkzoNobel, a rival chemical manufacturer, that class of chemicals is considered "highly combustible." At high ambient temperatures, "a violent combustion or thermal explosion" is possible, the manual says.
Arkema is among dozens of chemical plants and refineries in the Houston area, many of which have sustained damage in this week's flooding, causing harm to residents' health and the environment.
Hayley Miller contributed reporting. This article has been updated with details about the fire dying out at the factory.
Before You Go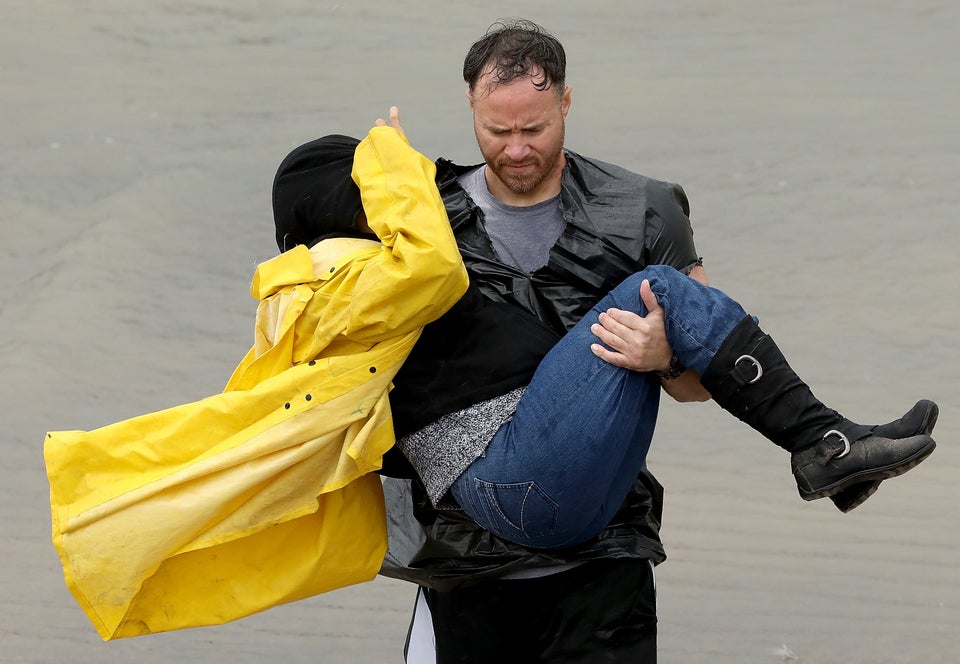 Dramatic Photos Capture Heroism And Catastrophe In Houston
Popular in the Community