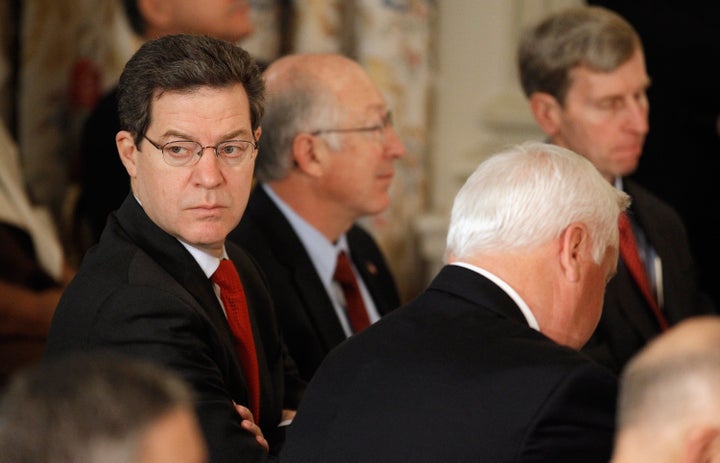 Saying state legislators do not have space for private time during the workday, a Republican legislative leader in Kansas has proposed the creation of a chapel in the Capitol building.
House Majority Leader Arlen Siegfreid (R-Olathe) filed the legislation to create such a space within the Kansas State Capitol Building in Topeka. He originally called for an "all-faiths chapel" but then amended his bill to refer to a "meditation room" to satisfy separation of church and state concerns. A state legislative committee is expected to approve the bill Thursday afternoon.
"It's just to get away from the pressures of governing for a while," Siegfreid told The Huffington Post about the proposed space. "The average legislator has to share an office. There is not that element of privacy."
Siegfreid's proposal revives the idea of a spiritual space in the Kansas statehouse, which had a chapel in the 1960s and early 1970s. That room has since been converted into office space for legislative administrators. Several states already have chapels in their statehouses and the U.S. Capitol has a prayer space, Siegfreid said.
Among the states with chapels for their statehouses are Florida and Utah; a chapel sits across the street from the Capitol building in Salt Lake City.
Siegfreid cannot find anyone who remembers why Kansas officials decided to convert Room 503 in the Capitol from a chapel into an office, he said.
The new space would have no religious symbols, no Scriptures quotes or Bibles on hand, Siegfried said. He also plans to raise private funds to construct the area, with the state providing only the Capitol building space. The courts have ruled meditation to be a secular practice, he said.
"It would be a quiet place for people to think and meditate," Siegfreid said. "Or they can go to quietly worship and pray."
Providing private space for legislators has long been a concern for him, Siegfreid said, noting that while he has a private office as the majority leader, most legislators work in crowded offices alongside other lawmakers and staff members. He wants lawmakers to have a place to experience private time during the legislative session to think about the issues coming before them, he said.
The Kansas legislature is also considering a sweeping anti-abortion law, which is pending before the same committee that's mulling the Siegfreid's bill. Kansas lawmakers are also considering a religious freedom bill, which supporters say would prevent government from having too much control over religion. That bill was proposed following the Obama administration's initial proposal to require religious organizations to provide employees insurance coverage for contraception. State Rep. Lance Kinzer (R-Olathe) is sponsoring the abortion bill and the religious freedom measure.
The House Federal and State Affairs Committee is expected to approve Siegfreid's meditation room proposal on Thursday, and the conservative Republican-controlled House is likely to pass it; the measure's future in the moderate Republican-dominated Senate is less clear. Gov. Sam Brownback, a Republican, has told Siegfreid he will sign the bill, said Siegfreid, who added he would not be surprised if the Senate defeats the proposal.
"The Senate is more slow to move on items, and we send a lot of things to the Senate that don't go forward," he said.
Nonetheless Siegfreid plans to push the bill in the future if it fails this year, saying he believes his fellow lawmakers want the space.
"Right now I sponsor a prayer breakfast that has been going on since the 1950s," he said. "We have a Capitol Bible study group. They take place once a week. There are quite a few people who are Christian."
Popular in the Community