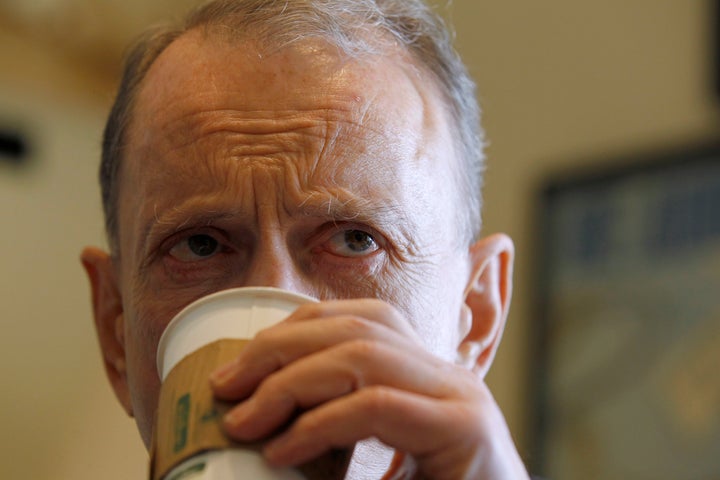 WASHINGTON -- Arlen Specter, the former senator who served Pennsylvania for 30 years, is out with a new memoir that laments the loss of comity in the U.S. Senate, calls for televised oral arguments at the U.S. Supreme Court and airs his grievances against Senate Majority Leader Harry Reid (D-Nev.) for taking away his seniority when he switched parties and became a Democrat.
But at certain points, the book gets more titillating, with Specter pulling the towel off to reveal what goes on behind-the-scenes in the Senate gym and massage room, as well as how he felt when he first met former Alaska Gov. Sarah Palin.
"Off the floor, the conversation is really different," he told The Huffington Post. He pointed to the 2005 debate over President George W. Bush's judicial nominees and the use of the filibuster as an example of when lawmakers vote the party line instead of their consciences, leading to a deterioration in the quality of government.
"If people would express their honest opinions, it would be a very different place and a very different government," he said.
Here are some highlights from Specter's memoir, "Life Among the Cannibals," detailing what happens off the Senate floor. The book will be released on March 27:
Ted Kennedy In The Hot Tub: "I was in the whirlpool at the Senate gym in 2008, recovering from Hodgkin's, when Ted Kennedy came over and climbed into the bath. Kennedy was one of the Senate's giants, in many ways. It was as though a gigantic walrus had plunged into the sea, causing the level to swell. I'd never seen two men in the whirlpool before, but the tub was big enough for two or more. There was a sign that you had to shower before entering. I hadn't checked that out with Kennedy, but I had neither an objection nor compunction about his coming into the bath. We chatted." (p. 40)
Decline Of Senate Camaraderie: "Sometimes courtesy and camaraderie waned, even in the gym. Once, during lengthy waits for massages while we used a temporary gym in the Dirksen Building, I was walking undressed to the last table. Another senator, also naked, walked briskly, perhaps at a slight run, and slipped in ahead of me. That was something that senators just don't do." (p. 68)
Dale Bumpers' Joke: "[Former Sen. Dale] Bumpers could keep you in the steam room with his storytelling and southern humor. One of his most raucous tales was about a traveling salesman tooling along an Arkansas dirt road in a convertible with the top down when a giant wasp landed right where you can imagine, with a long penetrating stinger, causing the area to swell instantly and enormously.
Trying to relieve the pressure, the man loosened his pants and drove as fast as he could to the nearest town. Unable to find a doctor, he went to a drugstore. Behind the counter was an elderly woman. Holding this protuberance in both hands, enormously swollen, he said in a plaintive tone, 'What will you give me for this?'
The woman looked at it and said, 'I'll have to consult with my twin sister, who's in the back.' They came out, and after a short huddle one said to the man, 'Would $1,000 and a half interest in the drugstore be sufficient?'" (pp. 68-69)
Meeting Sarah Palin: "Still, she [Palin] was a total charmer, very friendly. The few things she said were intelligent. We were sitting virtually knee to knee in the cramped bus, and she radiated sensuality. Her skirt rode above her knees -- not exactly short, but close." (p. 156)
Working Out With John Thune: "[Sen.] John Thune, who looked like a movie star in or out of clothes, was constantly stretching. His lanky body seemed to have some kinks to iron out." (p. 226)
Thune's office did not respond to a request for comment on that passage.
Popular in the Community