As politicians continue to debate immigration policy, efforts to better grasp the particularities of life in diverse communities have become even more relevant.
To achieve this end, the National Parks Service is turning to anthropology as they seek to fulfill their local mission "to preserve and interpret for the benefit of present and future generations certain historical, cultural, and natural resources associated with the Great Falls Historic District." They recently awarded Arlene Torres -- Director of the Chancellor's Latino Faculty Initiative at the City University of New York and Hunter College professor, a grant to conduct an ethnographic study of community formations in Paterson, New Jersey, where over 50 different ethnic groups reside. The city is also home to the Paterson Great Falls National Historical Park.
Torres notes, "parks will need to understand the new ethnic groups that become their neighbors so that they may establish collaborative relationships across linguistic and cultural boundaries." A New Jersey native and resident, she is a leading expert in urban anthropology whose areas of specialization include the Caribbean, Latin America and the United States. Her interests in African Diaspora, Latino/Latina Diaspora and Puerto Ricans are most present in her varied set of works, which include path-breaking publications, the development of museum exhibitions and university administration.
She was drawn to anthropology she says, because "it fostered the possibility to impart knowledge in the service of others." She considers herself an "engaged anthropologist." Indeed, her multiple contributions to the discipline spread across the various types of visible and invisible labor needed for both the production of knowledge and the functioning of universities. Torres is a notable scholar, a dedicated teacher and mentor, and a transformative leader with an impeccable record of administrative service. The work she does is too often structurally ignored hence my decision to feature her in the second part of this series.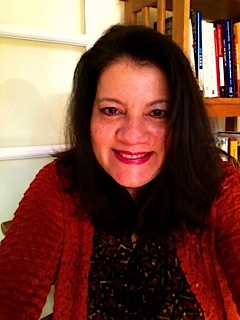 Torres' scholarship is best known by Blackness in Latin America and the Caribbean, the two-volume blue tomes she edited with Norman E. Whitten Jr.. While this collection is required reading for anyone seeking expertise in knowledge of the racialization practices and cultural transformation among peoples of the Americas, it must be placed within context. This project, she reminded me, was produced at a time (1980s and early 90s) "when scholars were actively grappling with the limitations of traditional disciplines and argued for the import of ethnoracialized studies with theories and methodological approaches that departed from the disciplinary status quo to engage in the formation of transdisciplinary forms of knowledge." Indeed, the work of that period is the hallmark of Latina and Latino Studies. (Photo credit: Arlene Torres)
She has also served on the advisory board of the AAA's (American Anthropological Association) RACE: Are We So Different? multimedia project among other museum works. Personal and professional commitments motivated her to participate in this ongoing project, which she contends provides others with a necessary toolkit to unravel the elusive concept of race with all of its detrimental and at times "fatal realities."
To underscore the broader significance of the complexities of Latino experience of race in the United States, Torres quotes Dominican writer Junot Diaz who remarked "Nadie quería hablar del racismo ni de esa brutalidad que es ser pobre aquí. Vivía en una comunidad latina y de African Americans, víctima de mucha mucha mierda. En la escuela siempre esperé que alguien me explicara eso, así que tanto en la casa como en mi vida social había silencios." No one wanted to talk about racism or of the brutality of being poor here. I lived in a community of Latinos and African Americans, victims of lots and lots of shit. In school, I waited and expected that someone would explain this to me. At home and in the broader society there were silences [Torres translation]. She identified with Diaz, saying this was her experience as well "and it continues to be the same for many Latinos in the U.S.. The tragic death of Trayvon Martin in mainstream media obfuscates how Latinos are outraged and implicated because we have not had an opportunity to publicly discuss how we are differentially racialized in U.S. society. The AAA race project, she believes has "allowed us to intervene in a conversation already underway in this society in order to concretely address race and racism within an educational framework."
To that end, Torres is determined to make the academy more accessible. Her unwavering commitment to mentoring has influenced her professional trajectory, which started decades ago when she was a first-generation student. She said,
I was the first member of my family to receive a bachelor's degree, and later advanced degrees. My family did not own cultural capital in this society and there was no safety net. There were few highly educated Latina role models available in the academy and I had to step out of the confines of the discipline and the academy to get the support I needed to see me through. I had to chart my own course with help of very generous faculty, administrators, community, and family members.
Torres has undoubtedly paid it forward. While she considers her twins, her best work, she has done her part in producing future scholars. She has served as advisor, director of research, and/or been on a dissertation committee of over sixty masters and doctoral students most of whom went on to pursue advanced degrees in art history, American studies, educational policy studies, English, history, Latina/o studies, and yes, anthropology. Today, many of them have become colleagues working at prestigious academic institutions as tenured faculty, administrators, and as consultants to projects that address social inequality all over the world. I remain amazed by this fact since it is virtually impossible to encounter anyone at the intersection of anthropology and Ethnic Studies without a link to Torres. In that sense, she is only akin to Kevin Bacon. This becomes even more evident when considering her history of service.
A former President of the Association of Latina and Latino Anthropologists (ALLA), she is currently the President-elect of the Puerto Rican Studies Association (PRSA). Her objective was to maintain ALLA's distinctiveness while we working in collaboration with other sections of the AAA to promote critical scholarship about the Latina/o experiences. PRSA is a small but growing organization that recently celebrated its 20th anniversary. With a strong legacy of active engagement, its membership is committed to improving educational opportunities and outcomes for its communities. Torres intends to continue that tradition and "work to advance the faculty through the ranks in the academy by actively mentoring and producing scholarship in the field of Puerto Rican Studies."
Compared to those who have labeled anthropology a dead end, Torres remains practically hopeful: "I, like many, value what a liberal arts education and what the discipline can offer. Remarks about the use value of anthropology are based on false premises and logics in the marketplace of ideas." She believes that the academy in general, "needs to move beyond opening the door for a scant few by realistically assessing its admissions and hiring practices in times of scarcity and plenty. While departments do have to specialize, they must also be willing to provide a wider range of educational opportunities to allow our students to enter a host of professions within and beyond the academy."

I asked Torres how she would advise those who have chosen a career in anthropology. She said, "I always appreciated Kath Weston's title, Families We Choose -- the ethnography of lesbian, gay families and kinship. It gave me an appreciation of the need to choose one's non-biological kin with care. The same can be said of our anthropological kin... I often ask students, whose genealogical tree do you want to be a part of? Choose wisely. You won't always like one another, but to make it work you need to have colleagues that you respect so that together you can work to build the next generation."
Related
Popular in the Community