"People ask me how I stay so youthful. My wife puts me in a Ziploc bag at night."... Dick Van Dyke
"We take very good care of each other. But, I'm very aware that I have a national treasure on my hands." ... Arlene Van Dyke
Arlene (Silver) Van Dyke is one happy woman. Here's why: Dick Van Dyke!
The Huffington Post spoke with Dick last January about his May/December marriage, which began on Feb. 29, 2012 (with a second wedding on Sept. 8, 2012). We were so happy for the Mary Poppins star that we wanted to check in with his beautiful bride to see how things are going around the Van Dyke household these days.
Let's just cut to the chase. Yes, there's a 46-year age difference, but after reading her take (and his if you'd like to check out our interview with him), you will be delighted to know that age is truly just a number. Someone once said: "All adults are the same age." Yes. Yes they are. Arlene and Dick seem perfect for each other, and you are about to see why.
I love a good love story. I want you to tell us about your love story with Dick. How's married life going for you?
Great! I love it. I haven't been married before so it's wonderful. He's the perfect human being but he's also the perfect partner.
So you waited for the right guy?
Yes. I went through a lot of frogs to get my prince. (Laughs)
Dick told me about the first time he saw you at the SAG awards a few years ago. He said he had never approached a complete stranger before but he was so taken by you that he introduced himself. How did you feel about that?
There's kind of a back story to it. I had been doing the SAG Awards for about five years as a make-up artist. So I would do these two models at the beginning of the SAG awards for the red carpet. Then the rest of the time I could just roam around and go backstage or anywhere. I was working in a make-up school in Hollywood and the Thursday before the SAG awards -- which is on a Sunday -- I was walking down Hollywood Boulevard going to lunch with some friends, and I remember seeing his star on the Hollywood Walk of Fame and Mary Poppins was playing at the El Capitan on Hollywood Boulevard.
My friends were going crazy saying we should go see Mary Poppins. I had never seen it before. I went back to work and then Sunday was the SAG Awards. The models I do make-up on suggested I go in the green room and watch the show. When I walked in -- I swear 30 seconds -- I remember seeing Dick at the catering table with his bow tie and his big smile. Right when I sat down, he was sitting next to me. He said, 'Hi, I'm Dick.' The first thing I asked him was, 'Weren't you in Mary Poppins?' I wasn't sure. (Laughs) I knew who he was but I wasn't sure why I knew who he was. I was not familiar with all his work. He has so much work I can't believe I missed it.
That was probably refreshing for him.

Oh, yeah, he loved it.
I asked Dick if you fell in love with each other at the same time. He said: 'No, the age difference kind of stopped her. I had to convince her that it was meaningless.' When did you realize that age just didn't matter for the two of you?
Hmmm... When I worked with him... he hired me as a make-up artist for a couple of his Hallmark movies. And I just remember right when I saw him again -- I hadn't seen him since the SAG awards which was a couple months later -- we got along immediately as friends, so it didn't feel like he was so much older than me.
Do you remember when he first took your breath away?
When we were working together on a movie, there was one time when we were doing a night shoot... and he was laughing like he always does, but it was the way he was lit or something -- he had on a sweater and I thought, 'Wait a minute!' (Laughs) I just felt a little different.
I was trying to date in L.A forever. I was single for like six years, nothing ever worked out and I think it was because it wasn't supposed to. Dick is like no one I've ever known. I think it was about a year before we got married.
Dick told me when he lost his partner of 33 years, you were a big comfort for him that year because you really helped him get through it. Is that the year you're talking about?

Yeah, that's when I was his friend but it became something else. I didn't really realize how powerful the relationship was becoming. I would come over but I didn't want to bother him I guess. He gets so many people around him I didn't want to be intrusive, so I would just say I'll come over after work and we'll have dinner, and it turns out he was looking forward to it the whole day. (Laughs) I didn't know that. He was just very respectful. We were both trying not to impose on each other.
How did you break the news of your relationship to everyone?

I was slowly telling my friends, I was slowly telling my family and everybody was happy about it. I was so scared that everyone was going to be like 'Oh, what are you doing?' Now it's just so normal, it's not even an issue at all. It's hard to explain unless you're in it.
So you didn't feel the pressure of having to justify being with someone 46 years older than you?

The first person I told was my friend Lisa. I lived in L.A. and we live in Malibu, and I was staying with him but I didn't tell anybody... I told her the whole story and her face was like a kid at Christmas. She just loves the whole thing about it. Then, it just seemed like everyone I told was happy about it. It just made it easier for both of us. I think I was more nervous than he was. He didn't feel like there was anything to worry about. But there was really no role model for this kind of age difference. It's never taken seriously so I was scared about that.
Dick said the age difference hasn't been a problem at all. He said, "Emotionally I'm about 13. She's very wise for her age so I'm just having the time of my life." He must be a lot of fun.

He is a lot of fun. He's not immature in a bad way. He's immature in a good way with the wonder of a child. He's just fun, he's open minded. He's not stuck in his ways at all. We're both like children. We feel like we're both having a second childhood.

What's the best part of being married to Dick?
Everything. He makes me feel like I can do anything. He's my biggest fan. He just believes in me... I'm going to get emotional.
Do you feel like your marriage is a fairytale marriage?
It's an absolute fairytale!! It's like a modern day My Fair Lady. Every day, we still don't believe that this is our life. The SAG Awards is a great example of the fairytale. I originally started working on the SAG Awards assisting the Art Director, I was laying out the tablecloths and making the centerpieces etc. I had just started doing makeup. Then, one year, they needed a makeup artist for this event on the red carpet. So, I would help set up the SAG Awards and the after party, then I would do the makeup for this red carpet event. The rest of the evening, I would just get to hang out at the show and the after party. But, it was all behind the scenes stuff. Fast forward to a few years later and I'm on the red carpet in a beautiful gown with the guest of honor. Dick is definitely my prince!!
It sounds like you two are meant for each other. You sing and dance and he seems to love that about you. How does that play into your daily and weekly routines?

We're always singing and dancing. I always liked to sing and dance but I never thought I could do that for a living. I just never thought that was a real job. I was pretty good at it but I never focused on it because I always thought I had to get a real job. But I always gravitated towards the arts.
Would you two ever consider doing a reality show about your life together?
Not like a reality show but we're actually filming a documentary right now. Not all the time but we schedule when the cameras come around. They follow us around. It originally revolved around Dick's life but then I'm so much a part of his life it seems like it's becoming sort of a portrait of an unusual relationship and how well it works... just that love is ageless. We're still filming so I don't know, but that's what I feel like it's turning into.
Do you two have an active social life or do you prefer quiet evenings at home?
Oh, that was the other thing... I thought how are we going to mix the whole 'my friends' and 'your friends,' but it works out great. I go everywhere with him. He has to go to dinners and charity appearances so that has become a great social thing. I mix in very well with all of his friends and then we love having parties at the house.
Does it bother you when people surround him when you're in public?
No. I don't know if there's anyone like him. He's been in people's lives their whole life. It's not like he did one great movie. He's been kind of the fabric of so many people's lives that I understand what he means to people so I don't mind it. If it gets too overwhelming, of course, I have to get him out of there. I don't want to wear him out. Everyone is so nice so I don't really mind it. If you see humanity through a Dick Van Dyke fan, it's really wonderful.
He has a huge fan base because of his incredible body of work in the entertainment business, and he just seems like a nice human being.
He is. That's what's so crazy is that you forget when we're just at home. You forget that he's known like that. He's so normal. He doesn't have an ego at all. I feel very lucky to know him at all, and then I'm married to him and live with him!
What music do you listen to together?

There are so many cool things we learn about each other. He's like a walking history book about everything. About TV and just in general. He likes Jazz. I like all kinds of music... Classical to Jazz to Blues and Rap. I like learning all of the standard songs. We just went to New Orleans for my birthday and we were listening to a lot of Dixieland. It's just such happy music. He loves Adele. I think he liked "Blurred Lines" but he doesn't know what song it is. He just likes the beat of it. In general I'm more open to learning his music. He just thinks [today's music] all sounds the same. (Laughs)
So you just turned 42.

Forty-two!! He's very excited. He said, 'It just sounds better the older you get.' (Laughs) I was a young 39-year-old when this all started.
Dick will be 88 in December.
Yeah, he keeps getting older too. (Laughs) He's supposed to stop. He's amazing. I think he lies about his age. I don't think he's that age at all.
He looks young, he's healthy, he looks good. And he's so happy. He'll probably live to be 110.

I hope so! I do my best to take care of him and make him happy. I just think me being here is making him happy. I cook for him and I love taking care of him.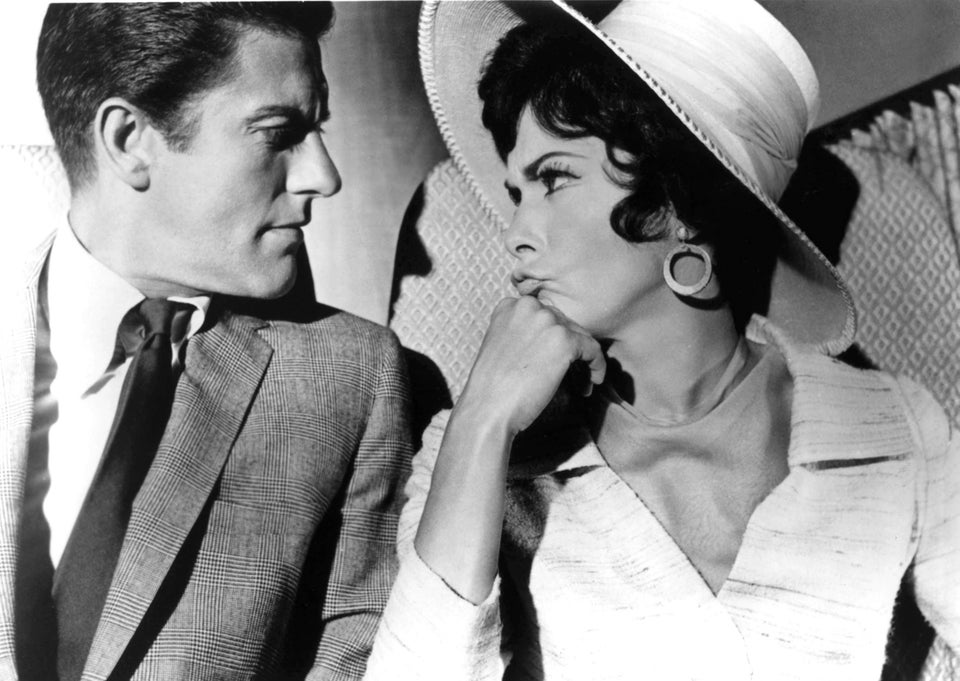 Dick Van Dyke Roles
Support HuffPost
The Stakes Have Never Been Higher
Related
Popular in the Community