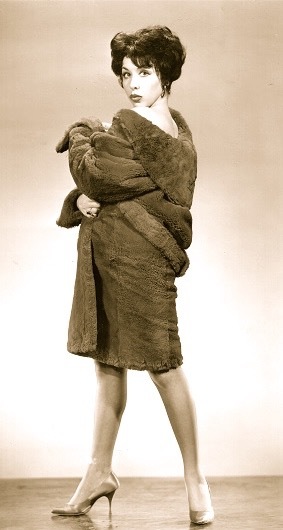 "I'm the kind of girl who's tried everything once," Valerine Perrine purrs in Lenny. As Mrs. Bruce in the Bob Fosse film, her claim, let's say, contained slightly off-color elements.
Not so for the chanteuse Arlene Wolff, who can make the same assertion and whose career path followed a similar timeline (the 1960s onward). She, however, always took the high road. Yes, her notable achievements are indisputably aboveboard and even more varied. She opened for Jackie Mason in his early days, toured Europe as a singer of standards, and as Assistant to New York City's Mayor Abraham Beame, Wolff devised the Big Apple's now iconic street fairs. If that were not enough, for you sailor buffs, she organized the arrival of the tall ships in New York Harbor for the Bicentennial. Then because she had some free time on her hands, she married Manhattan's then Chief of Police (Mickey Schwartz) and did a little sheep farming.
Well, as the Obama days wane, the spry Wolff has decided to put aside her memories of the ewes, the Navy, and the outside tables full of cacti, BVDS, and corndogs . . . and make new ones. Yes, she's once again grabbing a microphone and letting loose with clever banter and tunes by the greats. Here's a talented survivor who inspires with her verve, wit, and musicality, who compares herself to a just awoken "Rip Van Winkle."
On a recent Sunday, to an SRO-crowd at the Metropolitan Room, Wolff had the audience wild with applause and toe-tapping respect: "It's lovely to see all of you even though I can't. It's wonderful to perform again after a 55-year hiatus. I'm counting shows now like I used to count husbands. This is more fun."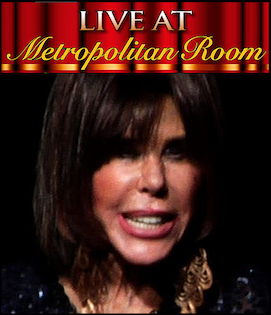 Attired in a classy white pants suit, a tasteful boa, and a becoming Phyllis-Newman-like coiffure, she began her set with "You Gotta See Momma Every Night or You Can't See Your Momma at All." Now who wouldn't take her up on that offer?
"There'll Be Some Changes Made" was belted out soon after:
From now on I am going to make some changes, too.
For there's a change in the weather.
There's a change in the sea.
So from now on, there'll be a change in me.
This should be Wolff's anthem. While her friends might be satisfied noshing on Striped Bass Tartare at Le Bernardin or viewing sunsets from their Pennsylvania country porches, this songster is clearing out her pipes and letting loose as if her life depended on it.
The upshot of her rehoning her artistry was a splendidly jazzy take on a Sinatra fave, "A Lonely Road" and a quirky medley that included "I Enjoy Being a Girl." However, a showstopper was the Ruth Etting favorite, "Ten Cents a Dance." Wolff captured all the pathos of the lyrics and then some. It was a searing take on the tune, raised no doubt to an even higher level by her accompaniment, which included Ian Herman as her musical director and pianist, Dave Dunaway on bass and Howie Gordon on drums. This truly tight combo certainly added to the festivities, but you never could forget who the star of evening was.
This charming songstress commandeered the stage with a lifetime of experience that was condensed into the lyrics of tunes such as the one composed by her friend Francesca Blumenthal, "The Lies of Handsome Men," which has been recorded by the likes of Cleo Laine and Blossom Dearie. Wolff held her own.
Sometimes in a dark and quiet place
the truth and I meet face to face
And even if his highness disappears
I keep some sterling souvenirs . . . .
Someday I'll get wise
but right now I need the lies of handsome men
Then just as you could imagine her opening her heart to some hunky, fair-weather Lothario, Wolff spoke of her spouse who was celebrating his 89th birthday that night and why he won her heart: "Mickey . . . he owned an electric drill and he knew how to use it. He was the only Jewish guy I knew who had a drill who wasn't a dentist."
Accordingly, the evening's tangible subtext, expressed with a rousing take of the Johnny Mercer/Harold Arlen tuner, "Come Rain or Come Shine" was about love, specifically survival through loving and being loved, and you never doubted Woolf's sincerity as she opened herself up. Clearly, she knows as Elaine Stritch once avowed: "You cannot tell an audience a lie. They know it before you do; before it's out of your mouth, they know it's a lie." And Wolff's no liar.
(Arlene Wolff, with her musical director, Ian Herman, will be singing at the Andaz San Diego on June 30th; at the Milford Theatre in Milford, PA, on July 30th; and returning to New York City's Metropolitan Room in November.)
Calling all HuffPost superfans!
Sign up for membership to become a founding member and help shape HuffPost's next chapter