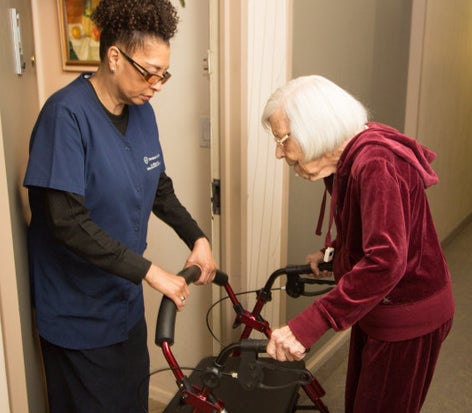 What home health aides (HHAs) can and cannot do for patients is strictly regulated by federal and state law, as it should be. And of course, the care aides provide differs from the skilled clinical care nurses provide in the home, and is focused primarily on helping patients manage essential activities central to their daily lives. But there is important new thinking in managed long term care and across the healthcare landscape about ways to enhance and expand the HHA role, including the use of technological solutions that put more data-driven caregiving tools into the hands of aides, and skills development initiatives that empower HHAs to directly support the health and medical needs of their patients and clients. These developments reflect a growing realization—which we in the home health care field have known for quite some time—that HHAs have the potential to be tremendously valuable health care resources for an aging nation.
Advancing Training for Home Health Aides
Studies show that healthcare is most successful when the patient is an active partner in his or care. Recognizing that HHAs, who are with patients day in and day out, are in an ideal position to encourage this kind of active engagement, our VNSNY CHOICE Health Plans affiliate organization, Visiting Nurse Service of New York, through its private-pay division, Partners in Care, is now training HHAs to act as "health coaches." The program, supported by a grant from New York State, teaches HHAs how to motivate their patients and clients to eat better, stop smoking, take medications as prescribed, and follow other healthy behaviors.
As the rest of the healthcare industry grows more specialized, the home health aide role is adding targeted skills as well, enabling HHA's to offer specialized support to patients who have dementia or diabetes, or are recovering from surgery—scenarios that grow increasingly common with aging. Partners in Care, for example, offers specialty training for home health aides that qualifies them to provide assistance with activities of daily living across a wide range of conditions, including Parkinson's disease, multiple sclerosis, cancer, and daily care for individuals undergoing physical therapy, living with diabetes or dementia, or in hospice care with a terminal illness.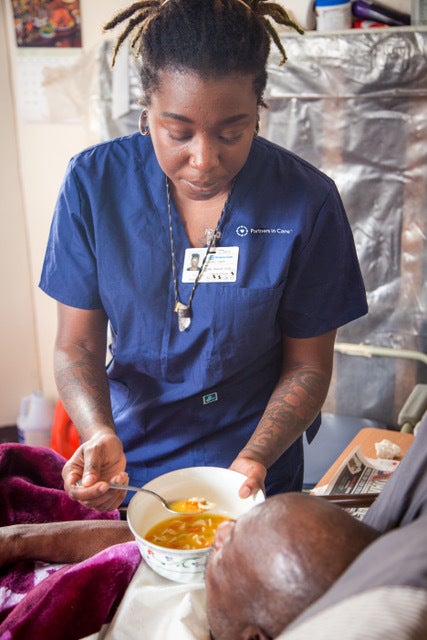 My colleague Marki Flannery recently blogged about a pilot program that is offering a new kind of advanced training for home health aides. This training, which teaches HHAs to monitor symptomatic changes, has already been shown to result in improved care outcomes. The study, implemented by the Bronx-based Paraprofessional Healthcare Institute (PHI) and the New York City nonprofit Independence Care System (ICS), found that clients cared for by HHAs with advanced training had 24% fewer emergency-room visits than clients whose HHAs received no advanced training. In the recently concluded pilot, HHAs were trained to electronically note and transmit to the healthcare team changes in a client's health condition, and to work with the team to identify effective alternatives to visiting an emergency room. Certain HHAs were also tracked and trained for a new, salaried "senior aide" position that helps them mentor colleagues in best practices.
Improving Care… in the Palm of a Hand
The PHI pilot employed a pre-programmed computer tablet, with software is developed by Practice Unite, to help the home health aides serve as the "eyes and ears" of their clients. Early in a visit, the HHA ticks through 12 "yes-no" questions related to the client's primary medical conditions, all intended to detect any changes in health status (e.g., is the client more fatigued or confused than usual, not drinking enough water, etc.). A "yes" alerts the clinical manager at the HHA's agency, who then contacts a physician or other clinician. With this approach, health problems can be caught early, before they result in a more serious health emergency.
Partners in Care is piloting another new smartphone application designed to make record-keeping significantly easier for its more than 10,000 HHAs. The app, which is expected to roll out next year, uses a GPS signal to automatically record when an HHA arrives at a client's residents, so she doesn't have to call in to the office. The app also presents the HHA with a plan of care checklist for her client, that the aide then updates at the end of each visit—all with the touch of a finger.
This type of monitoring by HHAs is also starting to be integrated into managed long term care plans such as VNSNY CHOICE Health Care Plans, where I work. Since HHA benefits are a central component of our plans' benefits, empowering HHAs to help keep our patients' health on track is a natural fit.
Training in the 'Soft Skills'
In addition to advancing health-specific skills sets and arming HHAs with technologies to help them do their jobs more efficiently, a focus on so-called soft skills—such as communication and teamwork—is still one of the most essential aspects in training, developing and sustaining this invaluable workforce. Sonia Rapaport, a Physical Therapist and Rehabilitation Instructor with Partners in Care, trains home health aides for VNSNY. Sonia emphasizes that the more engaged and empowered HHAs feel, the better able they are to make a difference.
"I want to make sure that through our training the aides feel heard, respected and empowered to do their job," says Sonia, who herself as worked in the field as a PT for more than 20 years. "They're doing a job that is so important, helping people stay safe and healthy when they otherwise couldn't be on their own."
Communication with a client, family members and the care team—especially in a polyglot city like New York—is a true art that gets a lot of attention during the HHA training process. Every person is an individual with a unique story, and unique needs. Effective communication that is caring and customized for each individual (and for family members as well when needed) is key to building trust and delivering the best care. Training should also focus on developing clear professional boundaries, which can be a challenge when the workplace is someone else's home and the client is isolated and struggling to accept increasing levels of dependency.
Skilled home health aides are called on daily to demonstrate a rare combination of curiosity, caring, patience and perseverance. In the home health care and managed care settings, they are vital members of the interdisciplinary teams that support each patient and help them live the best life possible as they age. By ensuring that this important workforce receives the training and tools to truly support the health of patients in their homes, we are building a better healthcare system for all Americans.
Calling all HuffPost superfans!
Sign up for membership to become a founding member and help shape HuffPost's next chapter
This post was published on the now-closed HuffPost Contributor platform. Contributors control their own work and posted freely to our site. If you need to flag this entry as abusive,
send us an email
.